Perhaps the hardest decision to make when writing an article on digital marketing stats is to decide what counts as digital marketing. Most of the other areas we cover at the Influencer Marketing Hub have relatively tight definitions. It's obvious what counts as influencer marketing, email marketing, affiliate marketing, or social media marketing, for instance. The concept of digital marketing is more nebulous, however. Does it encompass all the above terms? What about websites, landing pages, and whitepapers? And how do we handle television advertising in this digital age? You must understand the boundaries of digital marketing before a list of digital marketing stats can make any sense.
We have previously examined the topic of What Is Digital Marketing? In that post, we viewed digital marketing as "the use of strategy, planning, and a keen understanding of your market to create targeted digital media that drive awareness and education for your brand and product/services, and ultimately sales." Using websites, landing pages, social media, paid advertisements, downloadable content, and other digital tools can assist brands in engaging target markets and realizing digital marketing goals.
We identified eight primary digital marketing channels you can use to communicate with your target market and leverage to grow your brand:
---
Top 22 Digital Marketing Stats to Blow Your Mind:
---
Content Marketing and SEO Stats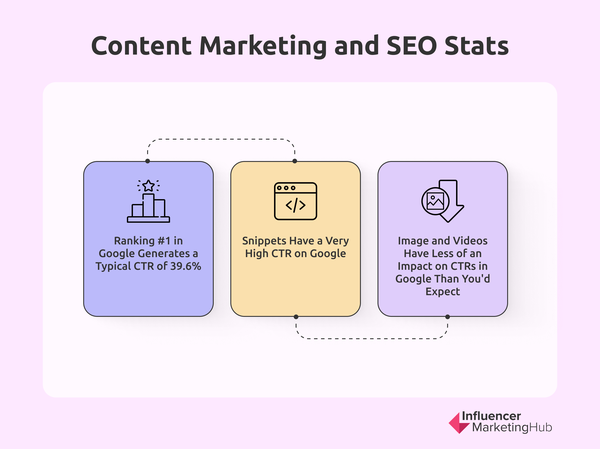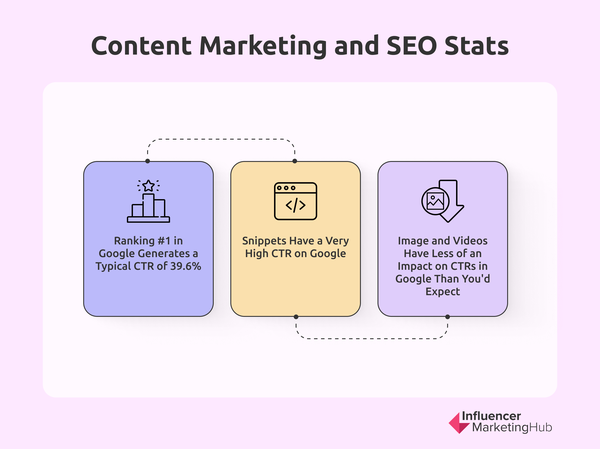 1. Ranking #1 in Google Generates a Typical CTR of 39.6%
First Page Sage has calculated the click-through rates (CTR) for the various positions in Google's search engine. With over 270 million visitors per month, Google is clearly the largest driver of commerce in the United States and, indeed, much of the world.
Despite ads usually appearing before organic search results, most people bypass the ads, opting to check out the organic results. Therefore, the CTRs for the best organic positions are much higher than for the advertising slots. Of course, if you can't make the front page of Google organically, you will receive better click-thru results from your ads than your organic pages.
First Page Sage's results indicate the need to have your content appear on the first page of Google for your most important search terms. They found that the CTR for the various positions were:
Search Position 1

39.6%

Search Position 2

18.4%

Search Position 3

10.1%

Search Position 4

7.6%

Search Position 5

5.1%

Search Position 6

4.7%

Search Position 7

3.5%

Search Position 8

2.9%

Search Position 9

2.2%

Search Position 10 (if present)

2.1%
These CTRs compared favorably to those for the top four ad positions:
Ad Position 1

2.1%

Ad Position 2

1.6%

Ad Position 3

1.4%

Ad Position 4

1.2%
---
2. Snippets Have a Very High CTR on Google
If you can create content that Google considers worthy of being a snippet, it is very much worth your while. According to First Page Sage's results, snippets have a very high CTR, with the first snippet performing better than the first search result:
Snippet 1

43.7%

Snippet 2

27.1%
---
3. Image and Videos Have Less of an Impact on CTRs in Google Than You'd Expect
Perhaps surprisingly, having your images and videos appear in a high Google position doesn't guarantee high CTR rates. First Page Sage found the following CTRs applied:
Image results

1.4%-4.9%

Video results

2.5%-6.1%
---
Social Media Stats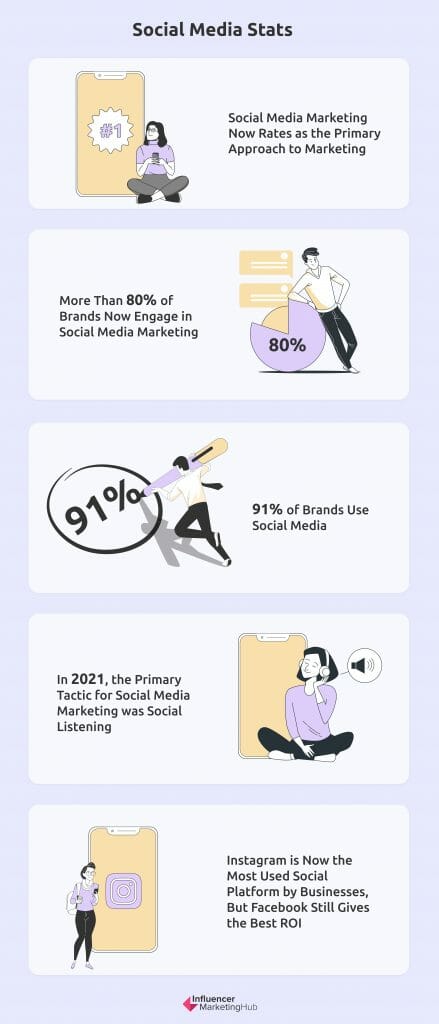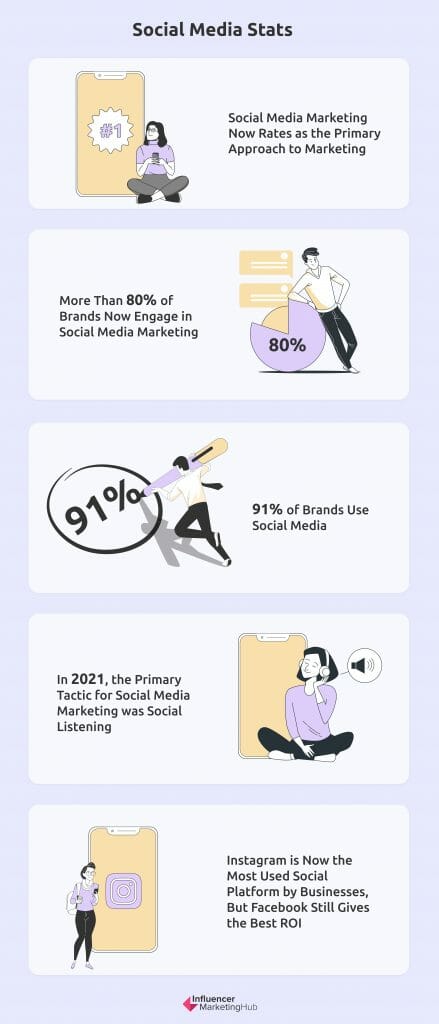 4. Social Media Marketing Now Rates as the Primary Approach to Marketing
When compiling its 2021 Not Another State of Marketing Report, HubSpot asked its respondents what they considered their organization's primary approach to marketing. Social media topped this list by a sizable margin, with 68% favoring this approach. This suggests that personalized marketing and conversational marketing is now the preferred approach.
---
5. More Than 80% of Brands Now Engage in Social Media Marketing
Unsurprisingly, HubSpot's study found that a high 82% of respondents use social media as a channel for their marketing. This exceeds everything else and is even higher than having a website (80%).
---
6. 91% of Brands Use Social Media
Salesforce Research's 7th State of Marketing (2021) indicates that social media is even more popular for businesses than HubSpot's study suggests. When asked about the various channels marketing organizations used, 91% of the respondents admitted using social media.
Some other important marketing channels include:
Digital ads 91%

Video 90%

Digital content 88%

Website/app 86%

Events and sponsorships 84%

Email marketing 76%
---
7. In 2021, the Primary Tactic for Social Media Marketing was Social Listening
Perhaps surprisingly, 62% of HubSpot's survey respondents considered social listening an important part of their social media marketing. Other popular tactics include hashtags (48%) and live video (46%). Live video is rapidly becoming essential to many firms' marketing strategies, particularly those targeting a younger audience. Augmented video is making waves now, with 19% of respondents claiming to include it as part of their social media marketing.
---
8. Instagram is Now the Most Used Social Platform by Businesses, But Facebook Still Gives the Best ROI
According to HubSpot's report, 82% of the companies surveyed use Instagram, followed closely by Facebook with 80%. However, 44% of the respondents claimed to receive their best ROI from Facebook, compared to just 32% on Instagram.
---
Email Marketing Stats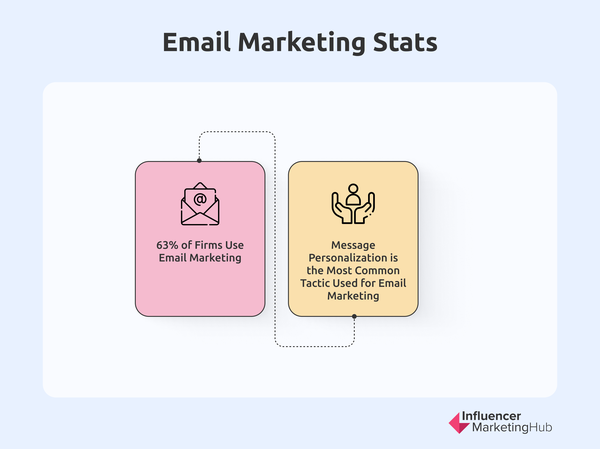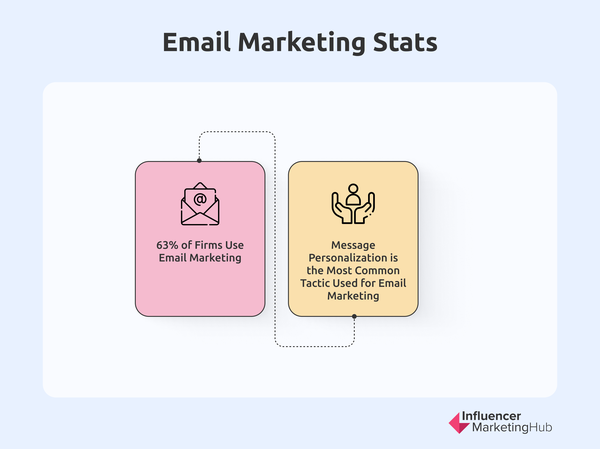 9. 63% of Firms Use Email Marketing
Although email marketing is a comparatively old style of digital marketing, it is still seen as valuable by many firms, coming in as the third most popular channel (at 63%) in HubSpot's recent report. Every year, you will find reports predicting the demise of email marketing – yet it doesn't appear ever to happen. Email marketing remains as popular as ever, despite all the new digital channels that have emerged since the term "email" became popular in 1993.
The concept of email marketing is much older than its name, indeed older than the internet. The first message was sent from computer to computer on ARPANET in October 1969, and the first form of an email as we know it occurred in 1971, with Ray Tomlinson creating ARPANET's networked email system using the @-symbol as part of a user's address.
As we saw above, an even more sizable 76% of respondents to Salesforce Research's 7th State of Marketing claimed to use email marketing in 2021.
---
10. Message Personalization is the Most Common Tactic Used for Email Marketing
Today's email marketer understands the importance of personalizing email messages. Most people treat generic emails with disdain, and in the worst cases, generic emails are picked up by spam filters, never to be seen again.
Therefore it is unsurprising that 27% of HubSpot's respondents rate message personalization as their company's most crucial tactic for email marketing.
Other important tactics include:
---
Pay-Per-Click Advertising Stats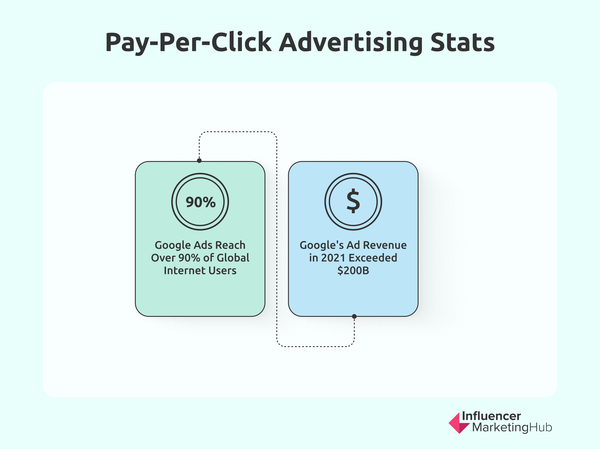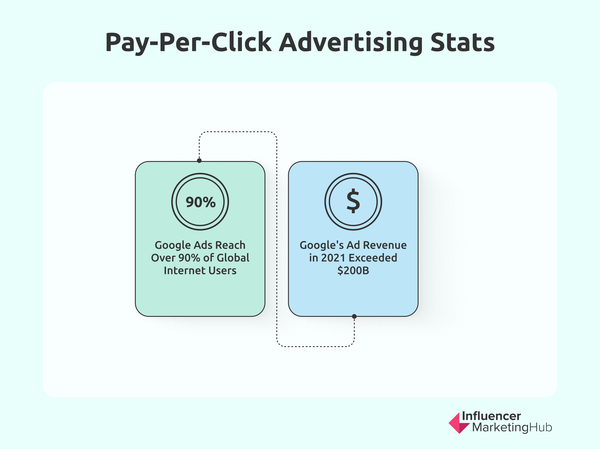 The first online advertisement came as part of AT&T's "You Will" campaign in 1994. Since then, there have been billions of online ads.
11. Google Ads Reach Over 90% of Global Internet Users
According to Google, the Google Display Network reaches over 90% of Internet users across the globe. Google Display Network (GDN) is a group of more than 2 million websites, videos, and apps where your Google Ads can appear.
---
12. Google's Ad Revenue in 2021 Exceeded $200B
Advertising is undoubtedly profitable for Google. Statista reports that Google's advertising revenue in 2021 was $209.49 billion. This represented a sizable 43% increase from 2020's figures and showed a colossal boost from the $0.07 billion Google earned from advertising in 2001.
You can see a breakdown of Google's advertising revenue for 2019-21 in Alphabet's 2021 Annual Report. 2021's $209 billion comprised income from Google Search ($149B), YouTube ads ($29B), and Google Network ($32B).
---
Native Advertising Stats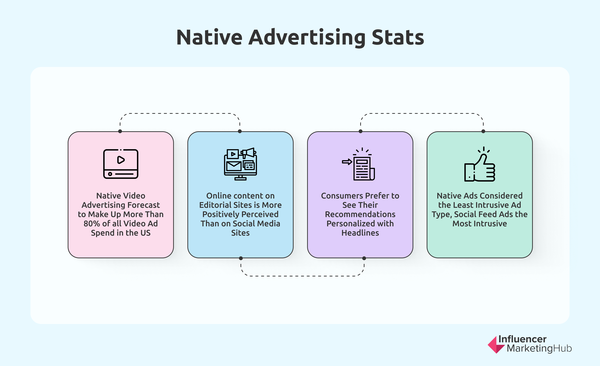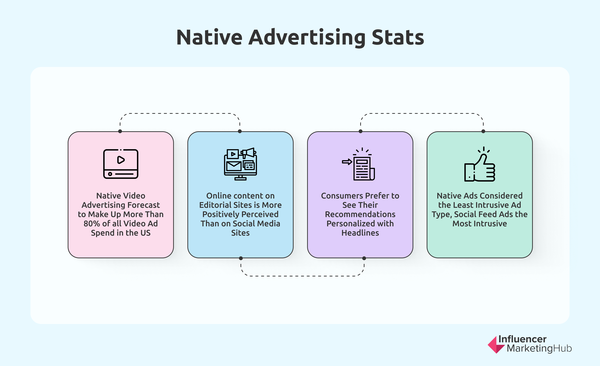 Native advertising involves paid ads that match the look, feel, and function of where they appear. For example, native ads on social media look like any other social media post on the relevant platform. Some brands include sponsored ads on their website that look similar to the other content on the site. Native ads look very much like editorial – although they do, of course, tell a carefully crafted message. Native ads succeed because they don't look like ads, even if they carry a Sponsored message above them.
Typical native ads include in-feed ads, search and promoted listings, and content recommendations.
13. Native Video Advertising Forecast to Make Up More Than 80% of all Video Ad Spend in the US
eMarketer predicted that native video advertising would comprise 84.1% of all video ad spend in the US, an increase of nearly 2% compared to 2021. In comparison, they believed that social video spending would drop by more than 2.5% over the year.
---
14. Online content on Editorial Sites is More Positively Perceived Than on Social Media Sites
An Outbrain-Savanta study found online content on editorial sites (e.g., news and lifestyle sites) to be more positively perceived than social media sites. For example, 75% of the respondents said they trust editorial sites compared to 54% who trust social media sites. This trust is particularly notable among household decision-makers. Conversely, ads on social media were the least trusted across sites.
---
15. Consumers Prefer to See Their Recommendations Personalized with Headlines
Another finding of the Outbrain-Savanta study was that household decision-makers are significantly more likely to prefer personalized recommendations (59%) and headlines (58%) than non-decision makers (54% and 52%).
---
16. Native Ads Considered the Least Intrusive Ad Type, Social Feed Ads the Most Intrusive
The Outbrain-Savanta respondents were given four types of ads and asked to rank them from most to least intrusive. The percentages ranking each type as most intrusive were: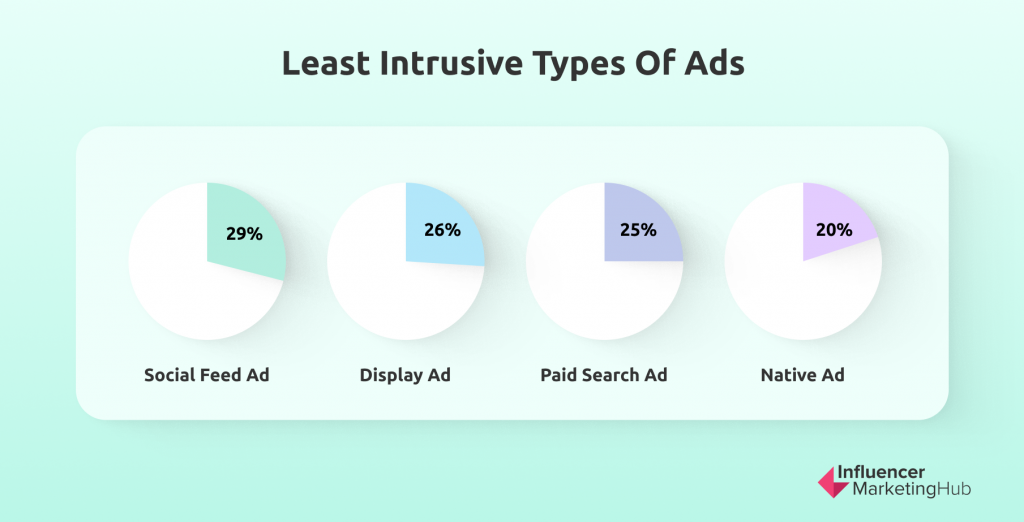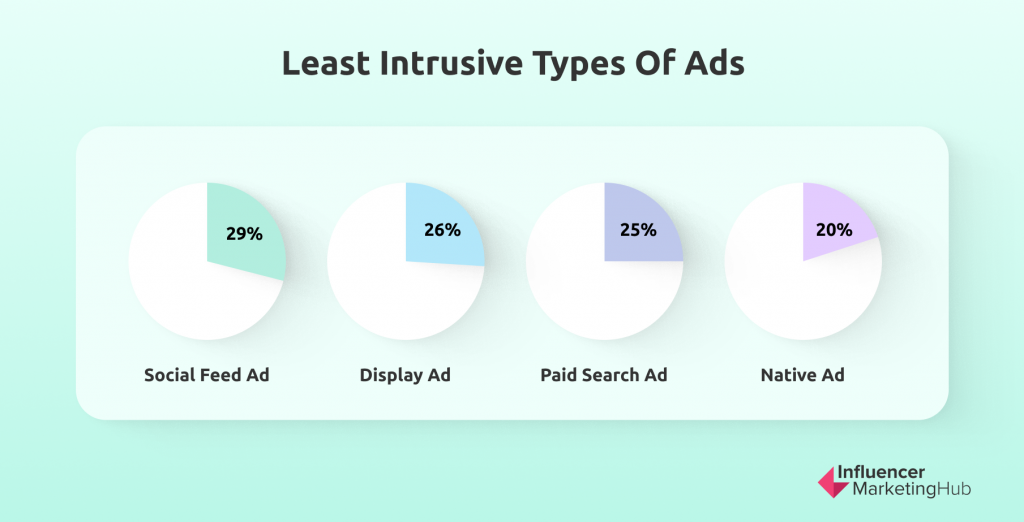 ---
Affiliate Marketing Stats
We have written extensively about affiliate marketing on the Influencer Marketing Hub, including our Ultimate Guide to Affiliate Marketing. We also have a more in-depth article detailing the Top Affiliate Marketing Statistics.
17. The Global Affiliate Marketing Industry is Worth More Than $17 Billion
According to Mhojhos Research, the global market size of affiliate marketing in 2020 amounted to over $17 billion, up from $13 billion in 2016. This market was predicted to be worth $7 billion in the United States by 2020.
---
18. The Annual Passive Income of Affiliate Marketers Averages Over $50,000
Entrepreneur reports that, on average, the annual passive income of affiliate marketers is $51,217. The bottom 10% of affiliate marketers make $37,000 per year, while the top 10% earn over $70,000.
---
Sponsored Content Stats
The difference between content marketing, native ads, and sponsored marketing can be subtle, making it challenging to isolate separate sponsored content statistics. However, it is probably best summed up by this image from the Digital Marketing Community:
19. 52% of Marketers Use Native Ads/Sponsored Content
One finding from Salesforce Research's State of Marketing 2019 research was that 52% of marketers were currently using native ads/sponsored content, while 37% planned to use such methods within the next 12 months. Unfortunately, they had changed the questions for their 2021 report, so we don't have current stats on this. However, using sponsored content, on websites other than a business's own, was one of the most used paid content distribution methods by both B2C and B2B marketers in 2019.
---
Online PR Stats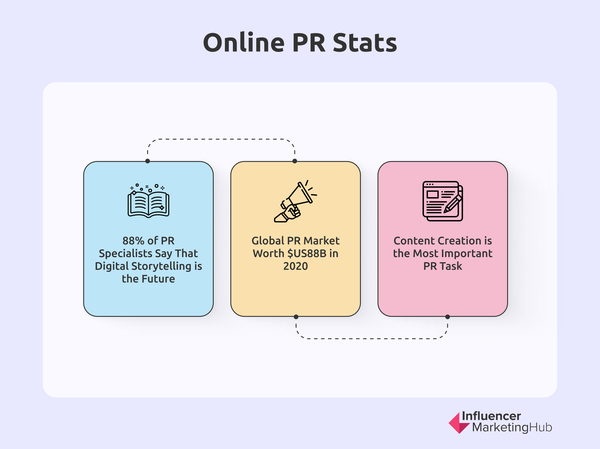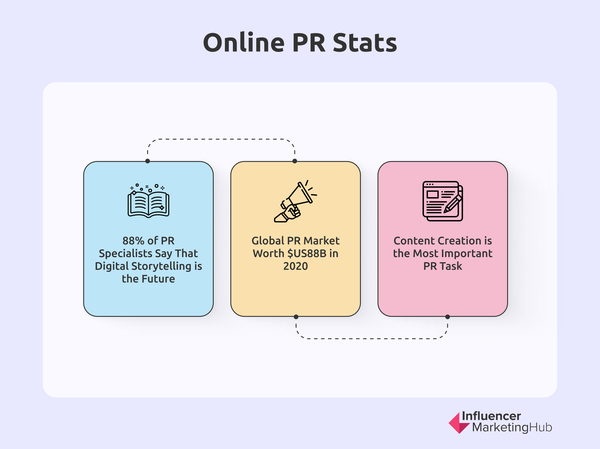 20. 88% of PR Specialists Say That Digital Storytelling is the Future
USC Annenberg School for Communication and Journalism found that 88% of public relations professionals and 80% of marketing professionals consider digital storytelling an important trend affecting the future of public relations.
---
21. Global PR Market Worth $US88B in 2020
According to Statista, the global PR market was worth $US88 billion in 2020. By the end of 2025, the industry is expected to surpass a $US129 billion value, at a CAGR of 7.4 percent.
---
22. Content Creation is the Most Important PR Task
Cision found in their 2020 Comms Report that 41% of their respondents considered Content Creation to be their single most important PR task. This was followed by Media Outreach (27%) and Attribution and ROI (11%).