Are you looking to ramp up your website's SEO? SEO, or search engine optimization, is a key ingredient in getting more reach and visitors to your business's website. But not every SEO strategy works for every business, which is why B2B companies want to partner with an agency that focuses specifically on their niche.
To help you find the right partner for your B2B company, we've put together the top 15 B2B SEO agencies of 2022. Browse through the options laid out below, pay attention to their specific services, and find the best option for your brand.
---
Top 15 B2B SEO Agencies For Leading Businesses :
---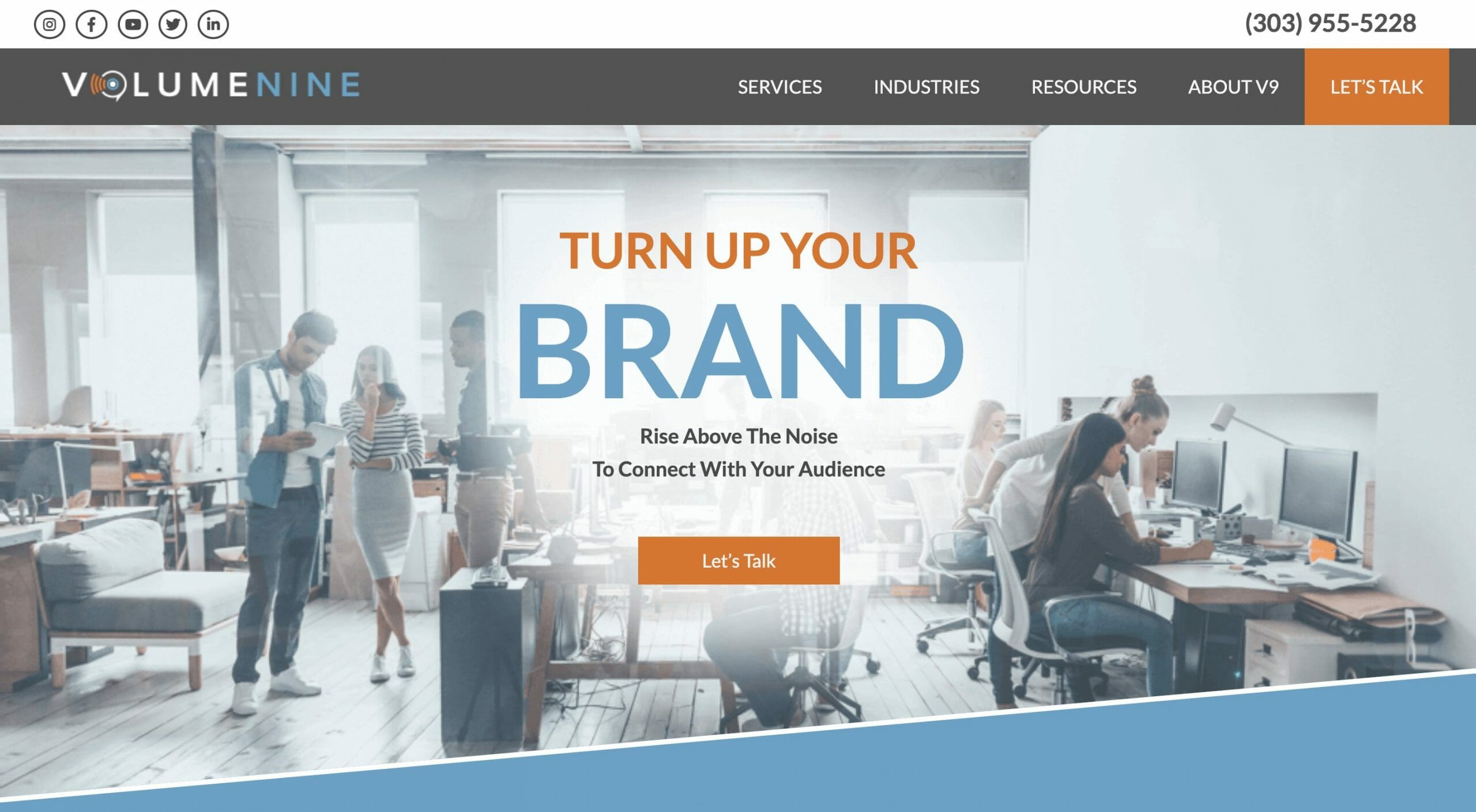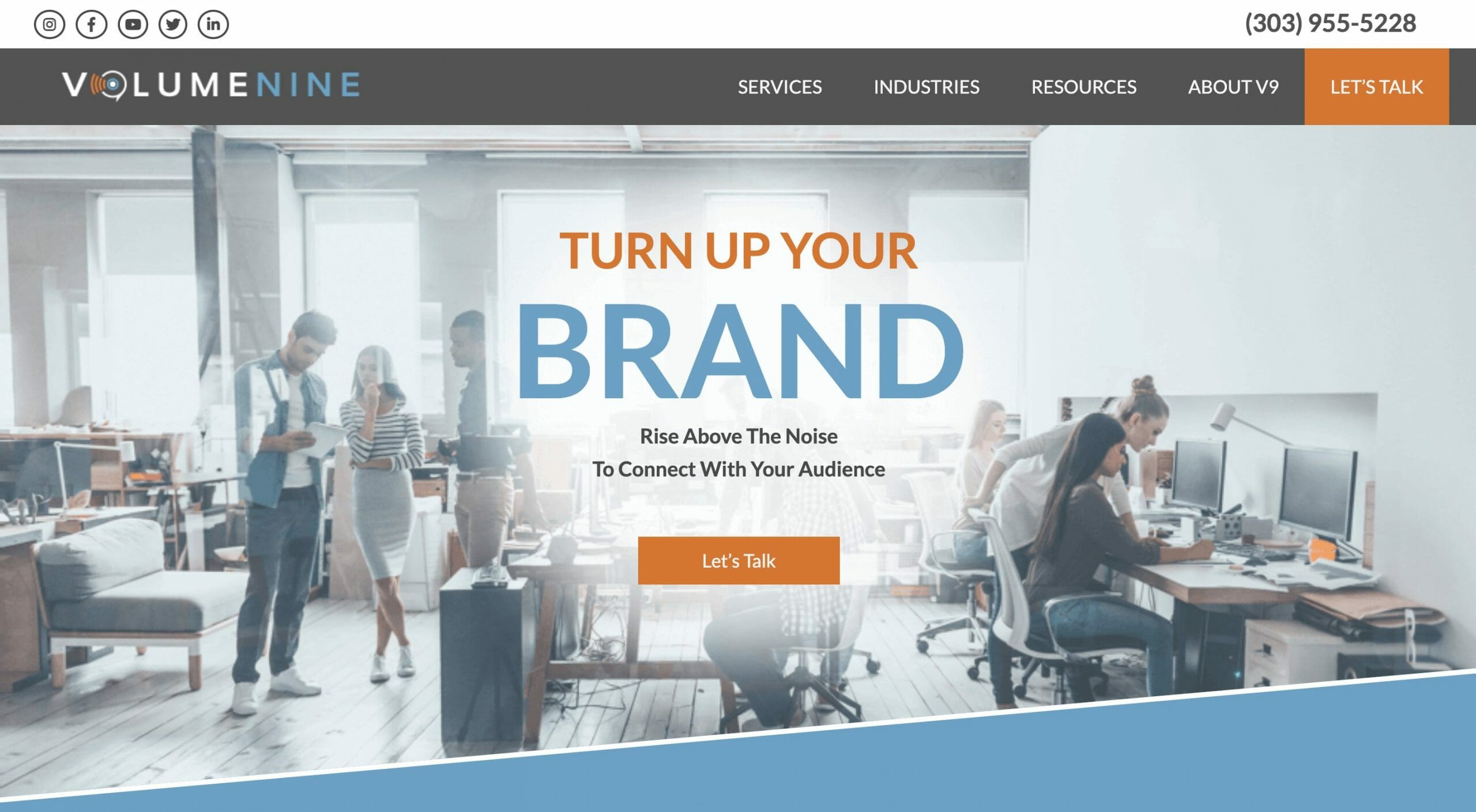 Volume Nine is a digital marketing agency that works with a variety of different industries, with B2B being one of them. Some of the B2B brands they've worked with include FlexBooker, PingIdentity, and TeleSign.
As a full-service agency, they offer SEO services, but brands can also take advantage of many other services, like social media marketing and advertising. However, their SEO options are pretty robust, so you'll be winning regardless of which services you choose.
Services:
SEO Audit

Keyword Research

Website/Page Optimization

Technical SEO

WordPress SEO

Shopify SEO

Social Media Marketing

Content Marketing

PPC Ads

Social Ads


Volume Nine is Denver's top digital marketing agency, specializing in social media, content, and search marketing (PPC & SEO). Volume Nine helps clients build their brand, drive traffic, and grow sale…
---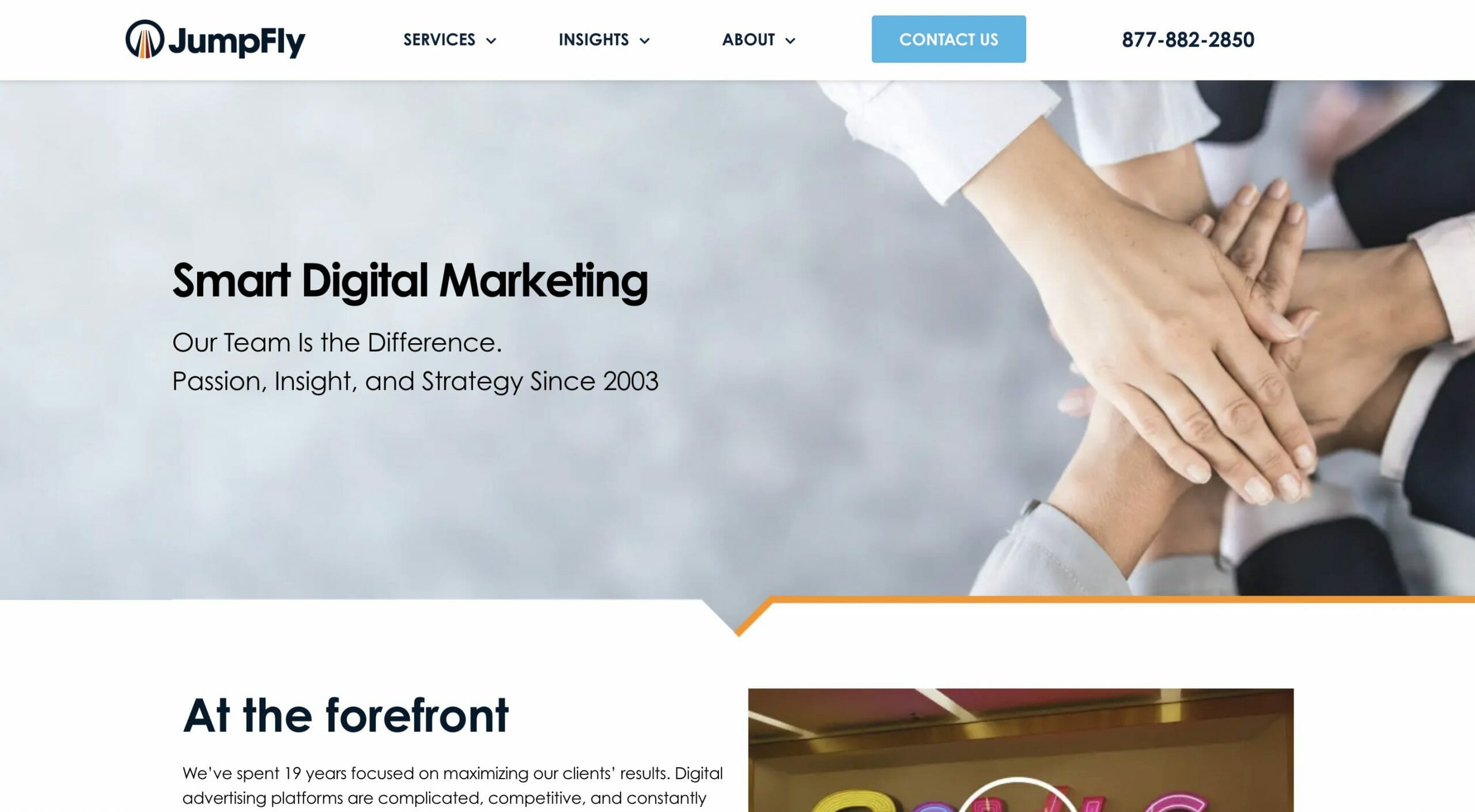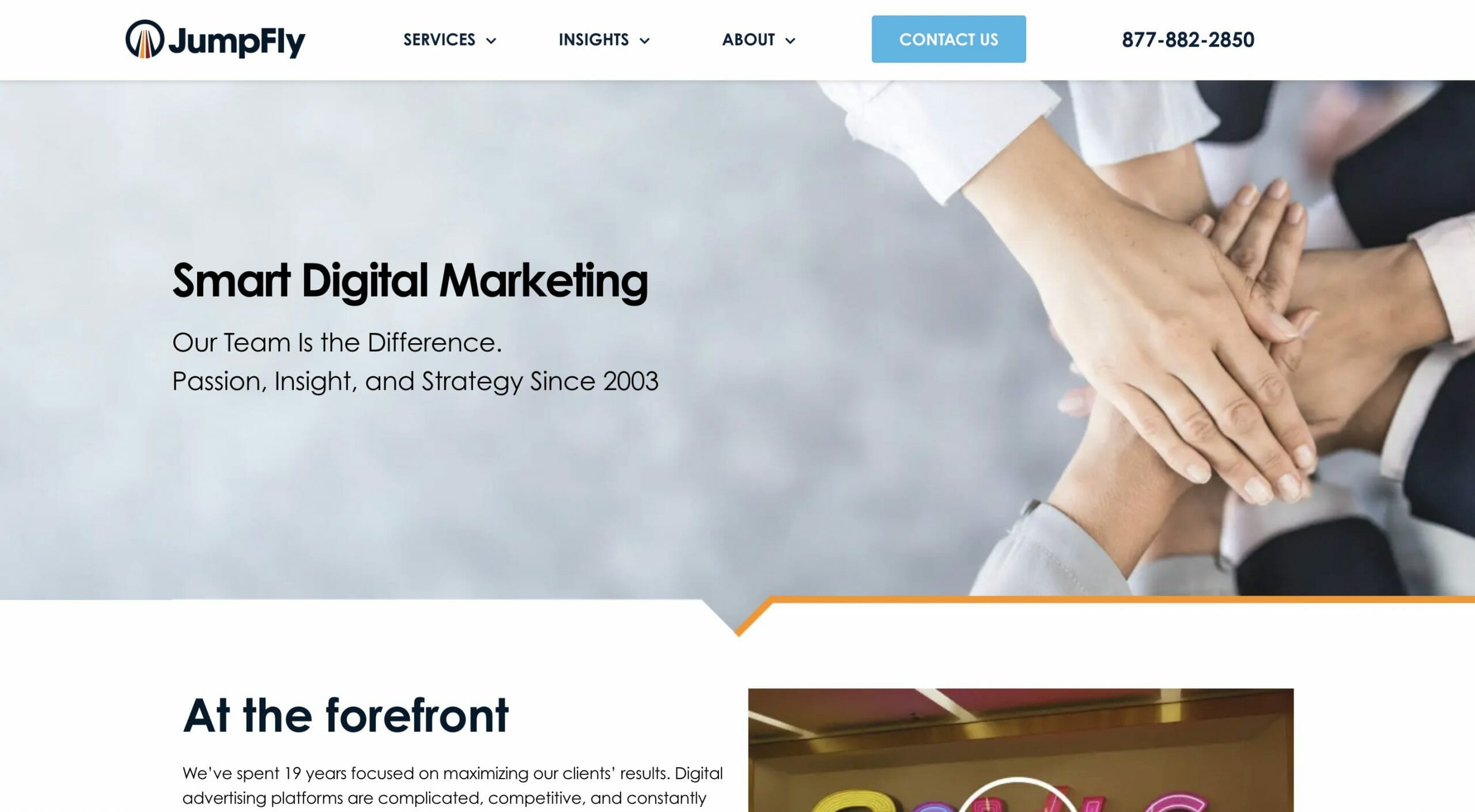 JumpFly is an SEO, PPC, and social media marketing agency that was recognized by Clutch as one of the top B2B agencies in Illinois. They've worked with clients such as Harvard Business Services, DePalma Studios, and AED Market.
Having been around since 2003, JumpFly's team has a wealth of knowledge on how to help B2B companies rank better on search engines. Plus, they also offer social media marketing help and paid search management.
Services:
SEO Strategy

Keyword Identification

Technical Analysis

Content Optimization

Link Authority

Paid Search Ads

Social Media Advertising


JumpFly is a digital advertising agency specializing in PPC account setup and management for Google Ads, Microsoft Ads, Facebook & Amazon. …
---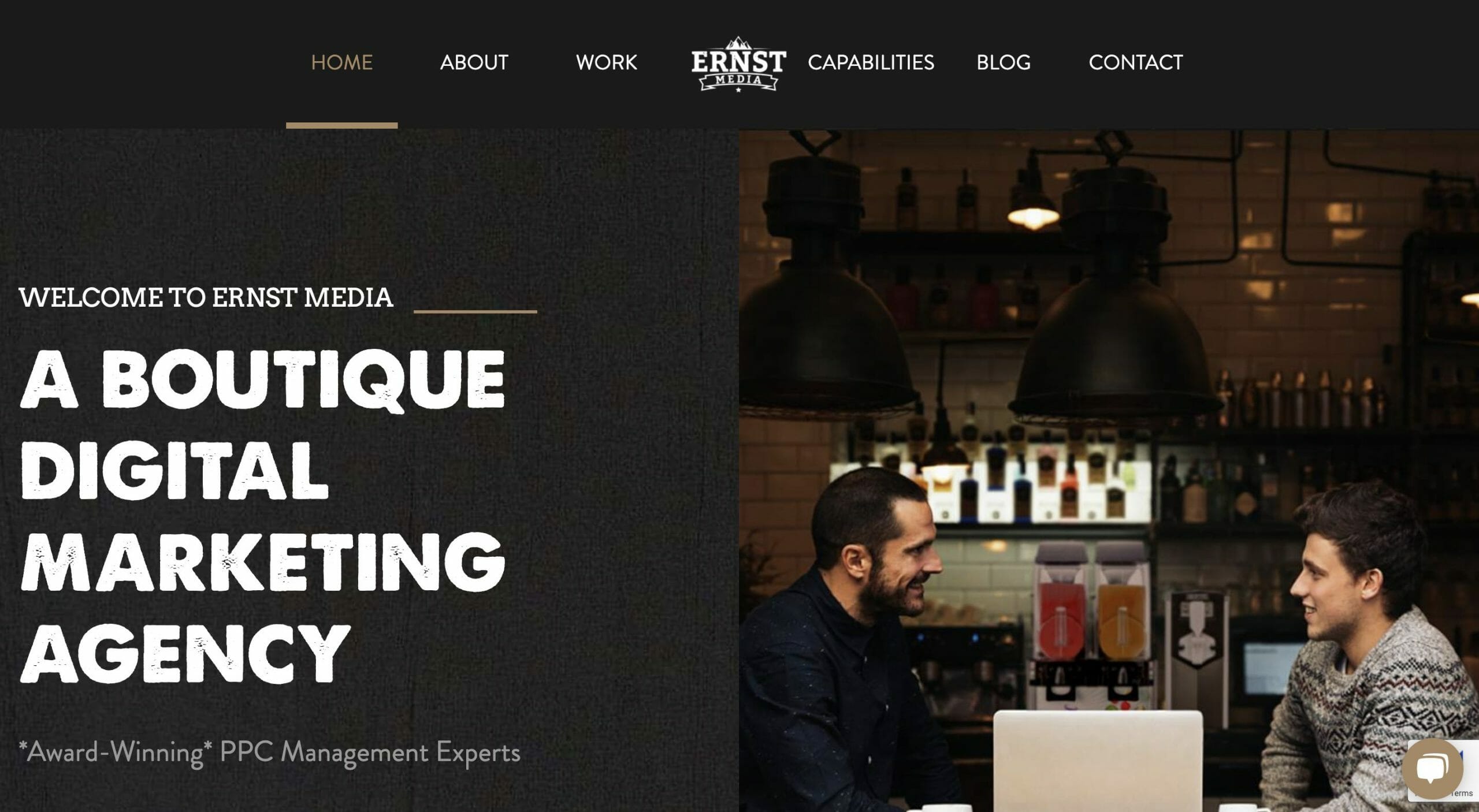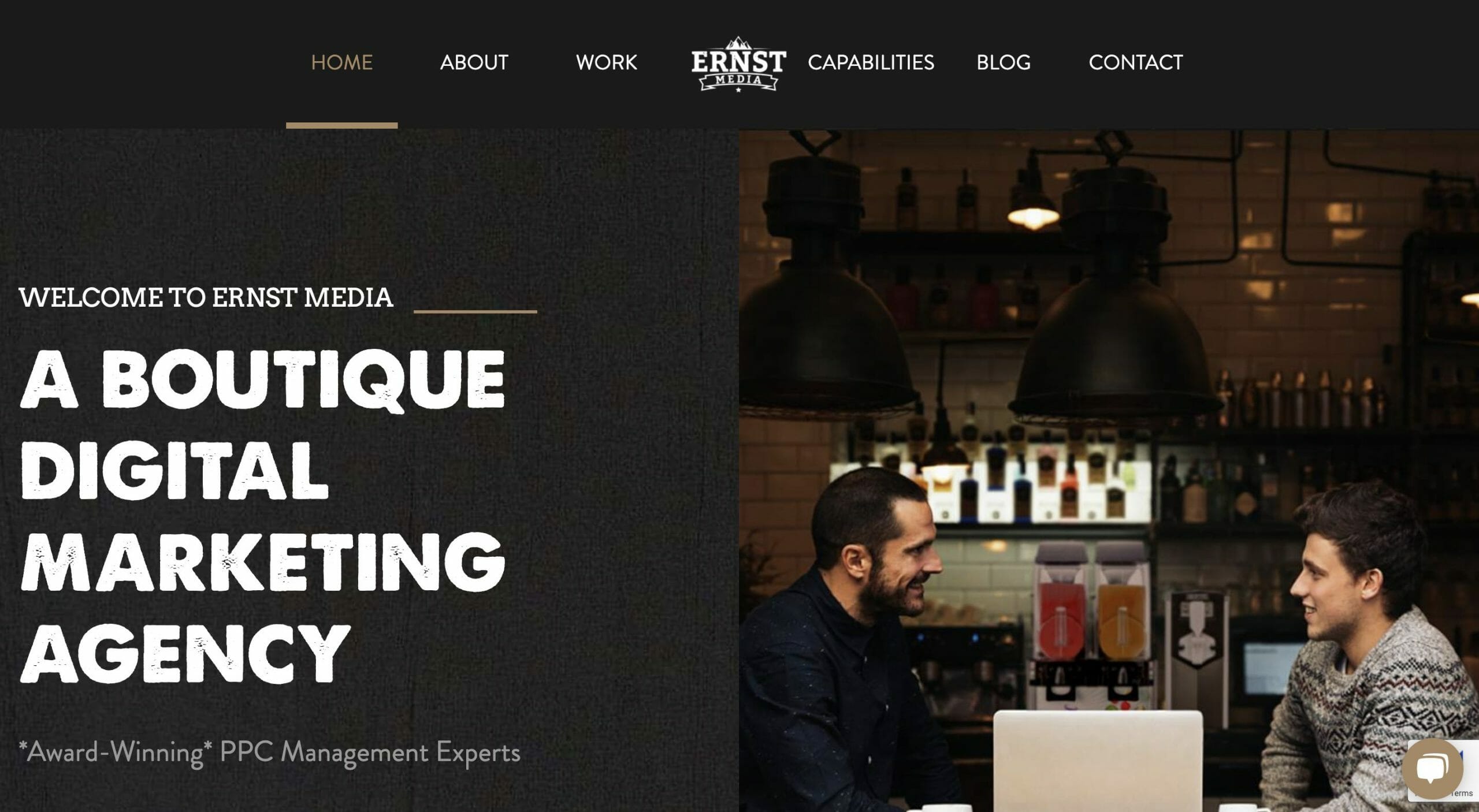 As we see right at the top of Ernst Media's website, their team is filled with award-winning PPC experts. This means you can turn to Ernst Media for any search engine needs—SEO, content optimization, PPC, etc.—and trust that you're putting your business in the best hands.
Ernst Media has worked with companies like Silvertrac, DNSFilter, and Reputation X. And the team prides themselves on only bringing on experienced, high-level digital strategists that can help take their clients to the next level.
Services:
Technical SEO

Content Optimization

Off-Site SEO

PPC Management

Social Media Marketing


Ernst Media has more than 15 years experience driving digital strategy for products and brands. The team consists of certified experts in Paid Search and Social Media Marketing …
---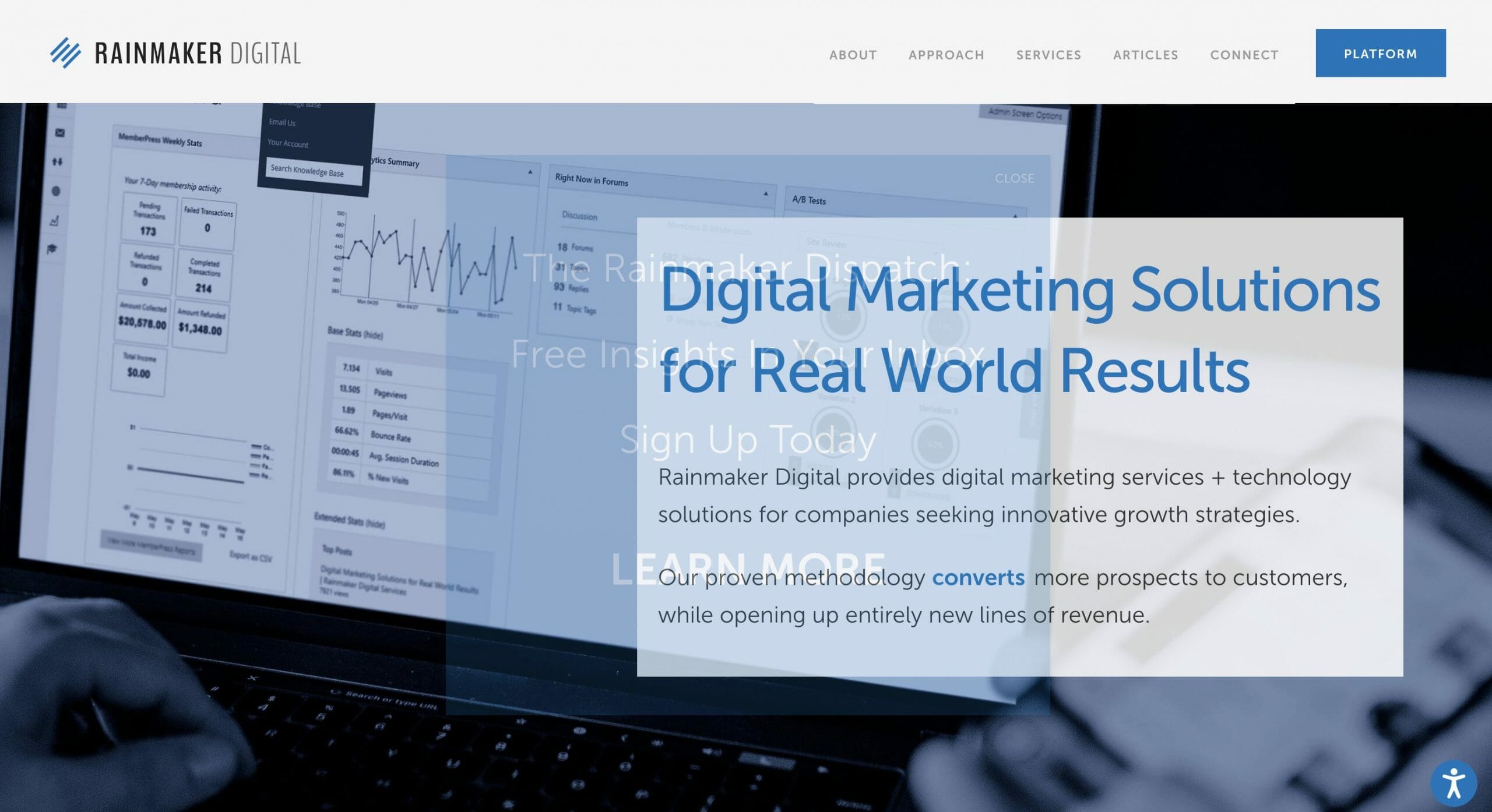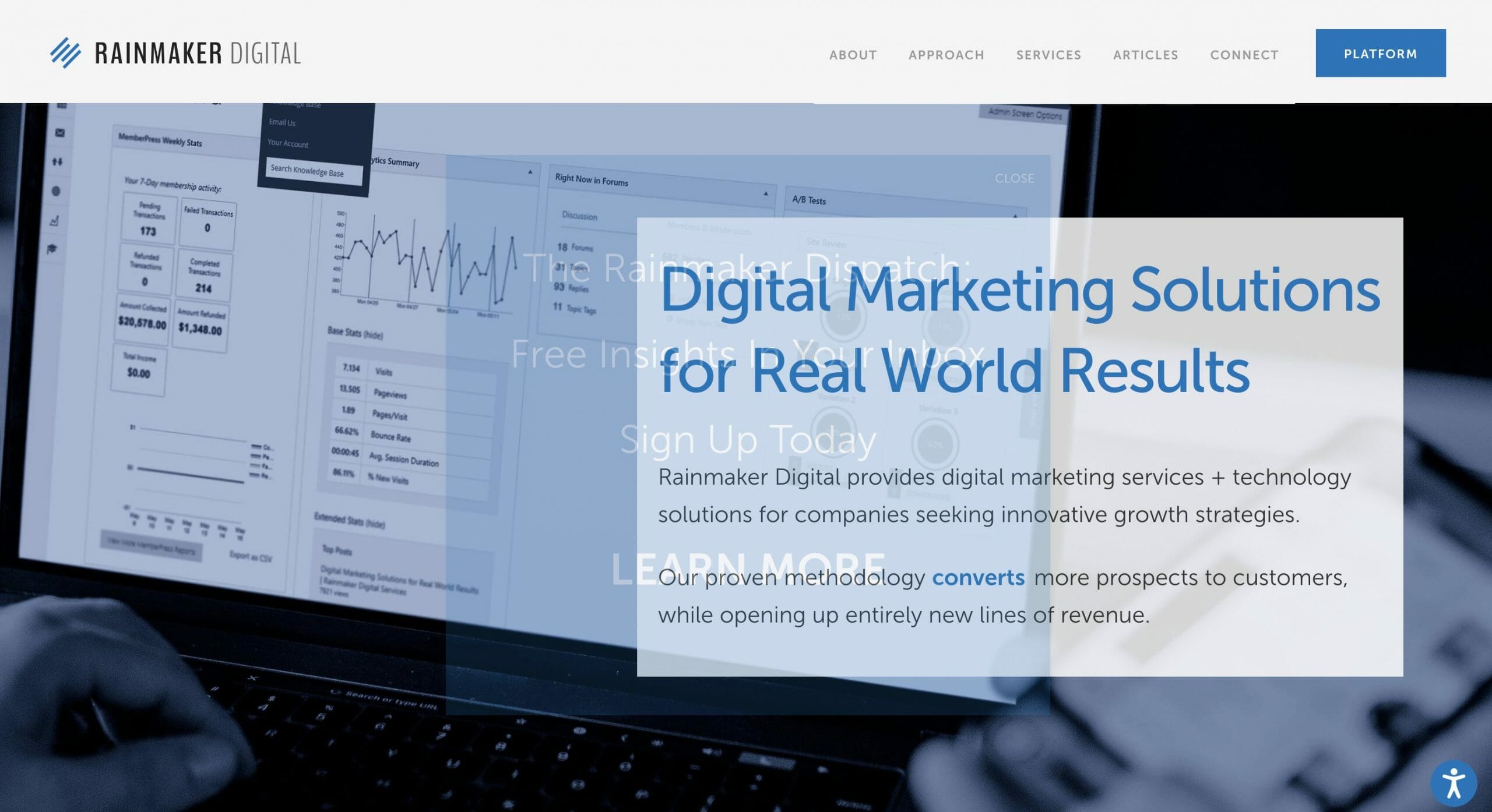 Rainmaker Digital offers a vast number of services (as you'll see from the extensive list below). They fall under four main categories, though: content marketing, web development, digital marketing, and Rainmaker's proprietary platform.
Their platform helps clients to create memberships, online courses, landing pages, sales funnels, and more, and is a unique offering that not many companies could get with other agencies. The team has an "audience-first" approach that helps them generate real results for their clients.
Services:
Strategic Planning

Editorial Calendar Development

Copywriting

Graphic Design

Search Engine Optimization

Social Media Engagement

Email Marketing

Lead Generation

eCommerce and dCommerce

Membership

Online Courses / Digital Products

Landing Pages

Sales Funnel / Audience Migration

Email Marketing

Web Design and Development

User Experience (UX) Design

Responsive Development

Custom Web Development

Plugin Development

Hands-On Training

Search Engine Marketing

Social Media Marketing

Display / Programmatic

Site Sponsorship

Affiliate Marketing

A/B Testing
---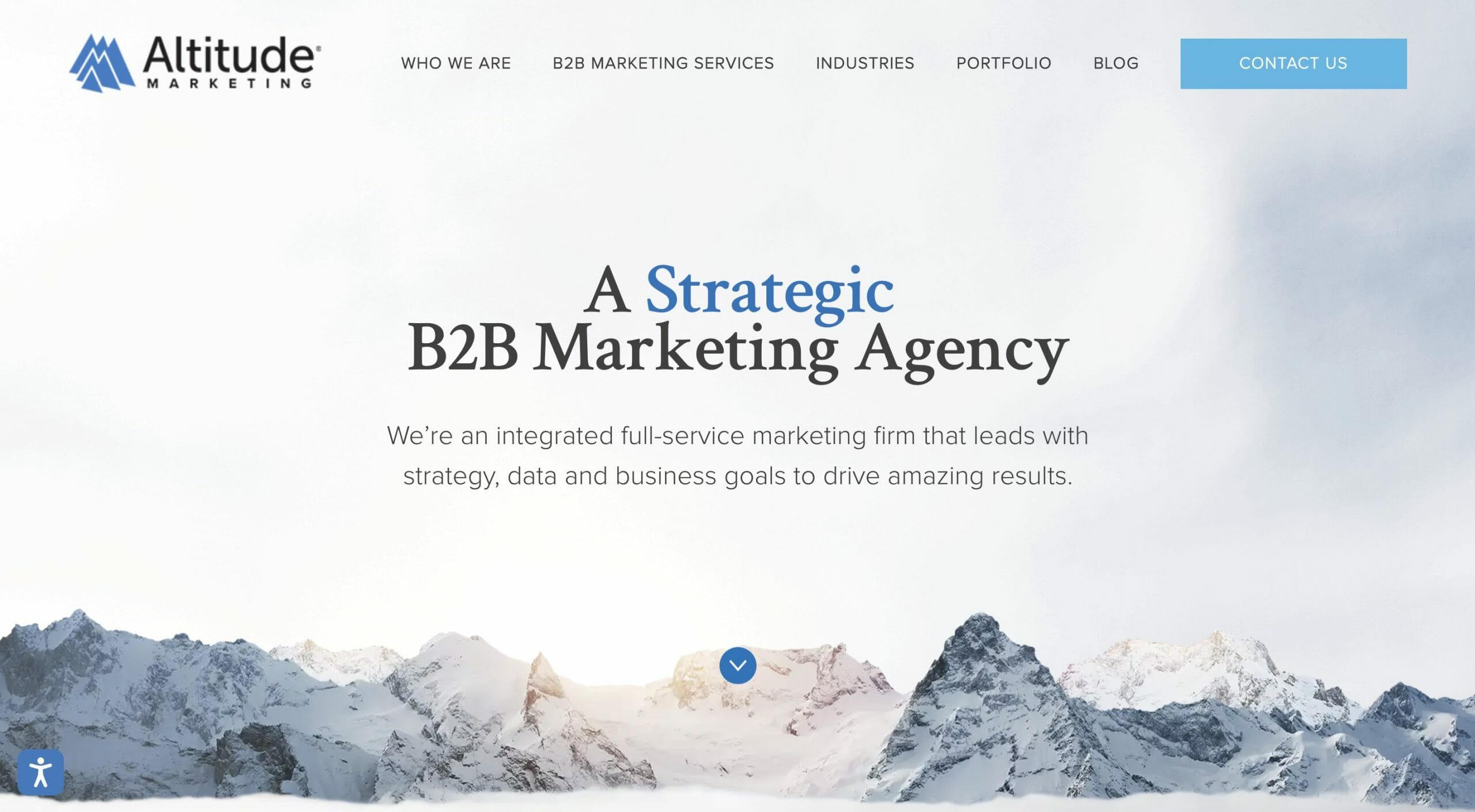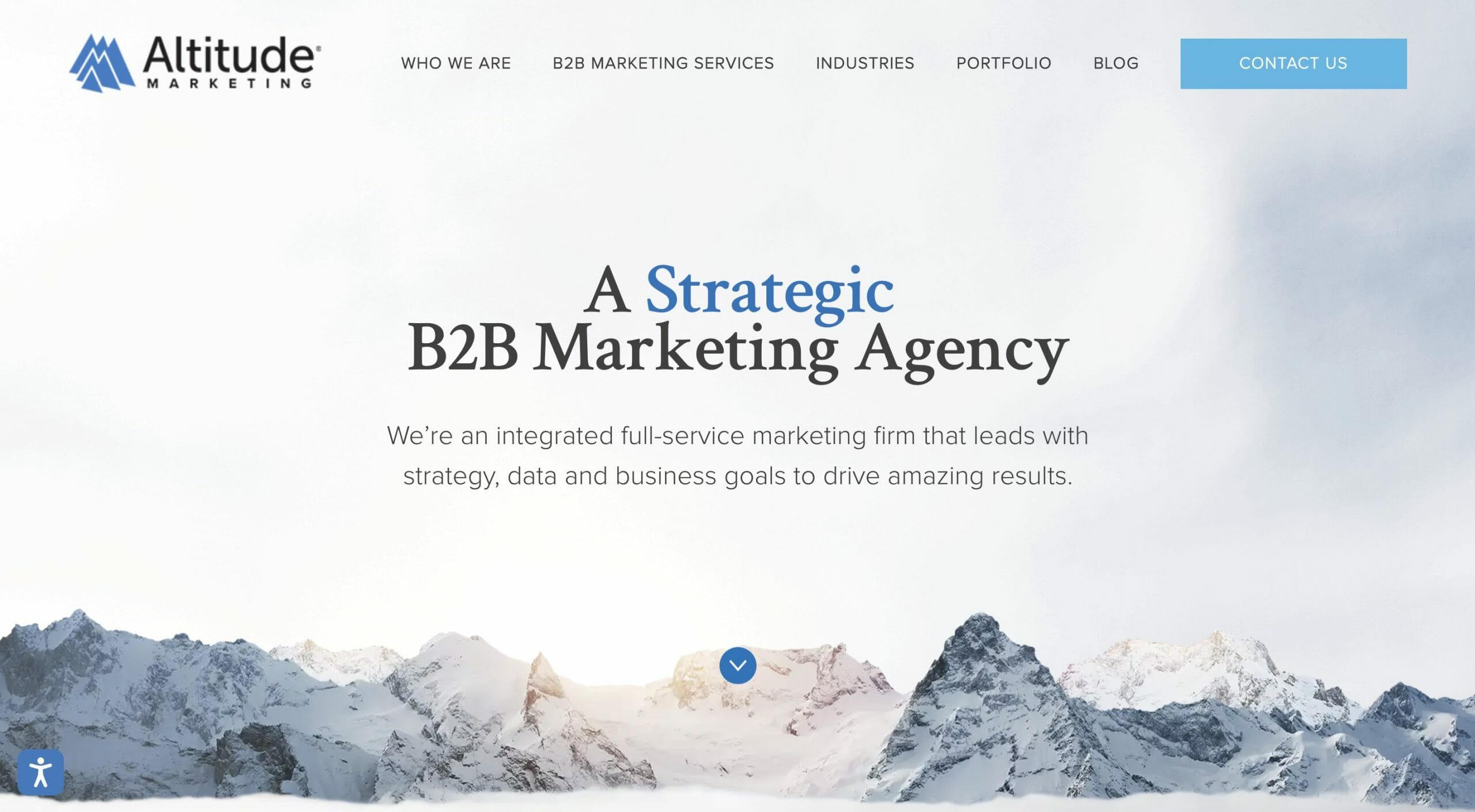 Altitude Marketing is a full-service B2B marketing and advertising agency. They've worked with clients like CenterEdge Software, Boise Paper, and Verista. The agency offers a wide range of services, from graphic design and video production to public relations, SEO, and branding.
This agency has been around for over 18 years and has generated more than 50,000 sales qualified leads for their clients. They've also helped businesses get acquired if that's something you're interested in for your own business down the line.
Services:
Marketing Strategy

Branding

Content Marketing

Web Development

Search Engine Optimization

Digital Marketing

Graphic Design

Social Media

Public Relations

Media Buying

Trade Shows

Video

Process Automation

Life Sciences Marketing
---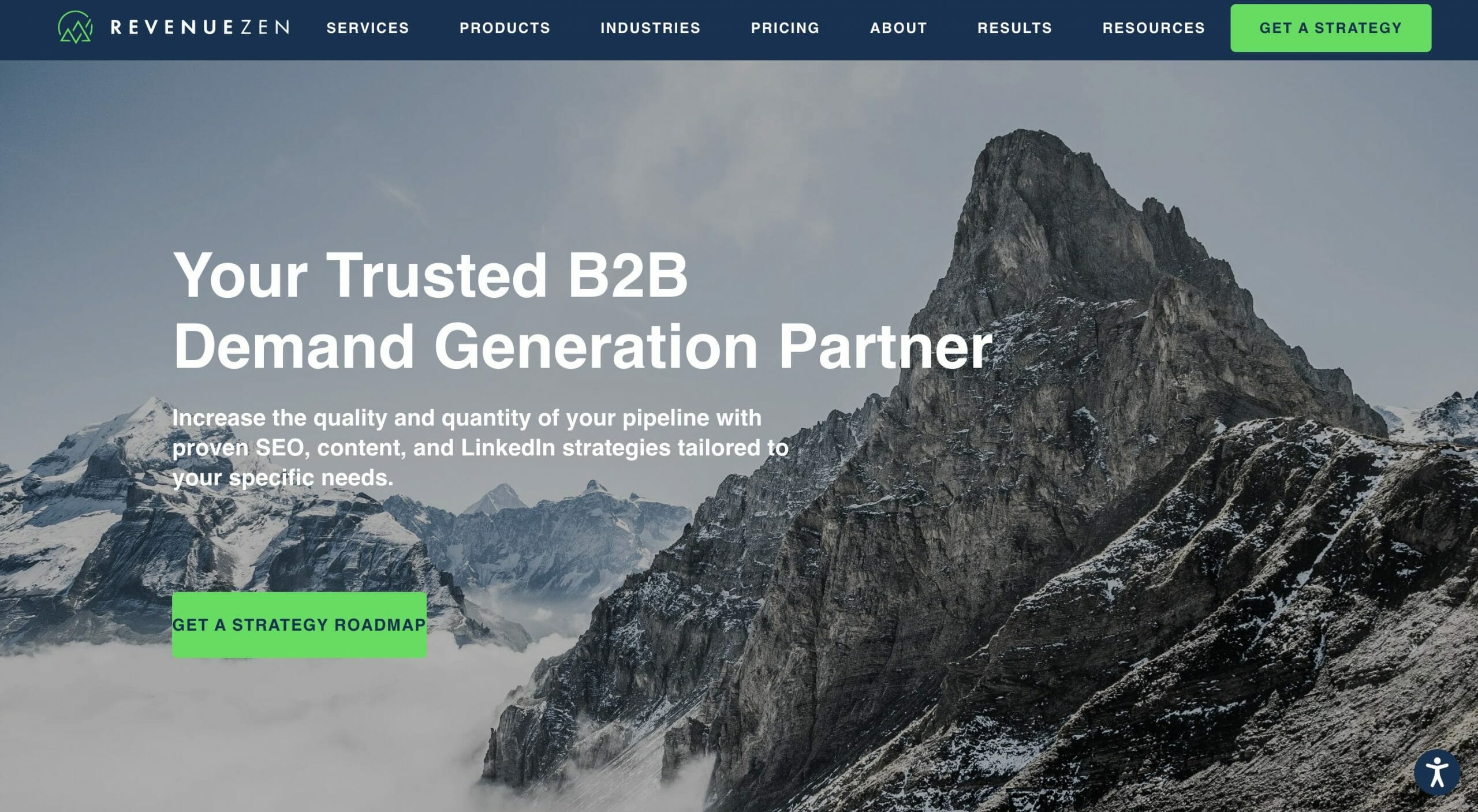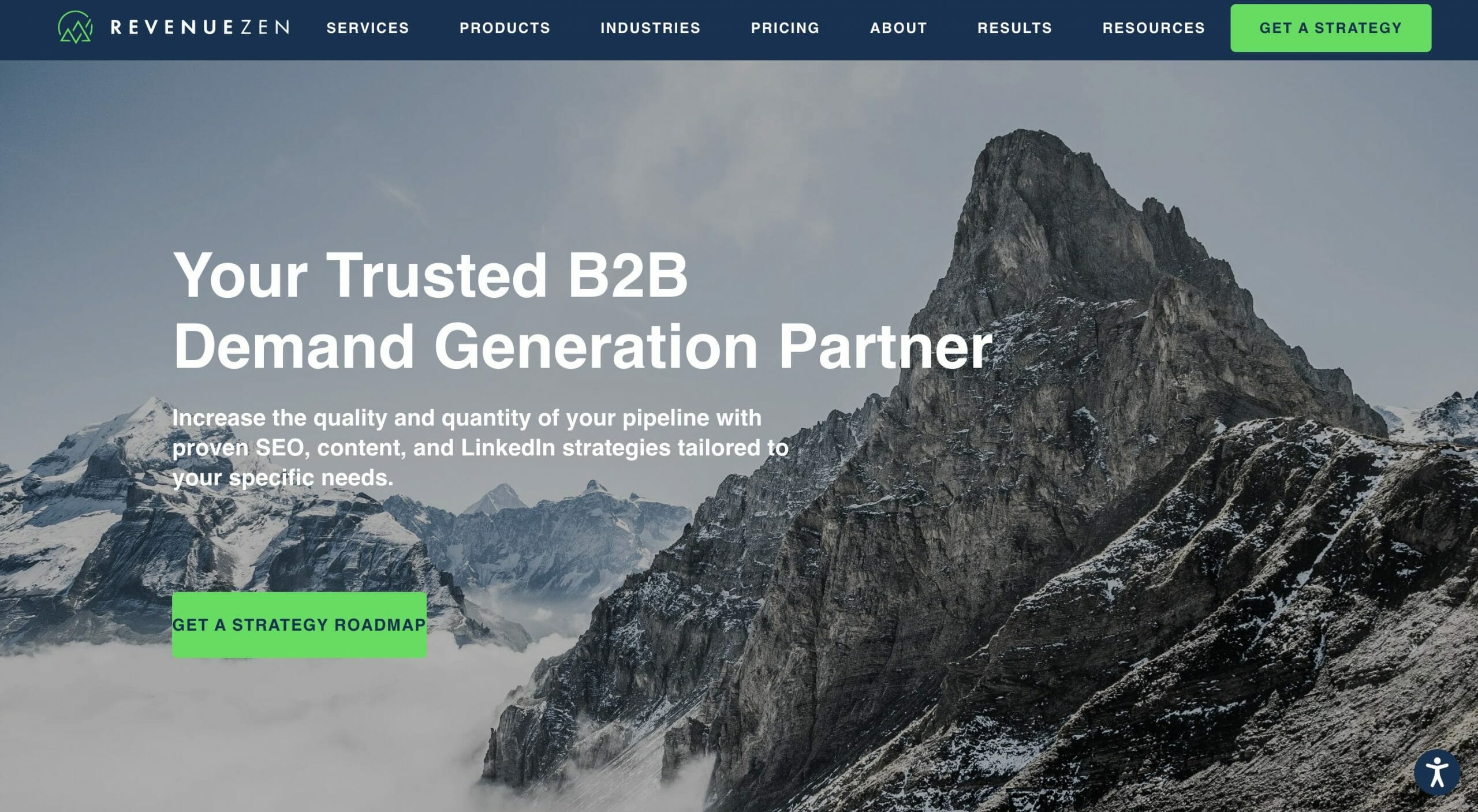 RevenueZen has dubbed themselves an ROI-focused demand generation agency, and they also focus exclusively on B2B brands. Some of their top clients include Bloomfire, Solvvy, and Syncari.
Though they do work mainly with B2B companies, they work with a variety of niches, and create a personalized strategy for each one. After all, the strategy for a SaaS company isn't going to be the same as that of a small business law firm.
Services:
B2B SEO

B2B LinkedIn Marketing

B2B Content Marketing

Marketing Analysis and Dashboards

Link Building Outreach

B2B Verbal Brand Identity and Messaging
---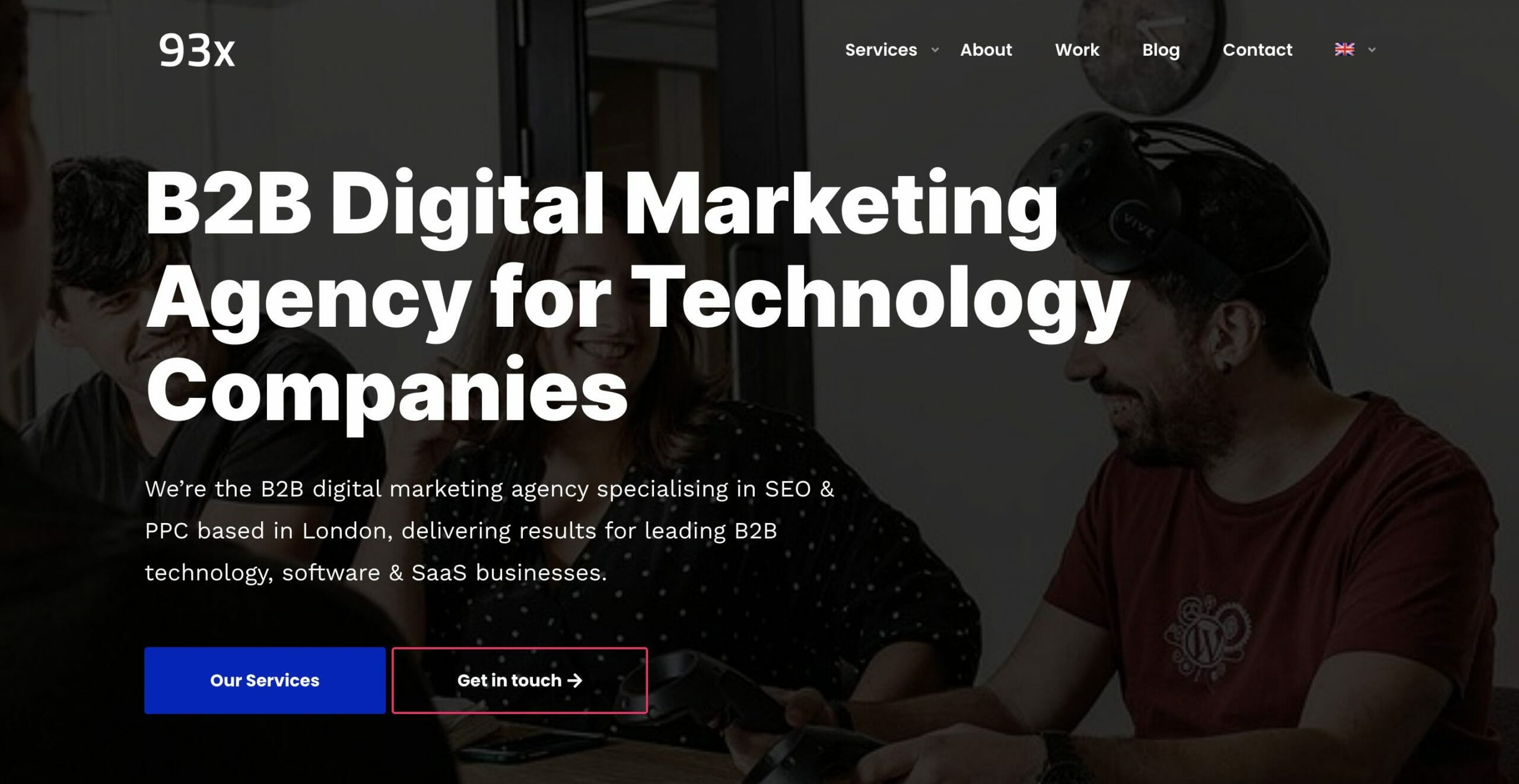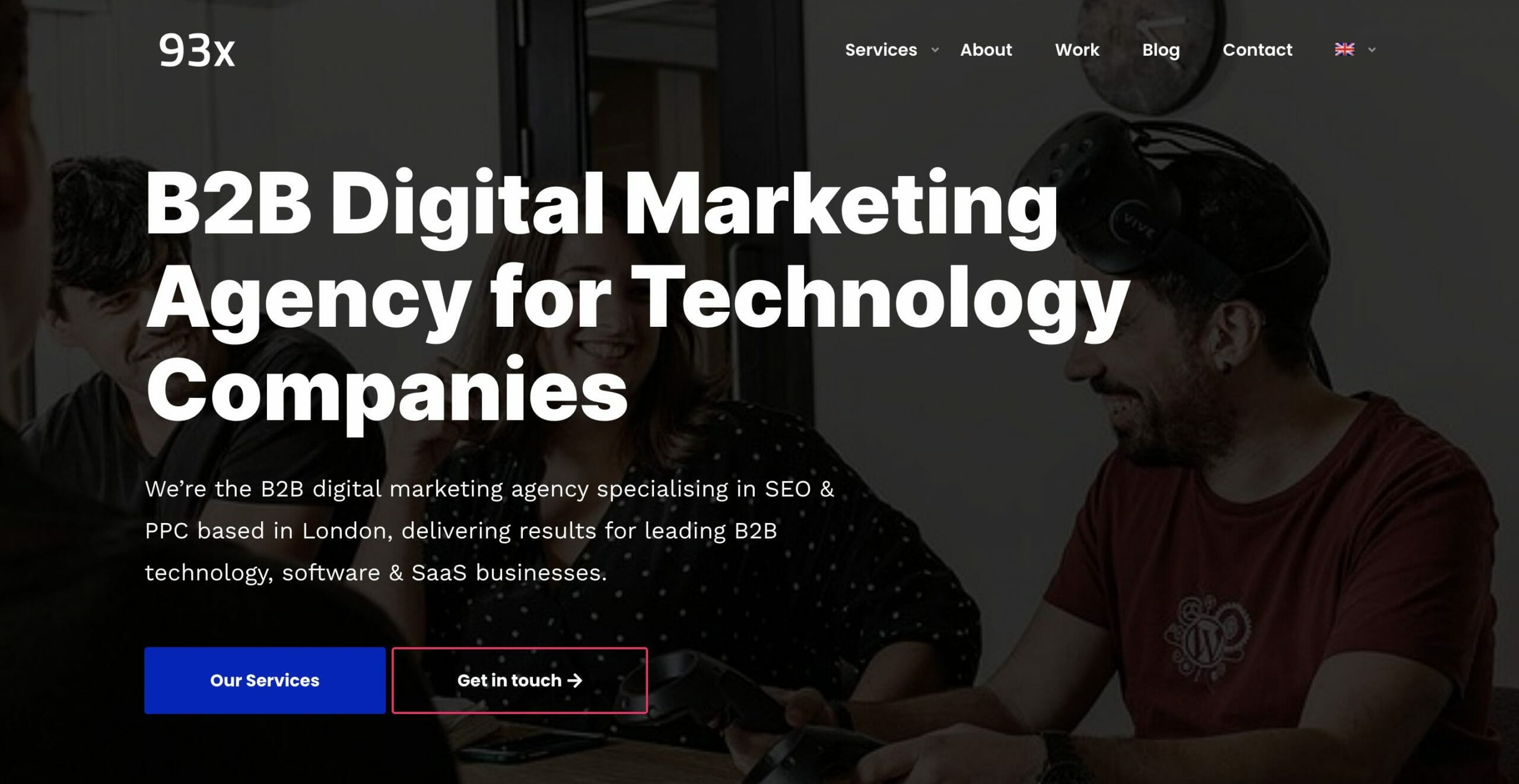 93x is a London-based SEO & PPC agency specializing in B2B technology, software, and SaaS companies. Their main goal when working with their clients is generating sales qualified leads, building out pipelines, and increasing revenue.
The agency has worked with clients like Bankable, EventsForce, Uniphore, and Cluster Seven. Their entire strategy revolves around the B2B buyer journey of each client, ensuring they're able to increase sales and generate results that matter to their client's bottom line.
Services:
B2B SEO

B2B PPC

Conversion Rate Optimization (CRO)

B2B UX and Web Design
---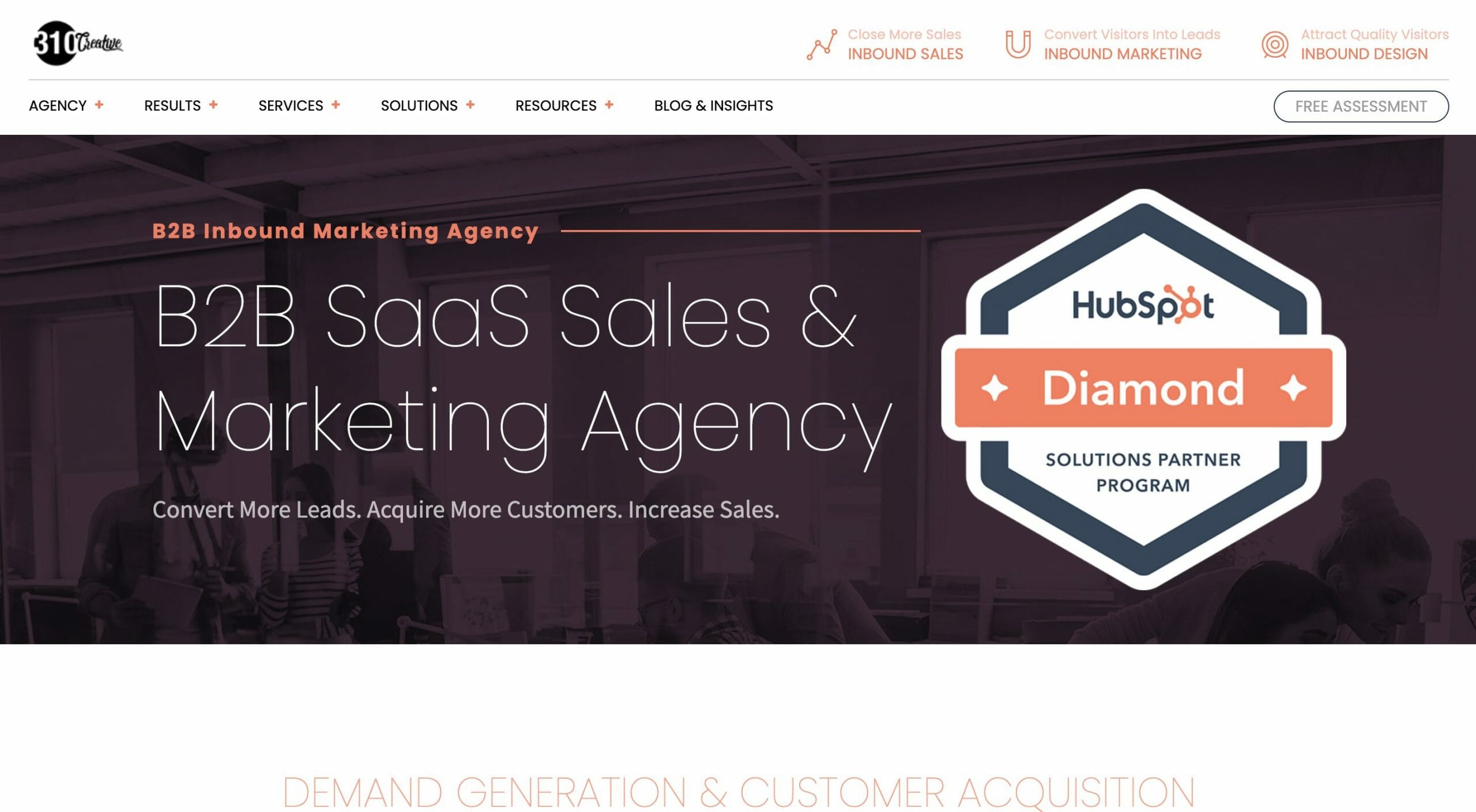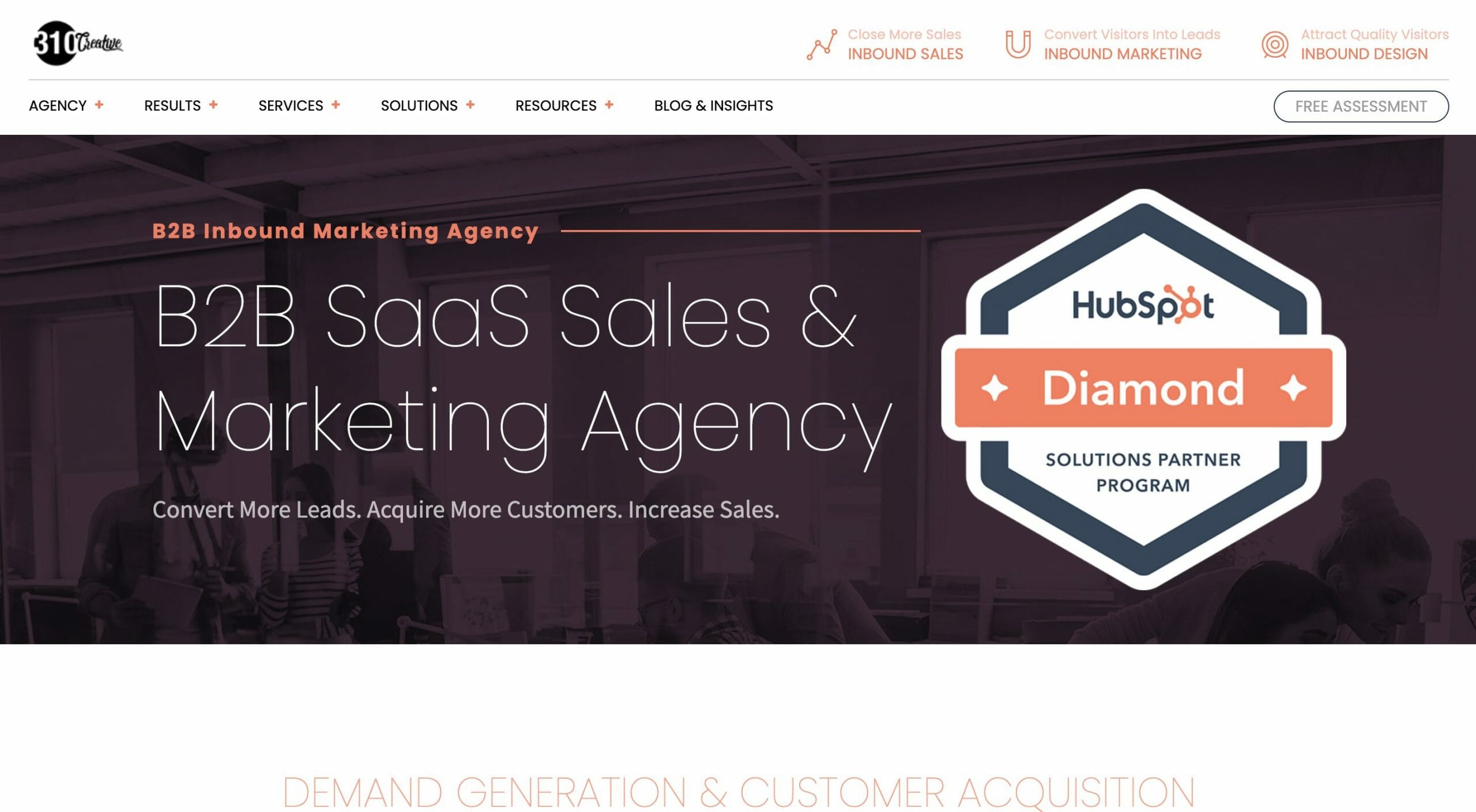 310 Creative is a B2B sales and marketing agency that also focuses mostly on B2B SaaS companies. Niching down like they've done helps their team to specialize and know exactly how to drive results for their clients.
The team has worked with top clients such as Anthem Workers' Compensation, Capium, and ZeroBounce. They have a healthy client base, and though they work with a lot of SaaS companies, they've even partnered with bands, TV networks, and record labels, building out a pretty impressive portfolio.
Services:
Search Engine Optimization

Paid Search

Social Media Marketing

Search Engine Visibility

HubSpot Onboarding

Inbound Marketing

Sales Enablement

Sales-Ready Websites
---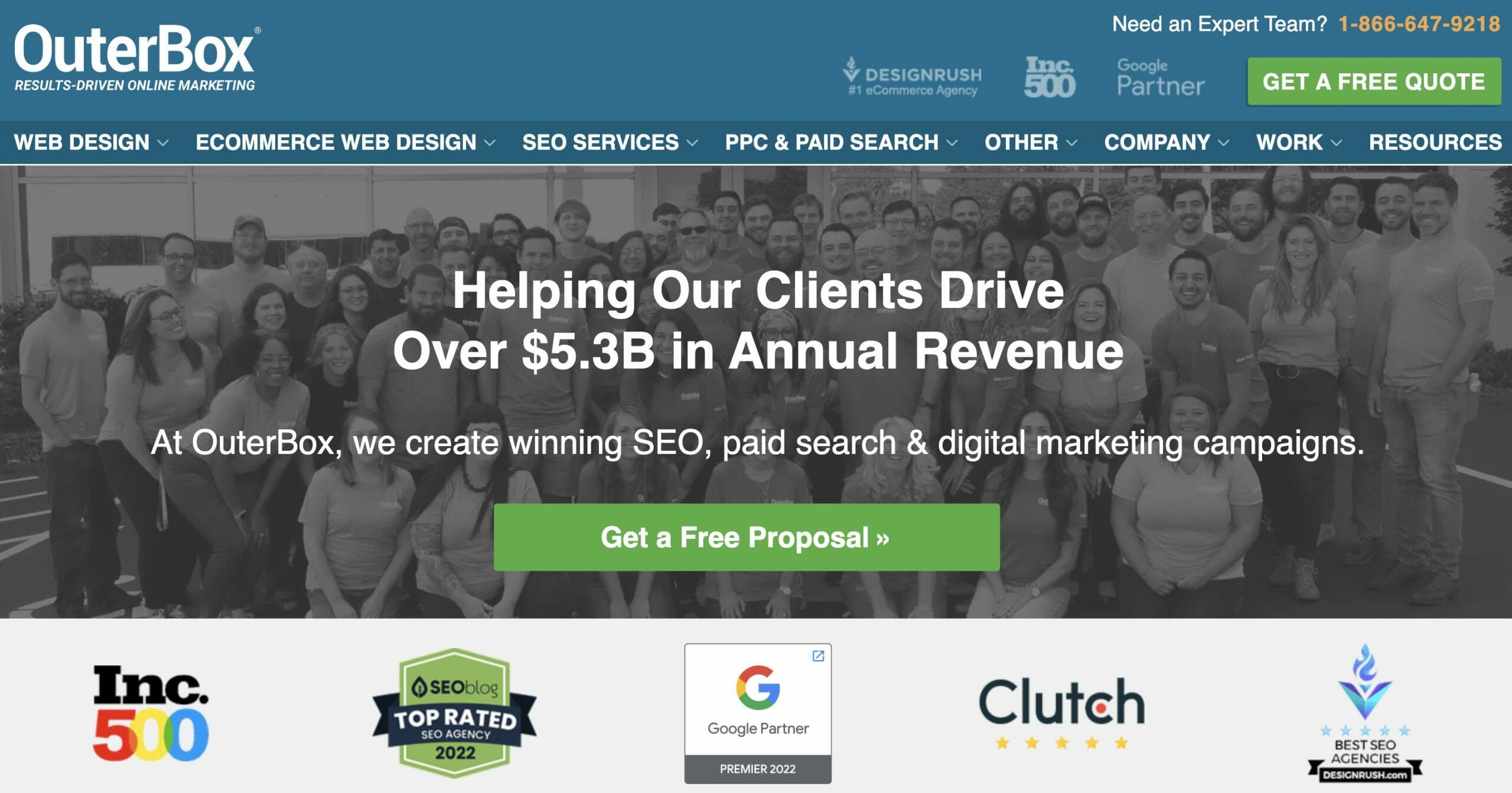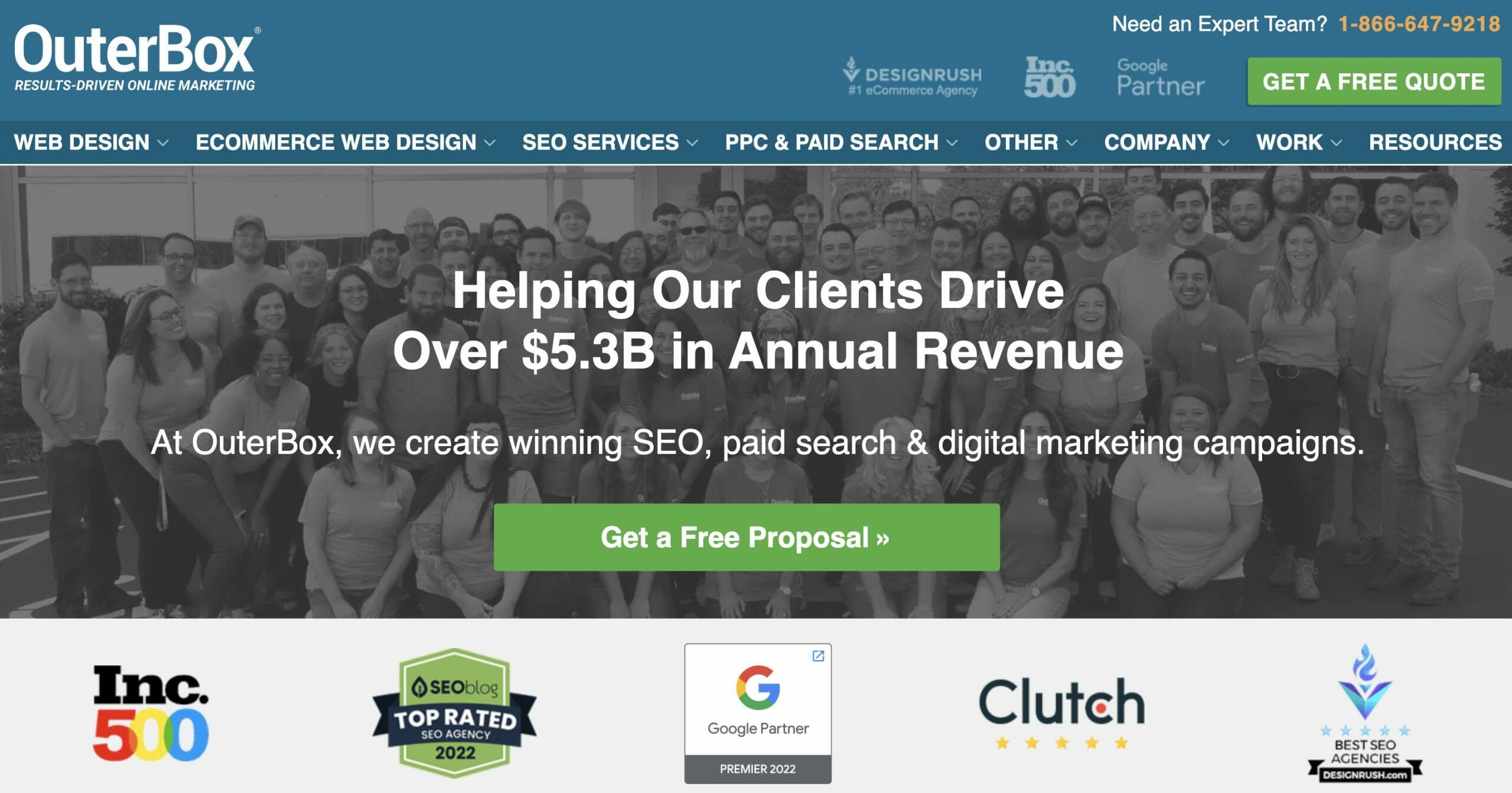 OuterBox is a digital marketing agency that boasts right on their homepage that they've helped clients generate more than $5.3 billion in annual revenue. They do this through SEO, digital marketing, and digital advertising strategies and campaigns.
OuterBox has worked with clients like Epicor, Matco Tools, and Tronair. If you need any type of marketing service, OuterBox offers it. They also work with a number of different industries, from B2B to ecommerce, helping design and maintain websites alongside their other marketing strategies.
Services:
Website Design

Website Maintenance

B2B SEO

SEO Consulting

PPC and Paid Search

Email Marketing

Conversion Rate Optimization (CRO)

Social Media Marketing Management

Content Marketing
---
Directive is a performance marketing agency that works exclusively with SaaS companies. Their goal is to drive real growth, and they've included a list of all clients who have acquired funding, gone public, or even been acquired.
This agency has worked with clients like Bill.com, ZoomInfo, Sendoso, and Chili Piper. They offer a number of SEO services, but also offer something unique—revenue operations. Through this, Directive offers services that help SaaS companies to increase revenue and see real growth through their partnership.
Services:
Search Engine Optimization

PPC

Design

Revenue Operations

Video

Strategy
---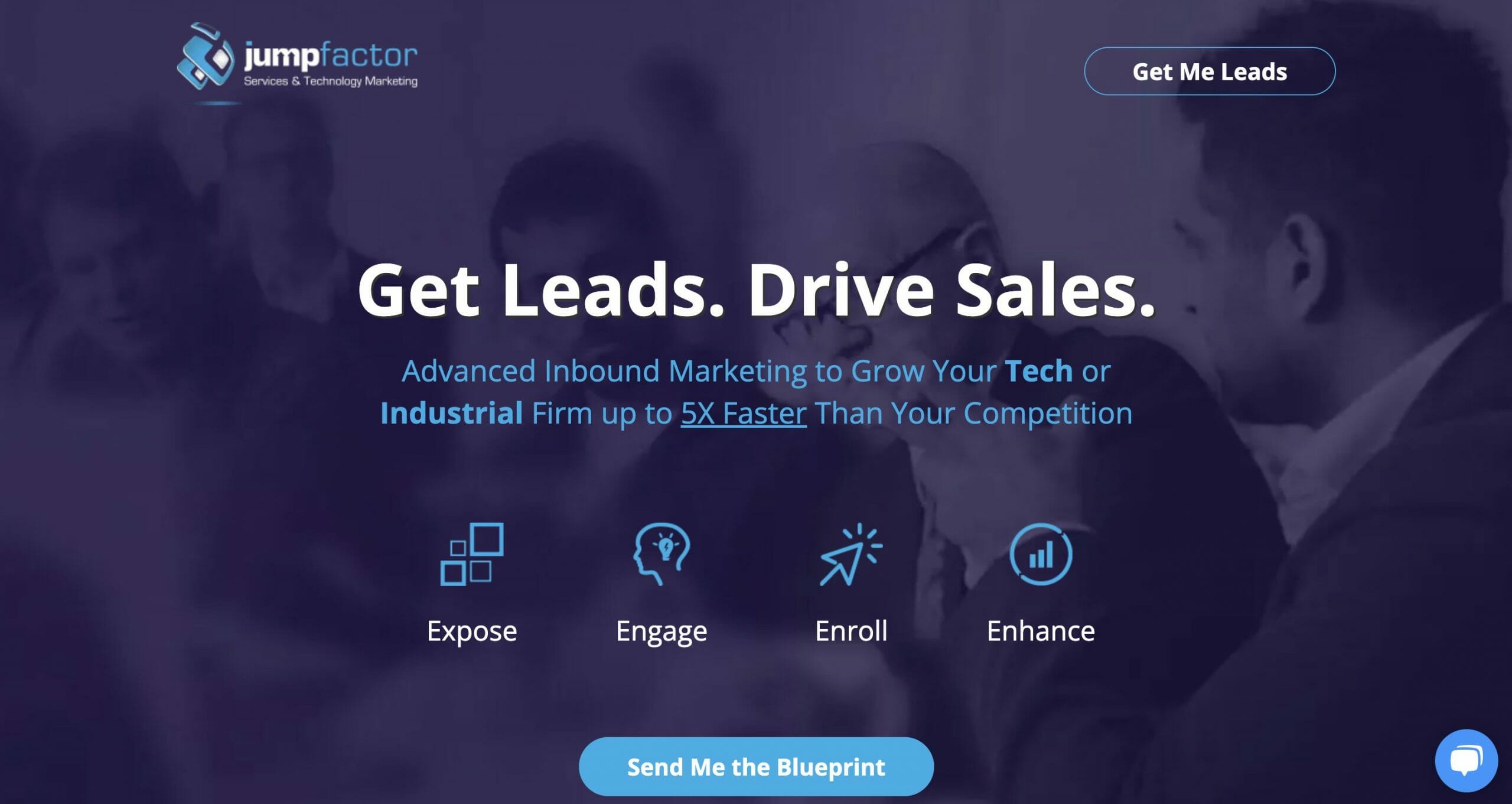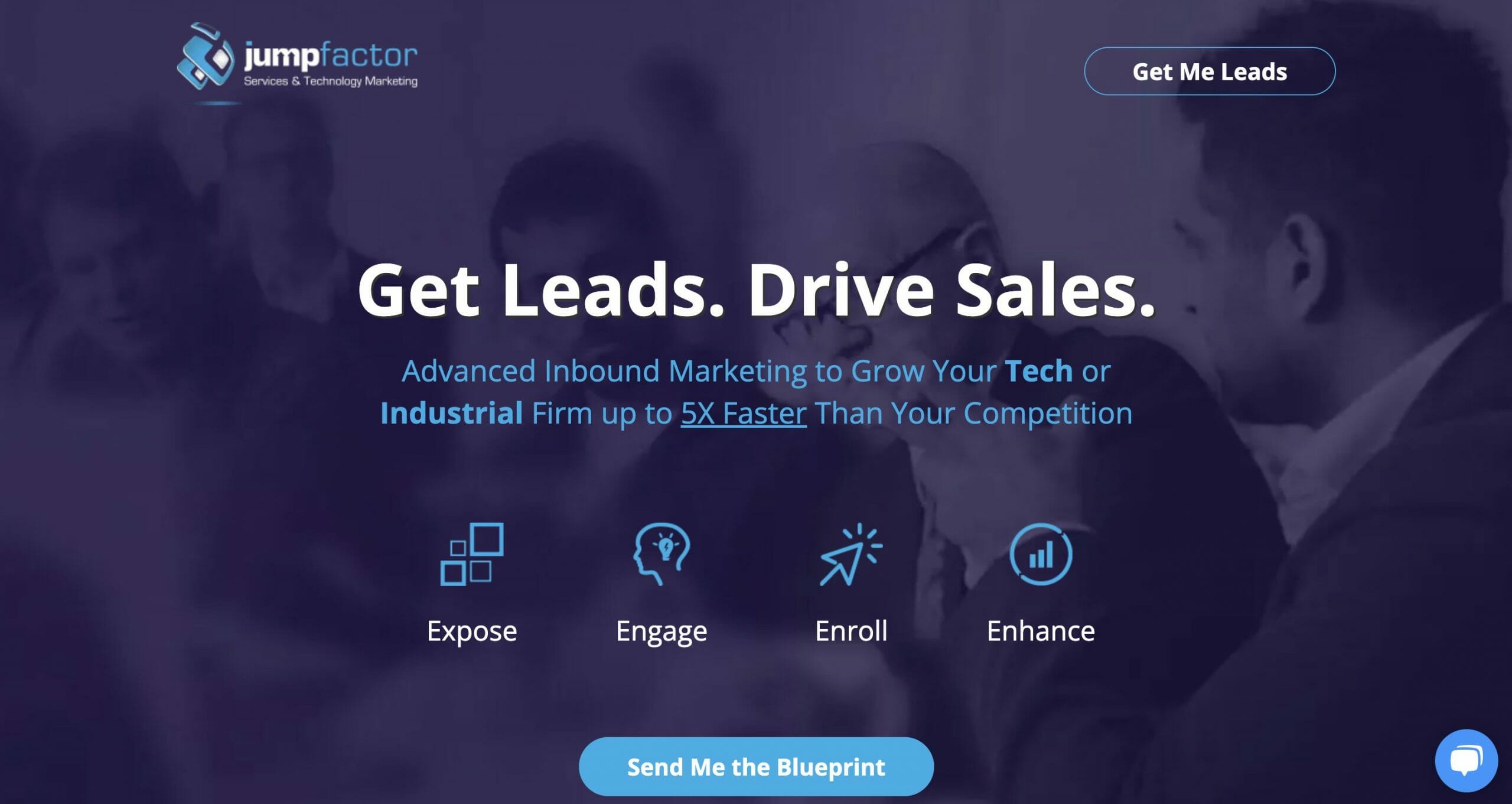 Jumpfactor is a B2B digital marketing agency, catering their services only to B2B companies and tech firms. They help clients create lead generation strategies that bring in new leads to nurture that eventually lead to sales. On their homepage, they showcase one client that saw a nearly 3,000% increase in traffic and revenue.
Jumpfactor has worked with a number of clients, including companies like FlexReceipts, ICC Property Management, and Cloudvelox. Not only do they offer a number of digital marketing and SEO services, they also have their own university to help their clients learn more about marketing on their own.
Services:
Search Engine Optimization

PPC

Inbound Marketing and Training

Reputation Management

Marketing Automation

Social Media Marketing

Content Marketing

Website Development

Brand Identity
---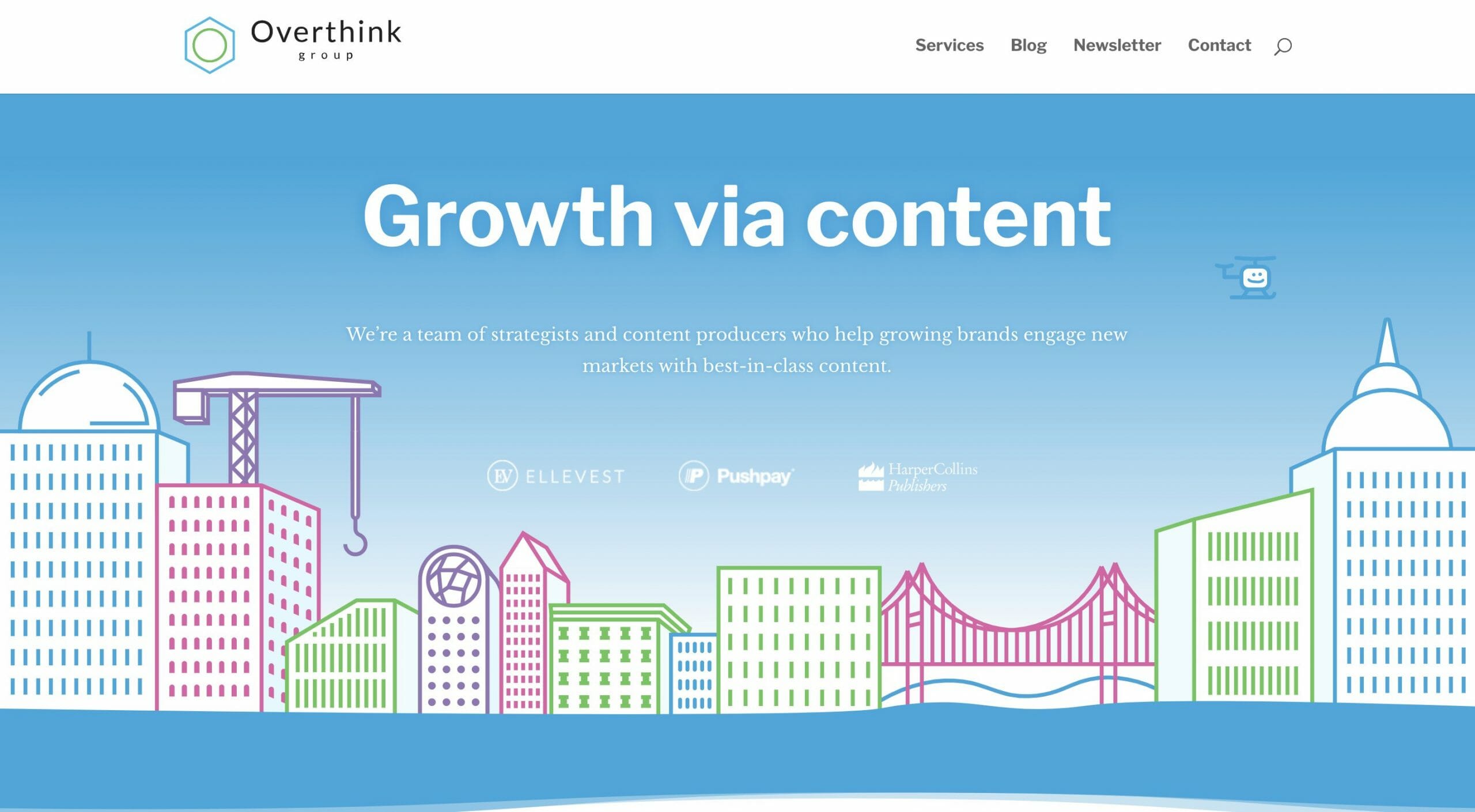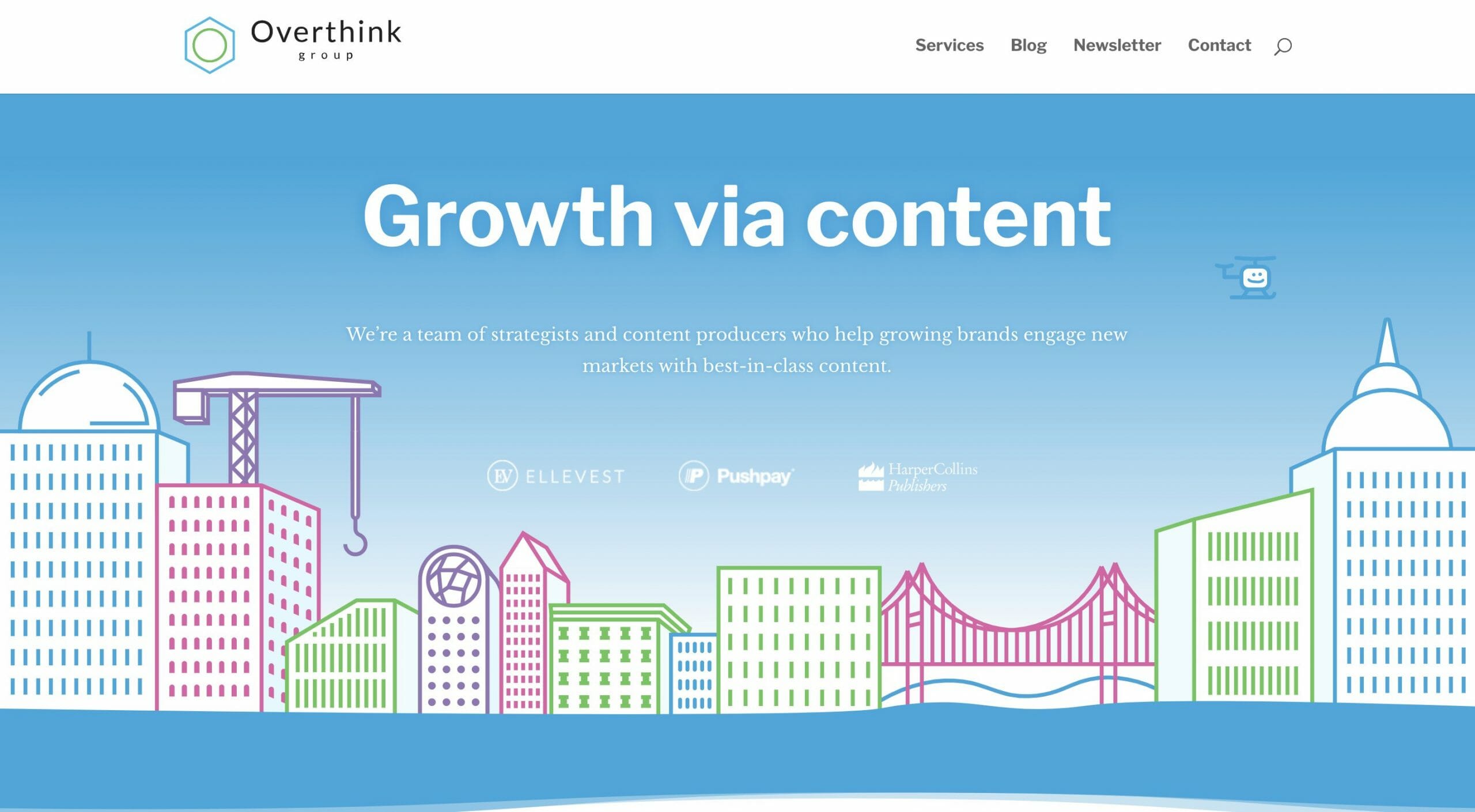 Overthink Group is a content marketing and SEO agency that focuses exclusively on B2B business blogs. Their main services include an overall content and SEO strategy, then clients can choose between consulting while they manage the content in-house, or full-service content production.
The agency is very transparent about their services, and their pricing. Strategies range between $10,000-30,000, depending on the scope of the project, while ongoing monthly services can land anywhere from $5,000-20,000 per month.
Services:
Content and SEO Strategy

Consulting

Content Production
---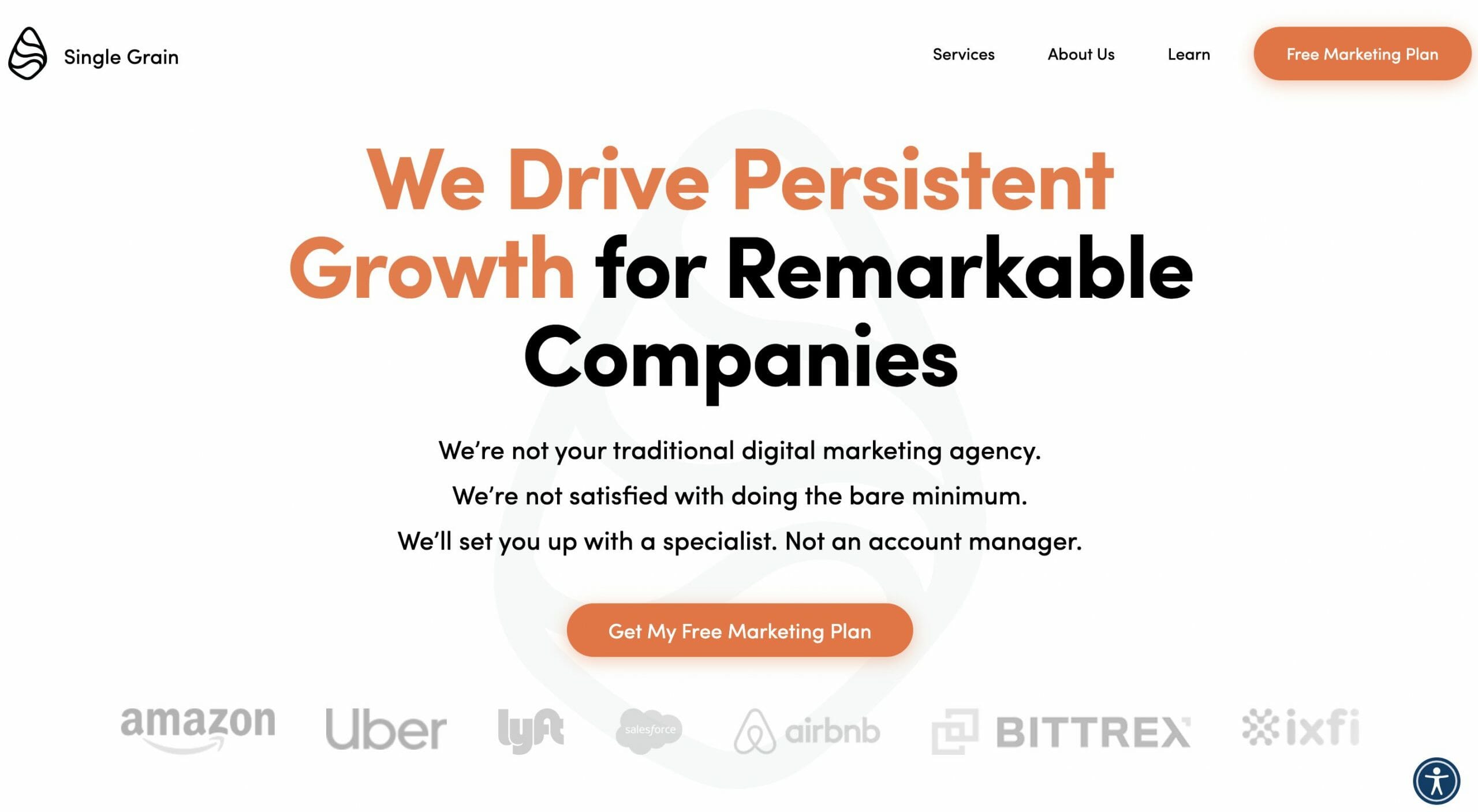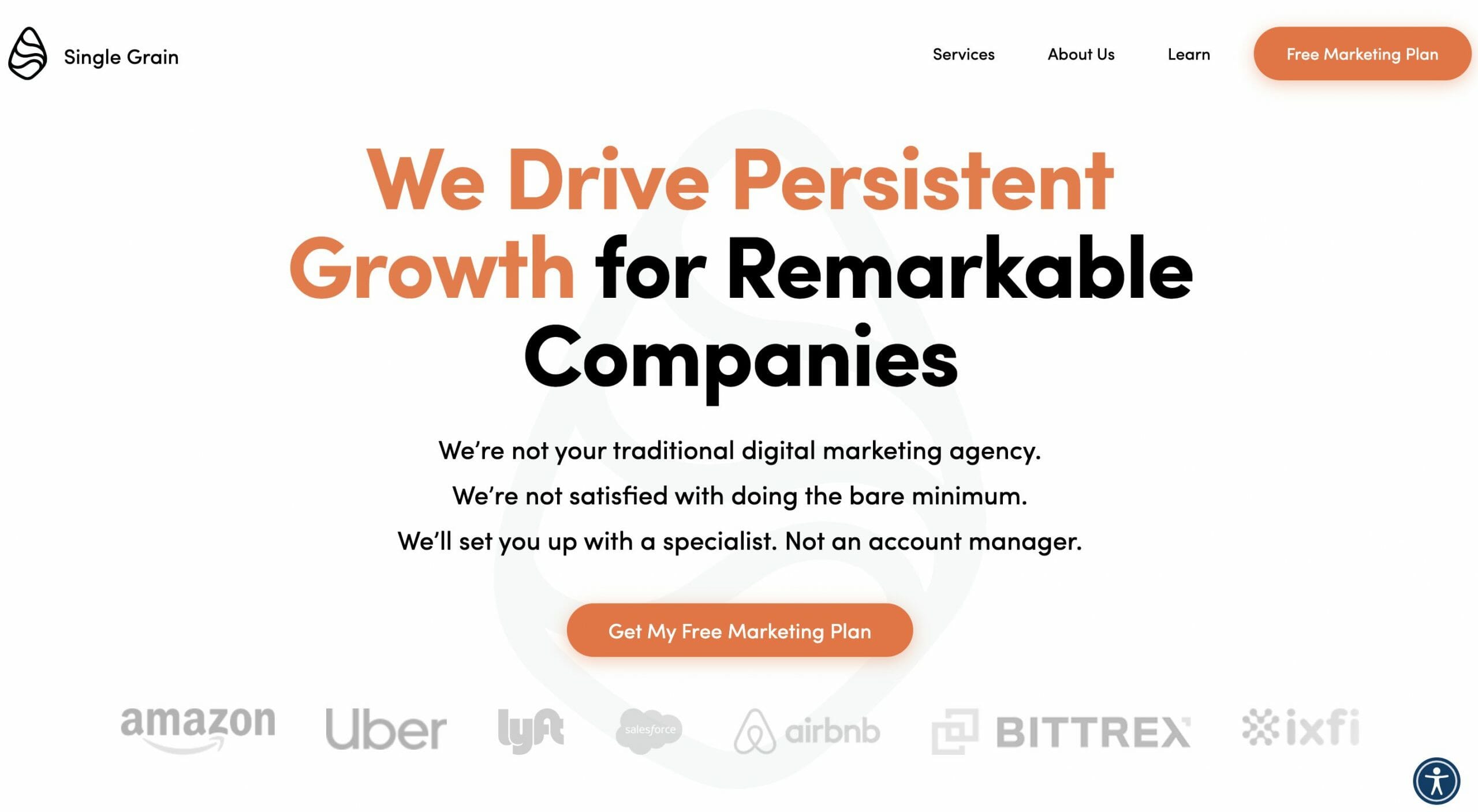 Single Grain is another content-focused B2B agency. But they also offer services for crypto and NFT companies. This is important because as a newer industry, it's important for blockchain companies to find marketers who know how to work with their regulations.
But, for non-crypto companies, Single Grain still offers an amazing SEO option. Their team puts together a conversion-driven strategy based on your goals, while also monitoring any technical SEO issues and analyzing your competitors.
Services:
SEO

Content Marketing

Google and Facebook Ads

Conversion Optimization

Crypto and NFT Marketing
---
KlientBoost is a performance marketing agency that focuses on four main sectors: paid advertising, SEO, conversions, and email marketing. They've worked with clients like Bloomberg, HotJar, AdEspresso, and Upwork. And they've shared over 600 client success stories.
Some of their results include a 1,500% increase in organic leads, 94% increase in conversion rate, 863% increase in revenue, and a 3,800% increase in conversions.
Services:
PPC and SEM

Content Marketing

SEO

Link Building

Conversion Rate Optimization

Landing Page Design
---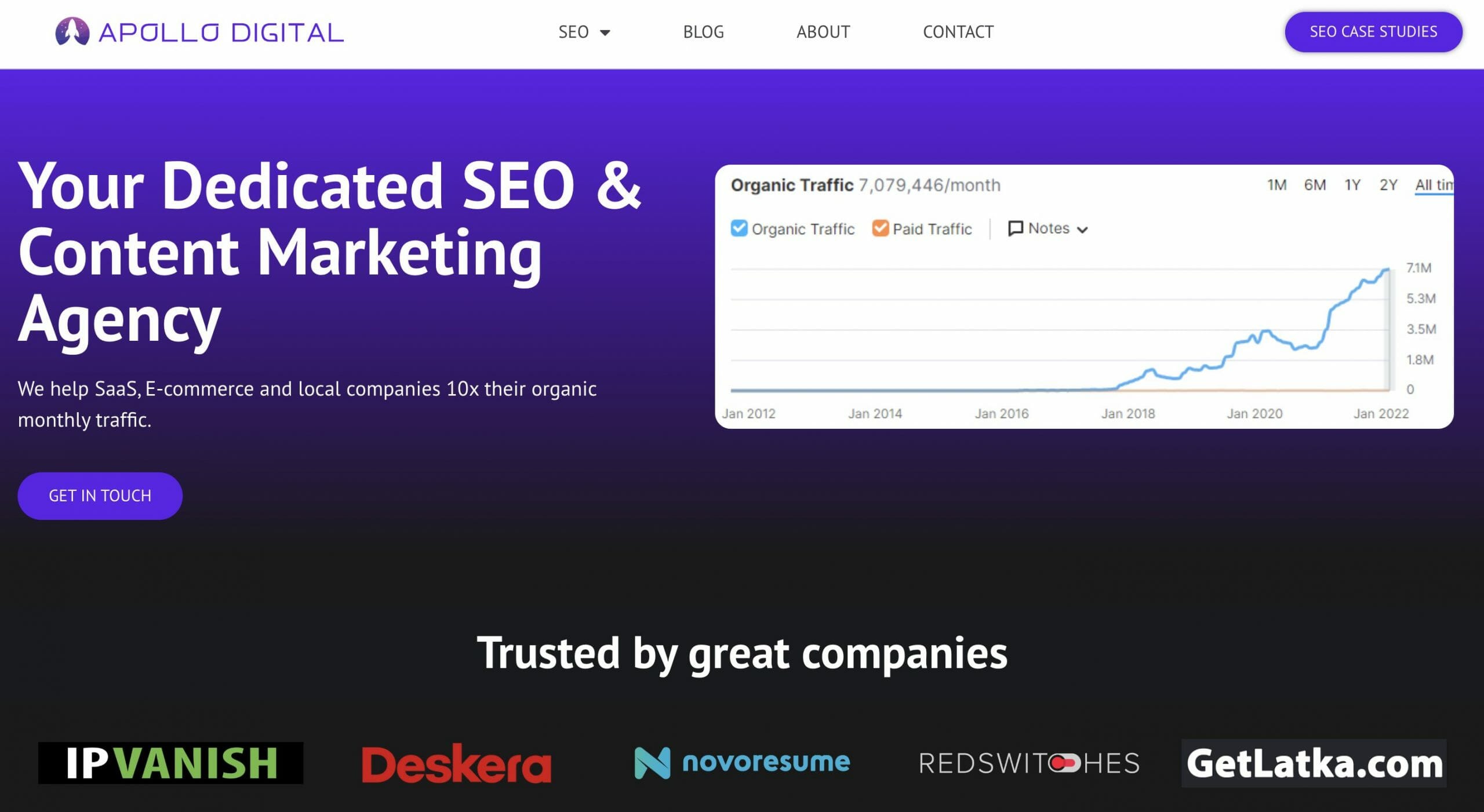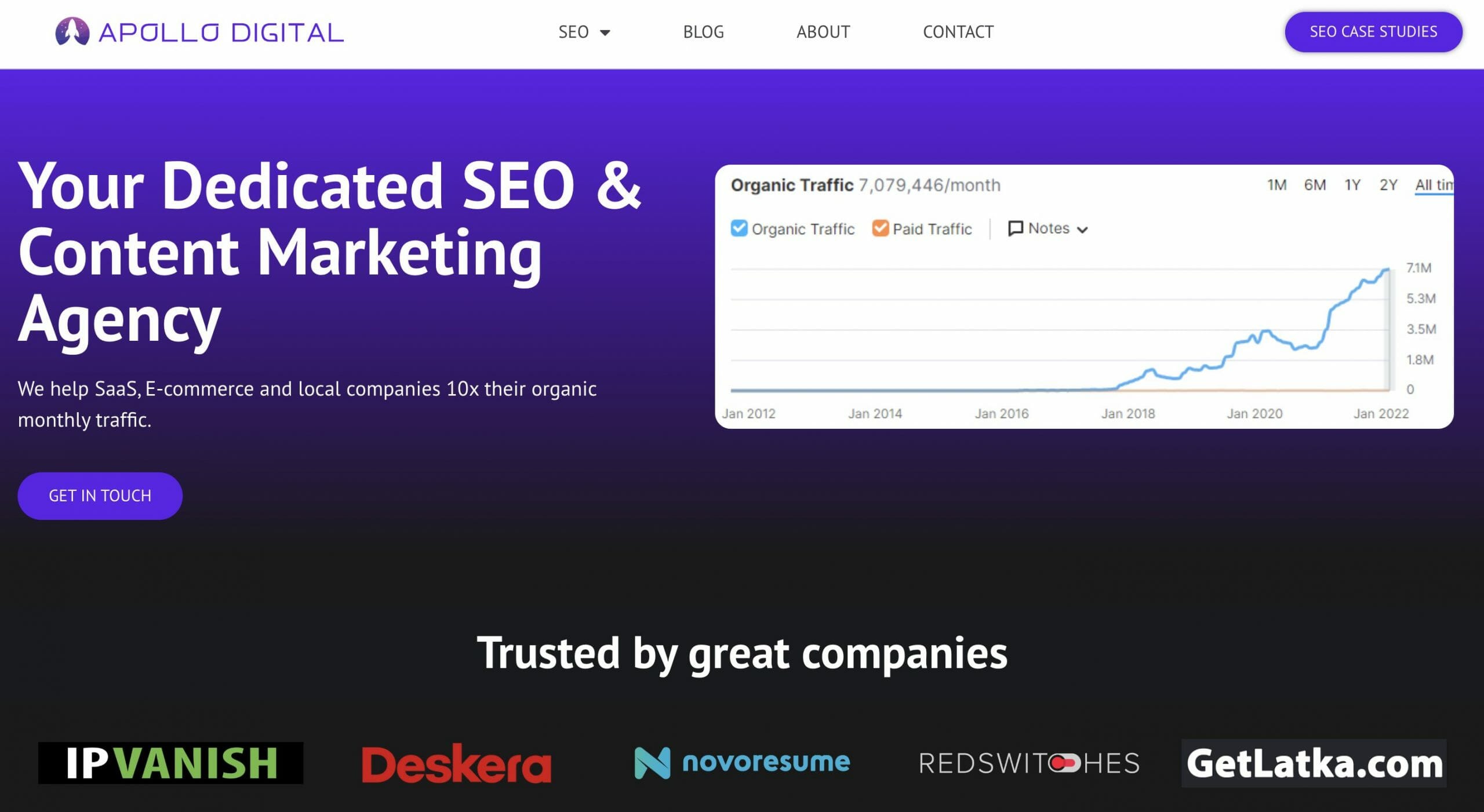 Apollo is another SEO and content marketing agency, though they work with a mixture of B2B, SaaS, and ecommerce clients. Some of those clients include NovoResume, MeDesk, and Acuto.
They showcase their 2021 performance right on their homepage, which includes 31.4 million organic traffic created, over $9.3 million in revenue for clients, and one client reaching 7.1 million monthly traffic.
Services:
Search Engine Optimization

Content Creation

Link Building
---
---
Find the Best B2B SEO Agency for Your Brand
Having a solid online presence is key for business success, and one way to do that is through SEO. However, SEO takes time and effort, which is why partnering with the right agency can be a great way to improve your results. To learn even more about how to improve your website's SEO, check out our full guide to improving your Google ranks.
Frequently Asked Questions
What is B2B SEO?
SEO stands for search engine optimization, and is a strategy that shows search engines that your website is a trusted authority on a certain topic. By harnessing proven SEO tactics, you're able to increase the likelihood that your website, landing pages, and blog posts get to page one of Google results (or even that coveted first position).
B2B SEO is a type of SEO that specializes in business-to-business companies and the necessary tactics to help those websites reach their audiences.
What is a B2B SEO agency?
A B2B SEO agency is a marketing or content agency that specializes in implementing SEO strategies for B2B companies.
What does a B2B SEO agency do?
A B2B SEO agency works with their clients to create content strategies, and sometimes even to create the actual content, that help the companies rank higher in search engine results pages.
How much does a B2B SEO agency cost?
SEO agency OuterBox (one of the agencies here on our list) states that the average SEO agency costs between $100-250/hour. Another agency on our list, Overthink Group, actually publicizes their pricing, showcasing that their services range anywhere from $5,000-20,000/month, after the initial $10,000-30,000 for the strategy.
SEO isn't cheap, but it can be worth it. If you're just starting out, you may want to do some DIY SEO tactics until you're able to hire an SEO agency.
Why is SEO important for B2B?
SEO is important for any brand, but especially B2B. This is because SEO helps your potential clients trust you more, it helps you rank for valuable keywords, and it'll help position your business in front of professionals that are looking for your services.