The future of business is all about customer experience. In 2023, companies will be more critical than ever to differentiate themselves by going above and beyond what's expected of their clients. A recent survey indicated that 60% of customers who did more business with companies attribute their choice to good customer service. This may be lower than 2017's data of 68%, but it still shows that over half of customers across sectors prefer companies that deliver excellent customer experience.
---
8 Best Customer Experience Platforms to Grow Your Business:
---
What is Customer Experience (CX) Management?
Customer experience management involves designing opportunities for customers to send feedback and for the brand to respond accordingly. The process helps achieve customer satisfaction, especially when something needs to be resolved about the product or service you are offering. Customer experience management also gives insight to brands on what types of improvement can be made to the product or service.
Customer experience has surpassed price and product as key brand differentiators. While the importance cannot be overlooked, attending simultaneously to several concerns will overwhelm any staff. Brands need automated customer experience software to fill in the gaps.
A good customer experience platform allows you to organize, automate, and gather data insights to efficiently serve your customers. Customer experience tools help respond quickly to issues and use the data collected to satisfy current clients. Knowing customer service's importance, managers can redirect the brand's priorities by investing in a customer experience tool.
---
What to Look for In Customer Experience Platforms
Selecting the right customer experience tool can be difficult amidst the many options. Here are key features and considerations to inform your choice.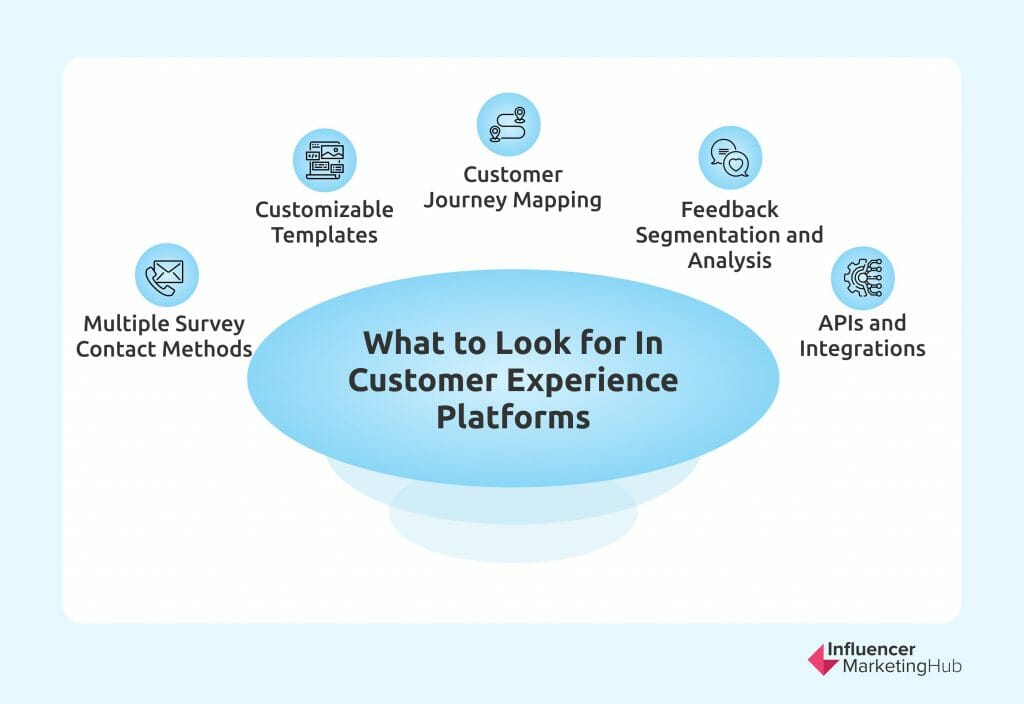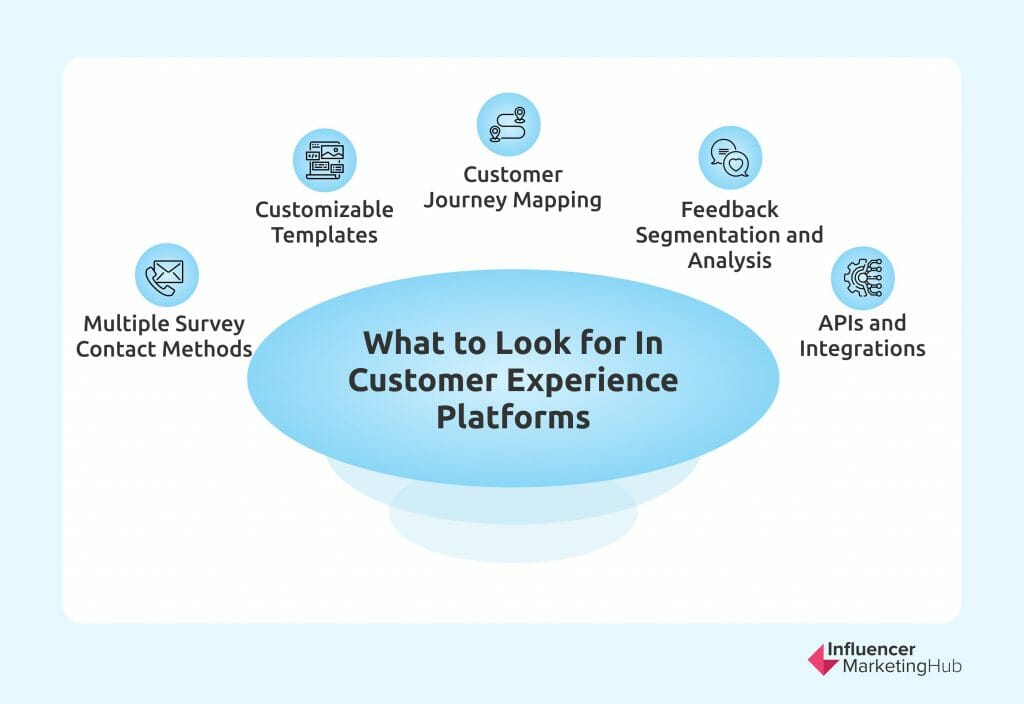 Multiple Survey Contact Methods
When it comes to customer service, the brand has to have multiple points of contact – via phone, email, SMS, embedded in-browser, and social media like Messenger. Some tools insert the surveys into employee emails.
By being available on various channels, you make the service more accessible and get a broader range of customer responses. Customer experience tools must also go beyond collecting feedback. There should be a point of acting on the issue, initiating another round of feedback. This process of closing the loop on feedback showcases how reliable your brand is and how responsive you will be to real-time customer feedback.
Customer experience must feel and look cohesive to your existing brand assets. Look for software that allows personal notes, multilingual surveys (if needed), and editable names and titles. Paying a premium for flexibility ensures that your customer service aligns with the overall branding.
Customer experience management helps brands understand their customer journeys. The process allows an in-depth look at particular touchpoints so that the best strategies are put in place. Mapping data will also be crucial when introducing a new feature because feedback from seamless conversations educates the company on what matters most for its customers.
Feedback Segmentation and Analysis
Customer experience platforms can provide a holistic and segmented set of data that marketers can use. These segmented data help the brand evolve and understand what's right and what needs refinement in customer experience. For instance, are there specific locations that report a better experience? Is one product getting negative reviews while others keep customers satisfied? Customer experience management provides answers for continuous improvement of the brand.
There's little use for CX management software if it does not integrate well with the company's existing applications. For instance, your help-desk software should allow bundled options with the customer experience survey. Analysis reports should also be collected as one, even with add-on tools, to prevent any struggle with aggregating and interpreting the data.
---
Top 8 Customer Experience Platforms in 2022
Here is our list of the best customer experience platforms in 2022 for more efficient and scalable customer experience management: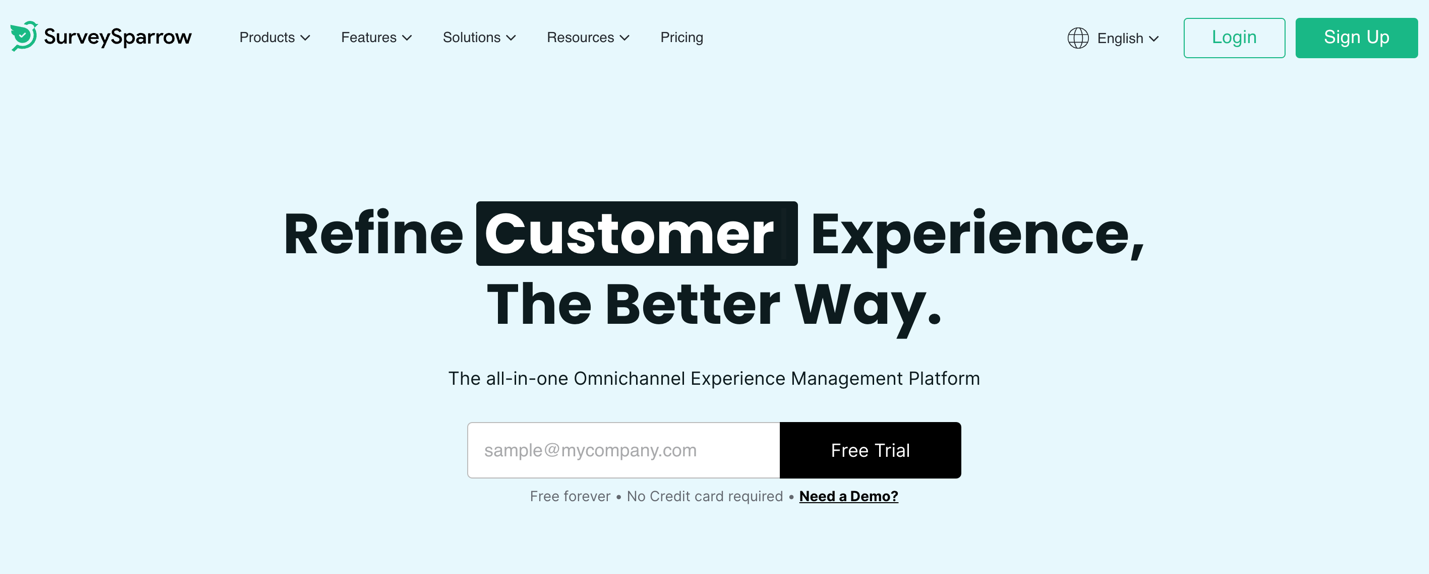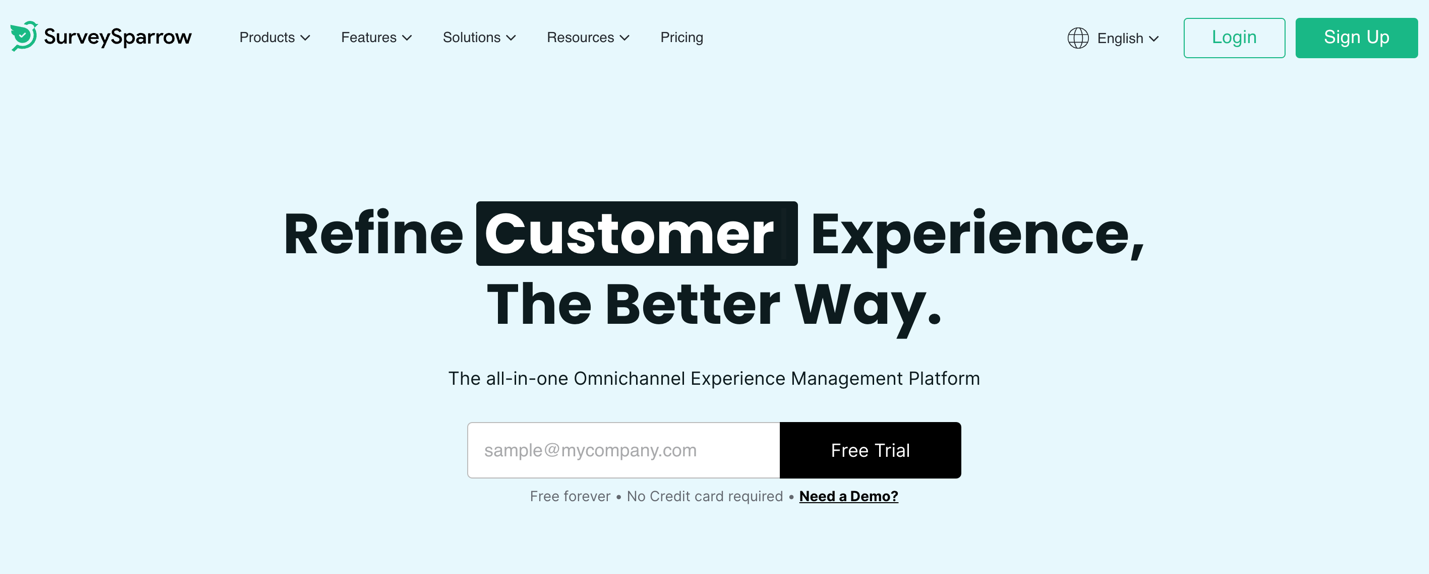 SurveySparrow enables brands to address customer queries using the built-in support ticketing system, map customer journeys, and ultimately close the customer feedback loop.
The platform has a conversational style interface that minimizes friction and rolls out NPS surveys to gather customer feedback right away. The setup adopts a very user-friendly interface, making it easy to build surveys even for non-technical staff.
You have the option to automate and customize the surveys when needed. Brands can also create chatbots with minimal coding experience and provide engaging surveys, as well as customer feedback through SMS, email, WhatsApp, and other channels convenient for customers. The surveys can be visualized on any device, which boosts accessibility for customers.
What's great about SurveySparrow is how the customer experience surveys feel just right – nothing overwhelming for the customers who may be put off with too many surveys. The platform offers a trial version, and the basic plan starts at $19 per month.
---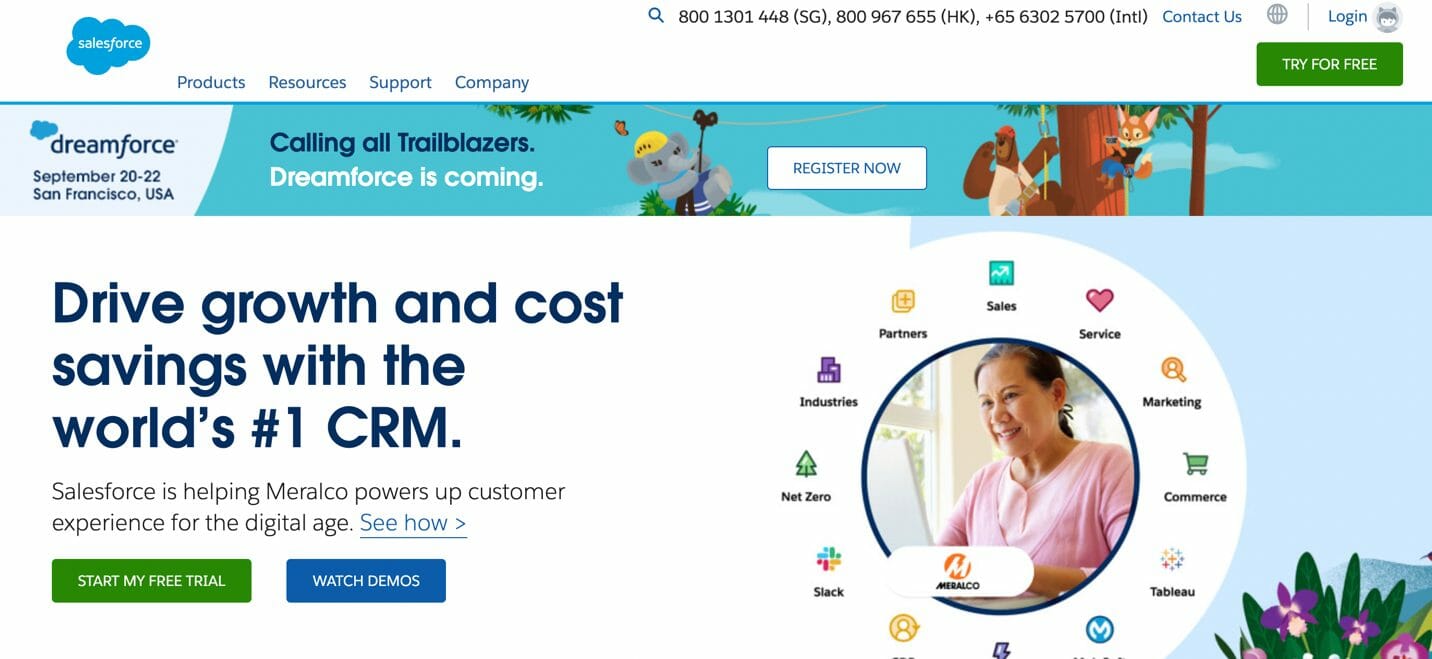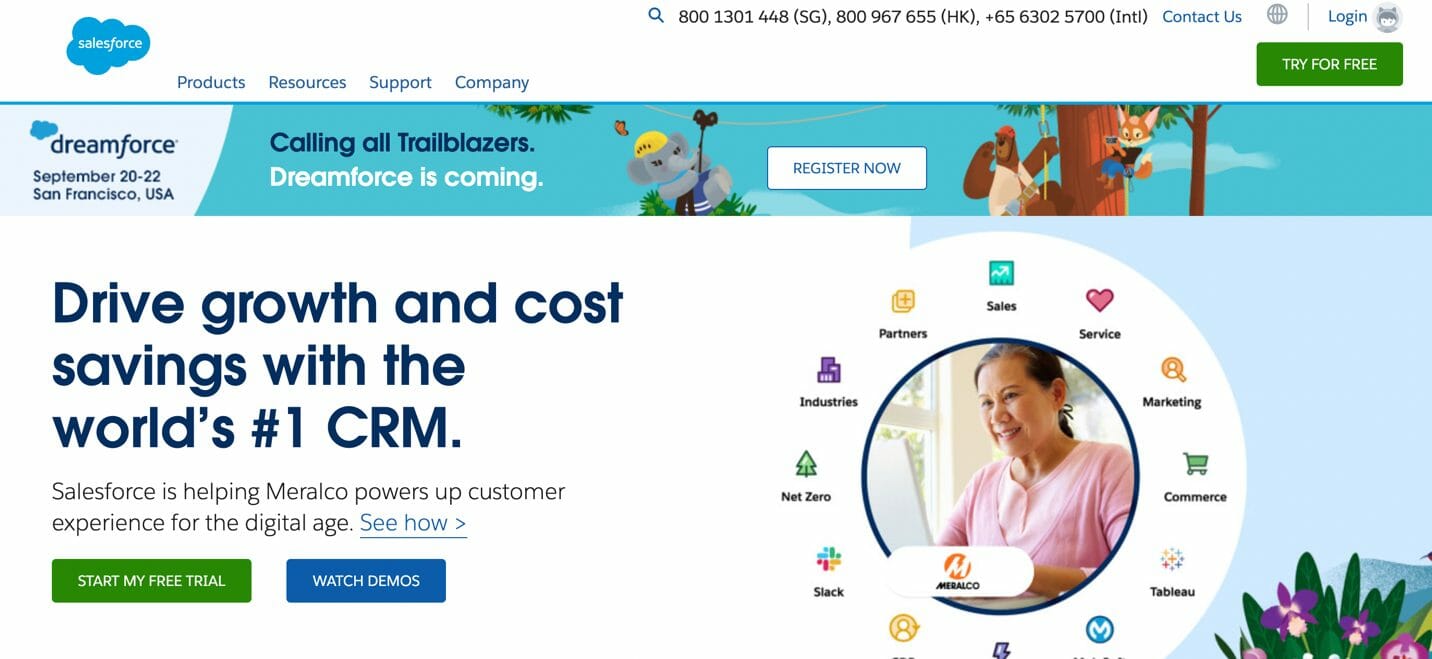 Salesforce is among the best customer experience platforms for both small and large businesses. The tool has a fully integrated CRM platform that can unify your marketing, sales, customer service, and IT in one platform.
Concerning the customer experience, Salesforce has a scalable and flexible design that integrates smoothly with your existing website and channels. Stats note that Salesforce users enjoy as high as a 42% increase in forecast accuracy and a 34% increase in sales. The customer 360 system is their top tool for delivering reliable and personalized customer experience surveys and feedbacking model to address important end-points of your brand.
Salesforce also has robust analytical capabilities. Not only is the survey setup and integration convenient, but brands are also able to gather useful data on customer experience management. However, the custom fields can be confusing for beginner users; pulling reports and generating analytics is a bit more complicated than other platforms.
Price-wise, Salesforce has a free trial, and the paid plan starts at $25 per month for basic, $75 per month for professional, and $150 per month for the enterprise-level account.
---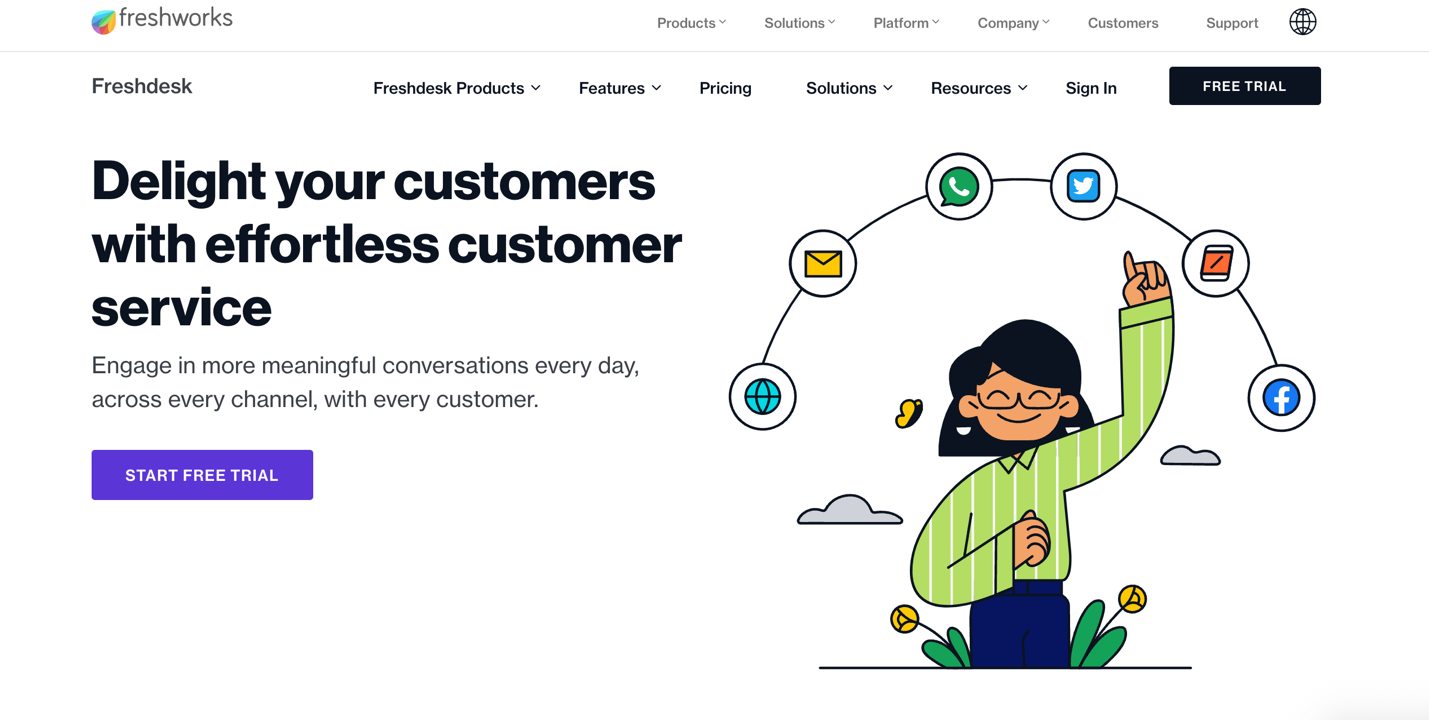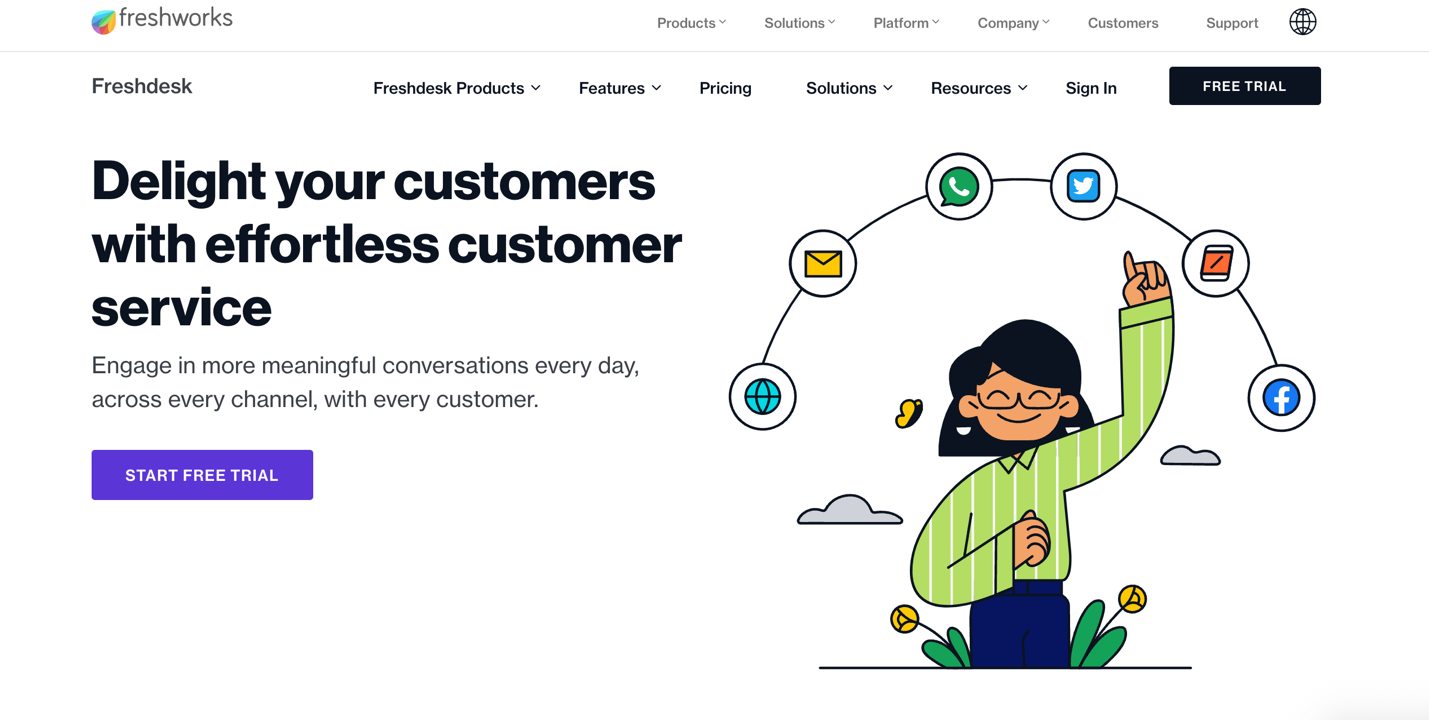 Freshdesk is another globally trusted customer experience software that offers features to make CX management more efficient. The cloud-based software supports small businesses and enterprises in delivering stellar customer support.
Freshdesk has a self-service feature that can integrate with your tools and allow for features such as an AI-powered chatbot. The tool converts requests that come in via different channels, giving you a unified ticket resolution.
The platform enables automation that will allow you to cut time off repetitive tasks, like assigning, linking, and categorizing tickets. You can even create personalized customer portals, mobile field service, time tracking, and more.
Freshdesk is also among the most affordable tools in the market. The service is free for up to 10 agents. The basic Growth plan costs $15 per month per agent, while the Pro costs $49 per agent.
---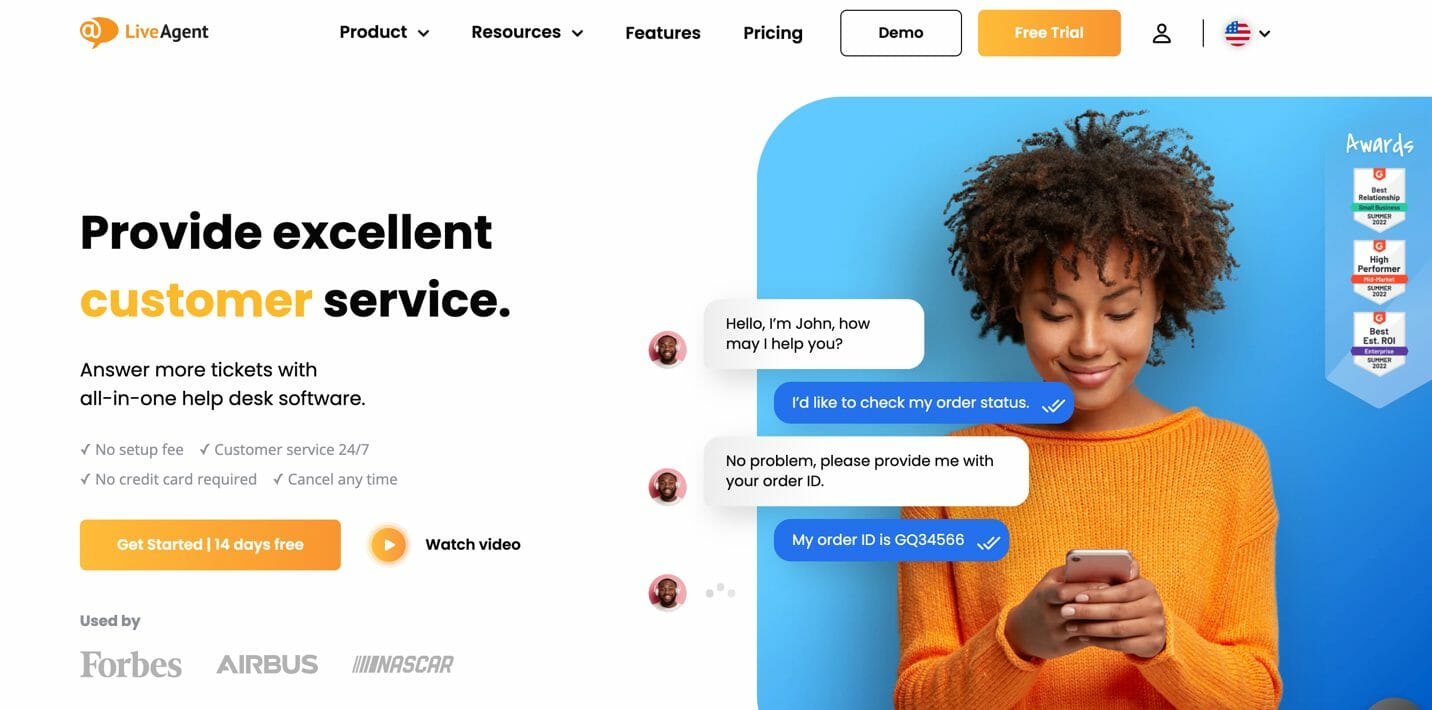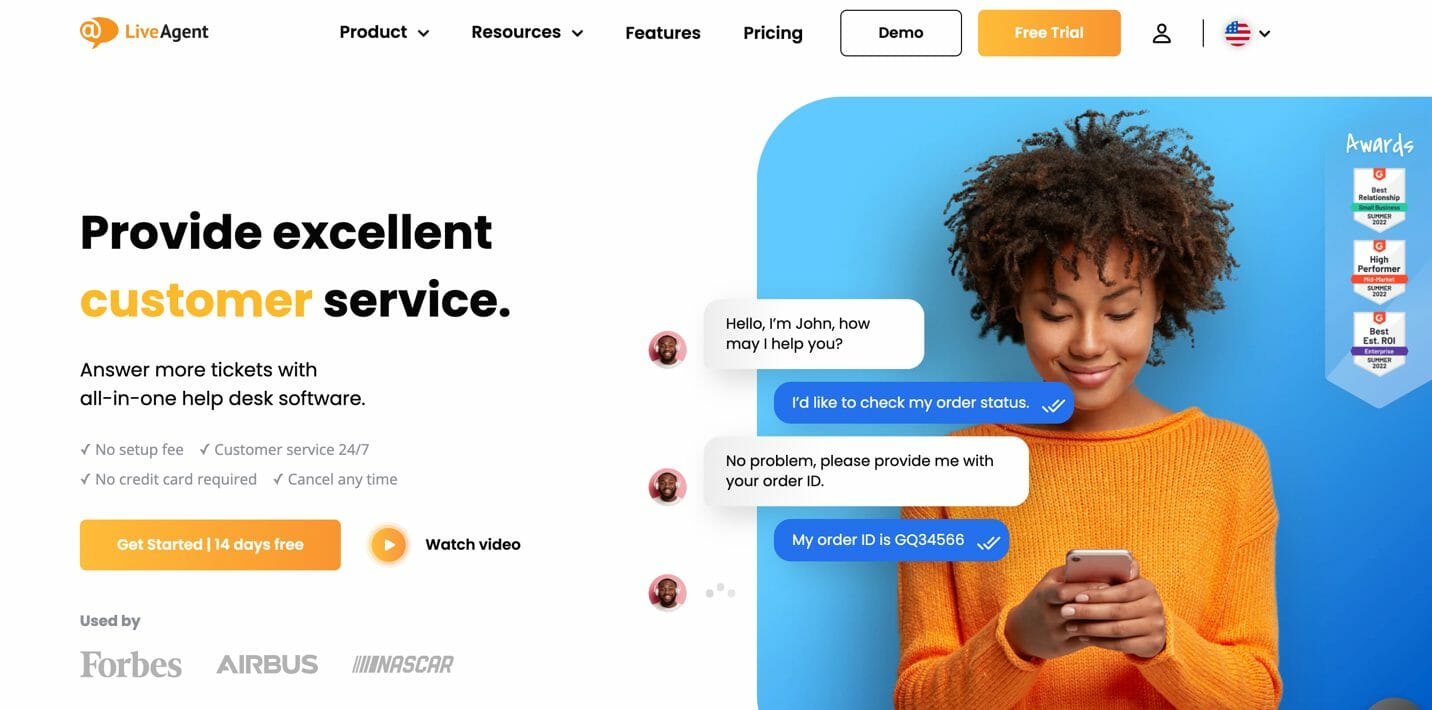 Live Agent is one of our top picks as it has everything from robust communication tools to analytics. This customer experience platform streamlines communications, creates customized functional surveys, improves customer interactions, and, ultimately, customer satisfaction.
Live Agent has robust ticketing software that unifies all the tickets submitted through different channels. It has a native live chat feature, customer portals, a built-in call center, and more. Moreover, it connects with apps, emails, knowledge bases, and social media networks, so you can utilize a single dashboard.
What's awesome about the platform is that it lets users use self-service through buildable customer portals. These AI-powered features eliminate long waiting periods and provide valuable data to improve the brand's service. There are also robust integration capabilities that are perfect to use alongside your current business and web apps.
---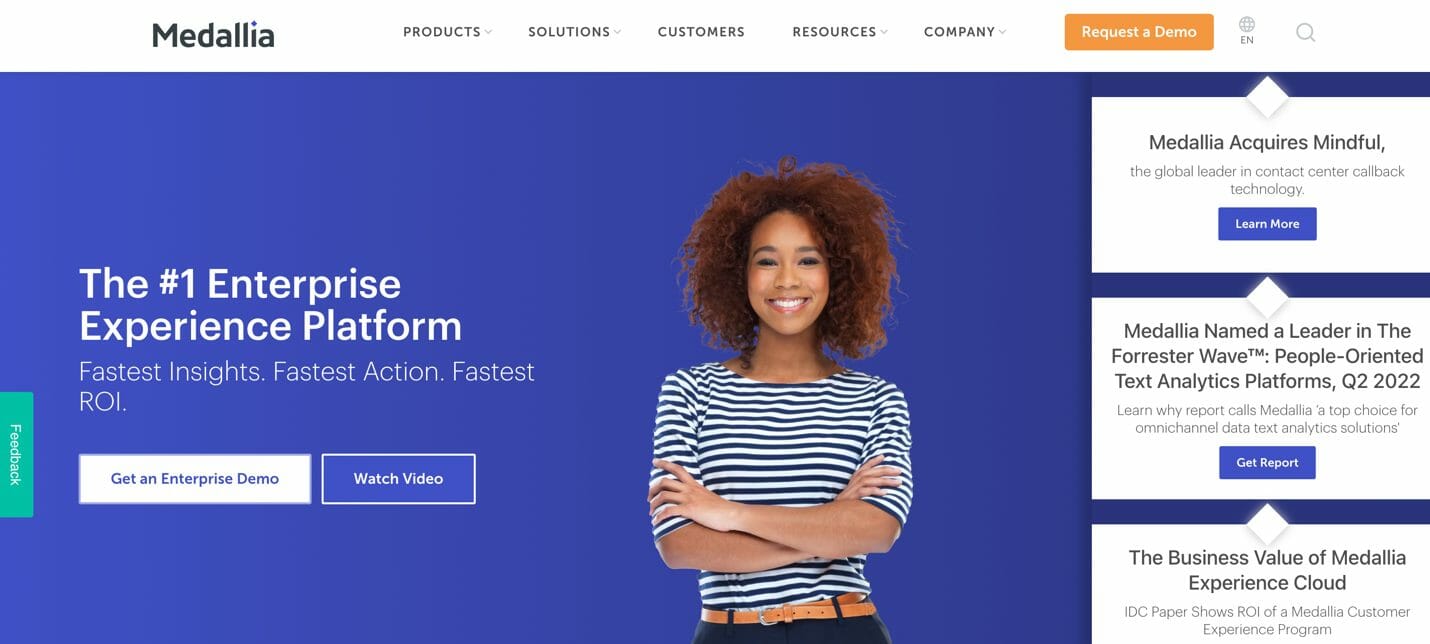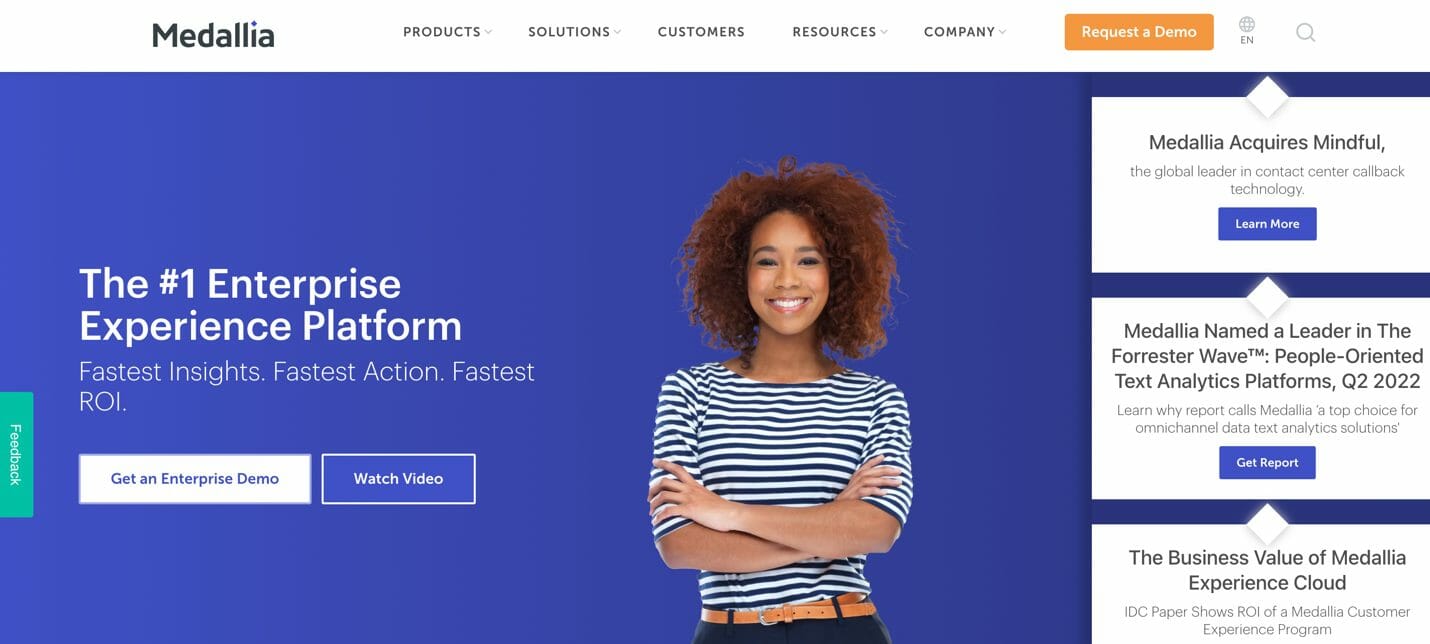 Medallia is an AI-powered experience management platform that supports brands in gathering critical customer feedback data and turning it into actionable information. Medallia works by having an AI-powered customer experience platform based on the cloud. Through it, you can easily gather and interpret tickets. The platform helps uncover themes and satisfaction drivers from all unstructured data.
Medallia uses the Suggested Actions feature to organize recommendations and use deep learning to help your brand meet all actionable suggestions. It also has the Risk Scoring technique, which identifies at-risk customers to maintain a high customer satisfaction rate.
While beginners may have a bit of a learning curve with the navigation, Medallia provides the ability to maximize real-time feedback and integrate nicely with your current applications. Medallia has a free trial option and a premium rate that will depend on your company's preferred features.
---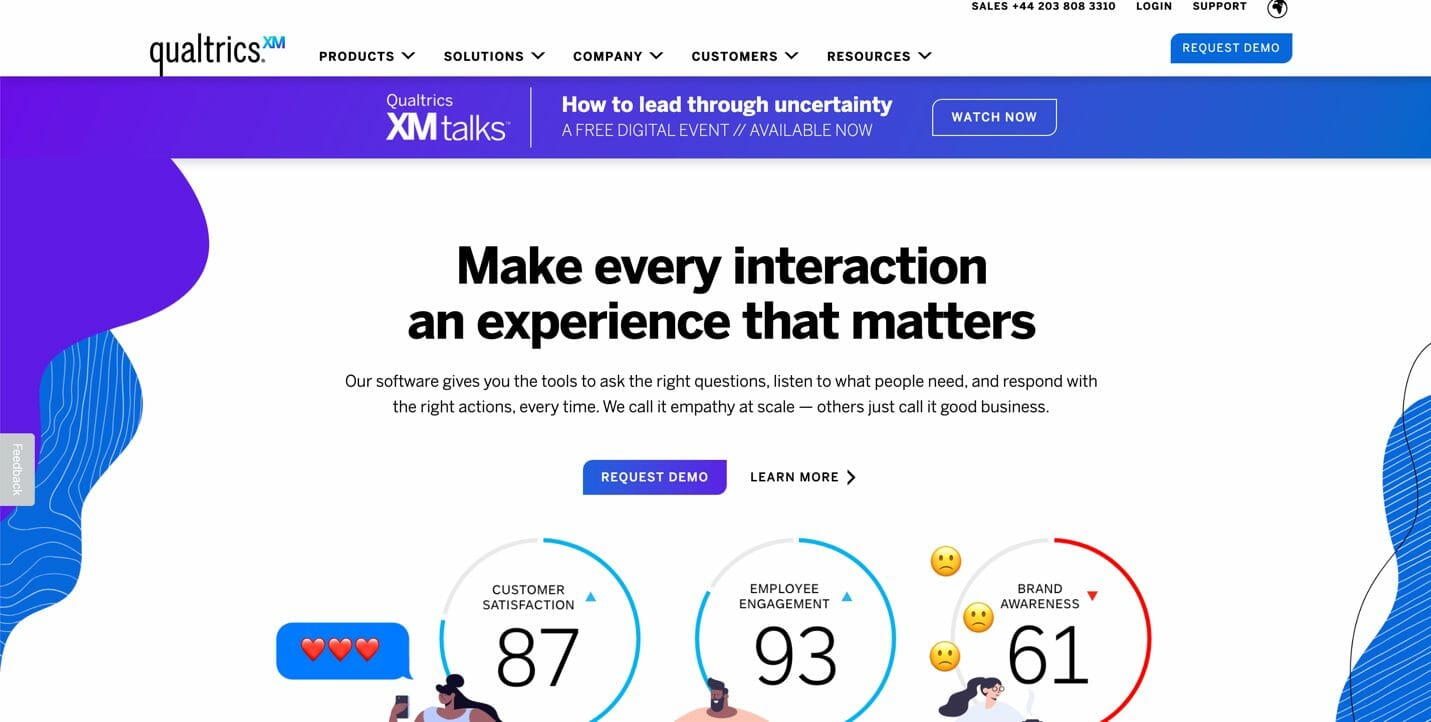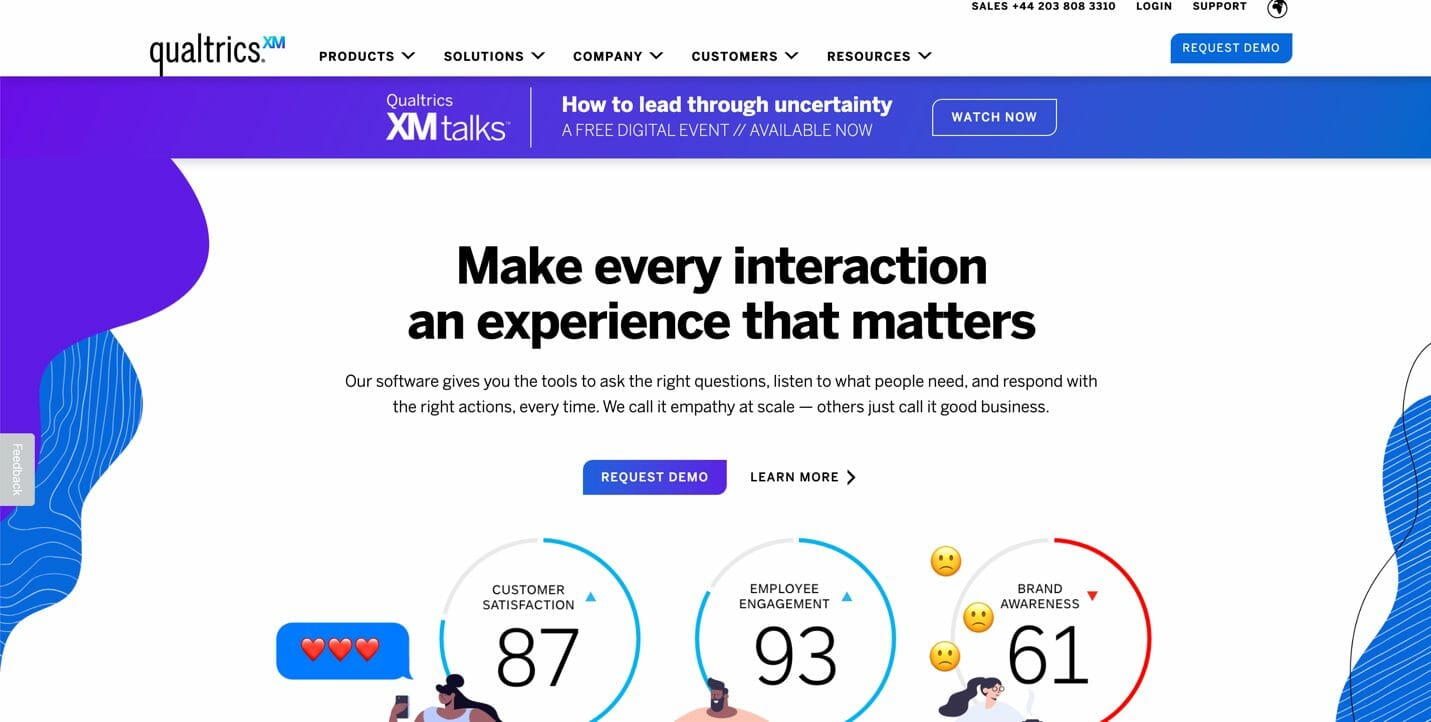 Qualtrics is among the most trusted customer experience tools around. Millions of users rely on their software, including Nike, Netflix, and Tesla. The software is a good balance of customer analytics and retention features. One notable element is the easy-to-navigate dashboard that can be customized according to your feedback channels. Brands can create comprehensive customer profiles data-driven from surveys. Meanwhile, the NPS streamlines the entire customer experience management.
Qualtrics has a real-time dashboard updating system, complete with automatic notifications and closed-loop ticketing to analyze and address all concerns in one go. The platform performs a closed-loop follow-up for customer feedback. This helps brands converse seamlessly with customers while preventing delays and errors.
This customer experience platform gathers data on market research, customer voice, employee engagement, and more. Most importantly, it integrates well with other CX apps like Salesforce. Qualtrics is on the more expensive side when it comes to CX tools, at $1,500 per year for each user. But it has a free trial plan to let brands test it out before committing to the premium plan.
---
One of the leading customer experience tools for years now, Zendesk elevates customer connection and service for startups and Fortune 500 companies. The tool lets brands customize a help desk, call center, and live chatbot software depending on what's preferred.
Zendesk Sunshine is the company's open CRM platform that allows customer segmentation, feedback management, survey management and analysis, predictive analytics, and multi-channel collection. The dashboard is easy to navigate and very user-friendly.
This customer experience platform improves the company's Ticketing system, Knowledgebase, Community forums, and the like. It also has 40 languages available for your translation needs. The brand's help desk, security, and customer analytics are all addressed within this single platform. Zendesk starts at $49 per month for each user and has the Suite Professional at $99 per month billed annually.
---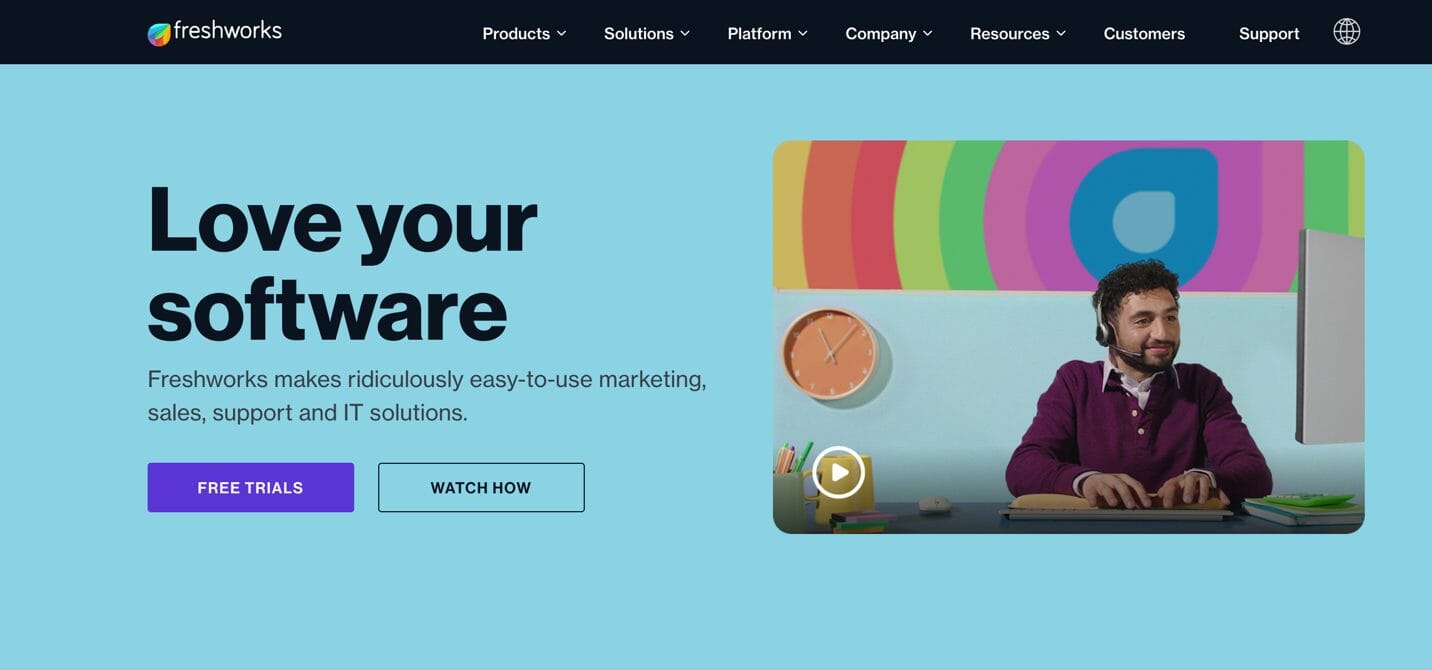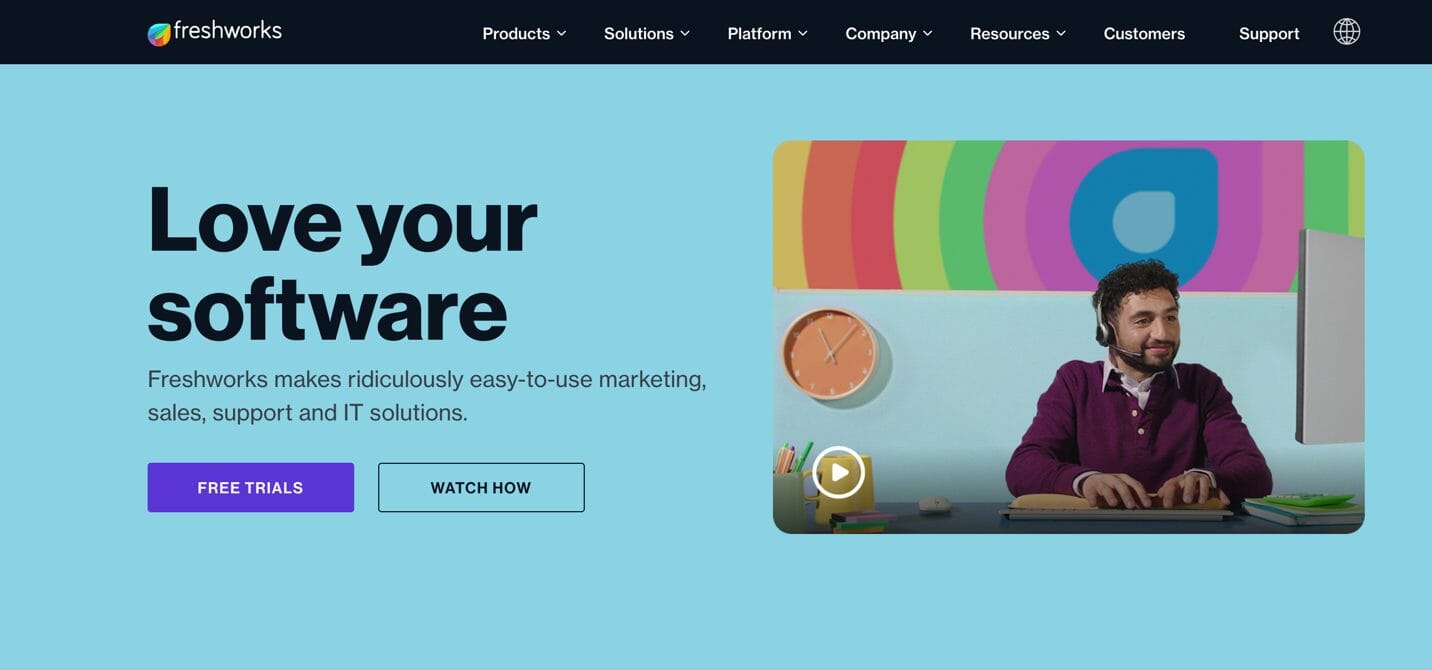 Freshworks is a relatively new software that has earned the trust of many businesses and enterprise-level companies. This is an all-in-one tool that has a built-in phone and email feedback channel, automation features, and visual sales reports.
This customer experience platform offers Freshworks 360 – a convenient software suite that allows engagement across the customer journey. It's a 360-degree view of leads, giving sales staff reliable, real-time data to understand leads better at every stage of the pipeline. Freshworks has a drag-and-drop UI, accurate reports, and great outbound templates, so you don't have to purchase separate software for email marketing.
Some extended features also include conversion optimization with heatmap and session replay, funnel analysis, and A/B testing.
The platform has two rates, $19 and $29 per month, for the respective cloud-based capabilities.
---
---
Conclusion
In the customer-driven world of commerce, cultivating a loyal customer base means continuous growth for the brand. It can be next to impossible to cater manually to each customer's need efficiently; hence, you need a reliable customer experience platform that can enhance customer support and engagement across all channels.
A premium customer experience software can provide predictive analytics, organize all customer tickets into one report, and let brands identify purchasing behavior patterns and how to improve them. It works in two ways to benefit your company: you are improving customer service, and at the same time, learning continuously about what your clients need. Understanding these insights can give you an edge over those who don't prioritize listening in on their customer's feedback.