Advertising Disclosure
Advertising disclosure:
Our partners compensate us. This may influence which products or services we review (also where and how those products appear on the site), this in no way affects our recommendations or the advice we offer. Our reviews are based on years of experience and countless hours of research. Our partners cannot pay us to guarantee favorable reviews of their products or services.
Meta apps dominate the market among the most preferred influencer marketing platforms, with eMarketer stats showing that campaign spending on first-placer Instagram reached $2.23 billion in 2022, while $739 million worth of marketing funds went to Facebook in second place.
Despite the rising popularity of TikTok and YouTube, the majority (almost a third) of online shoppers worldwide said they're more likely to shop on Facebook than Instagram (24%) or TikTok (8%), according to 2022 figures from Statista. eMarketer forecasts that Facebook will still capture the largest market of social commerce buyers—or around 69.4 million—by 2025, ahead of the projected 47.5 million shoppers of Instagram and 37.8 million of Pinterest.
Amid these figures, how can marketers and Meta influencers strengthen their connections in 2023? The best route for both parties is to avoid opt-in influencer networks that collect creators to their fold based only on popularity instead of authenticity and engagement.
Below are some leading influencer marketing platforms that integrate with Meta and facilitate direct brand-creator collaborations.
---
Best Tools to Upgrade Your Meta Influencer Marketing:
---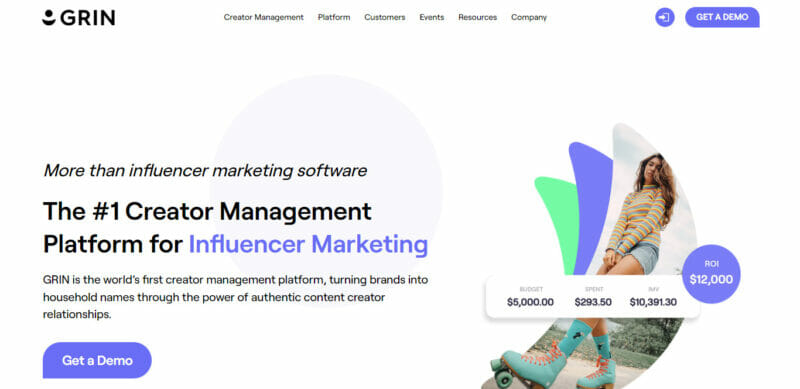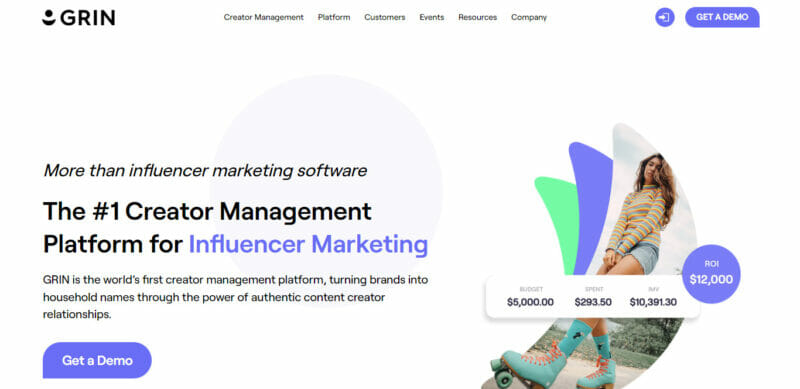 After Meta's API update in October 2022, GRIN lost its Instagram creator search capabilities, prompting it to create GRINup. This discovery-as-a-service solution gives access to Instagram creators who had granted authorization for GRIN users to view their profiles.
Once you sign up with GRIN and make a creator search, GRINup generates up to 50-vetted names with verified email addresses. The platform doesn't use AI or algorithmic tools to generate the creator list for each search round. GRIN believes this ultimately makes for more authentic relationships between the business and the influencer, as the former's executives or marketers can directly scrutinize a creator's social profile and online influence.
Brands and marketers can also install the GRIN Creator Discovery Web Extension on their devices to get more information about Instagram creators and their online performance. You can click the extension to import creator data—such as their email contact details—to your customer relationship management system. From there, you can use GRIN to connect with your preferred creator or influencer and start a formal brand-creator agreement.
With a focus on eCommerce businesses, GRIN has solid integrations with popular shopping platforms such as BigCommerce, Shopify, WooCommerce, and Salesforce Commerce Cloud.
You must contact GRIN's customer care team directly for subscription rates, although GetApp pegs monthly rates from $2,125.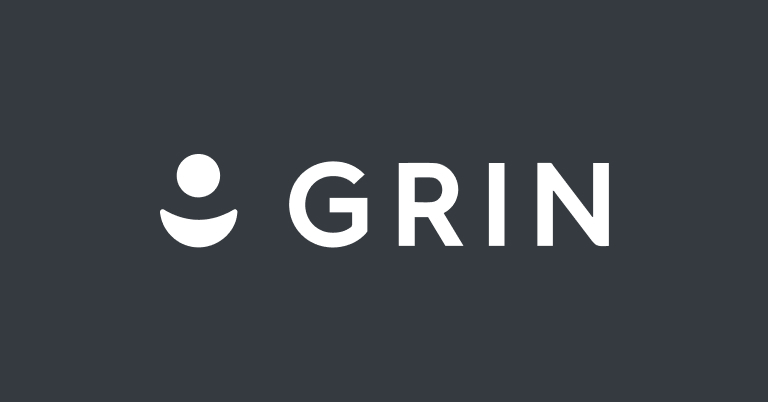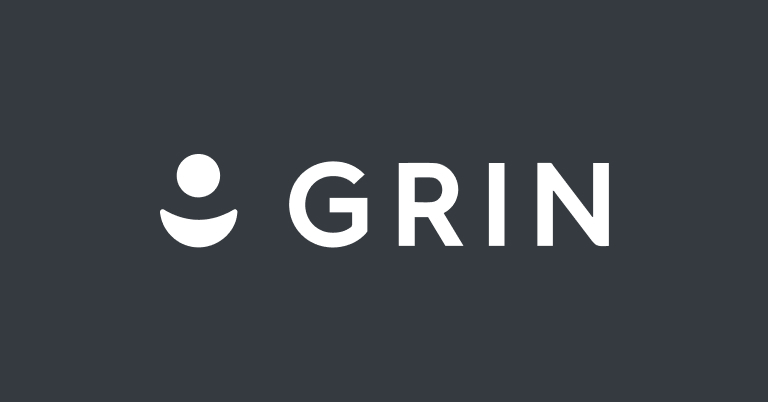 Key Features: Content Amplification, Search/Discovery, Influencer Lifecycle Management, Influencer Relationship Management, Content Review, Content Library, Campaign Management, Campaign Reporting, Influencer Analysis, Audience Analysis, E-commerce Tools, Product/Gifting Tools, Forms and Compliance,
Channels: Facebook, Instagram, TikTok, Twitter, Twitch, YouTube
---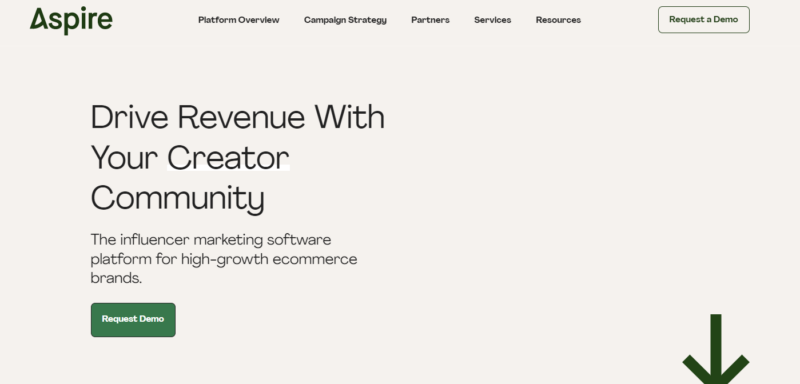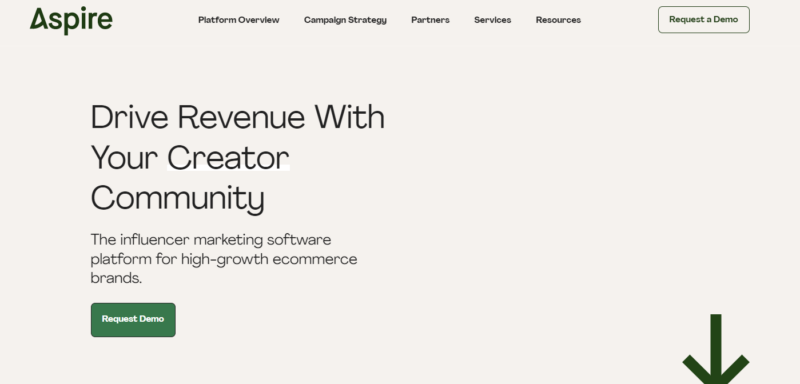 Aspire goes beyond standard services such as influencer discovery and management through its "Allowlisting" feature. This whitelisting tool permits brands to post advertising and dark posts on the accounts of Meta creators belonging to Aspire's network. With allowlisting, brands can add a "Shop Now" or another CTA button, slightly change the content on the influencer's original post, or add new copy. Meanwhile, the allowlisted ads expose creators to new audiences as these ads appear under their handle. Brands and influencers can view performance metrics of allowlisted posts.
You can use Aspire's Brand Access Manager to request allowlist permissions from Meta creators. Creators who gave you advertiser access will later appear on your Aspire dashboard. Without using Aspire's access tool, you will have to ask an influencer for their business manager ID and manually add the creator as a "business partner" on Facebook Business Manager.
The platform flips the script in the creator marketplace by letting creators choose and send their proposals directly to their preferred brands. With this approach, you can post your campaign project in Aspire's creator marketplace and wait for applications to arrive instead of doing a manual search.
Aspire's services also include customizable workflow, which can reduce your manual processes by 90% through automated communication, approval processes, shipment tracking, and contract templates.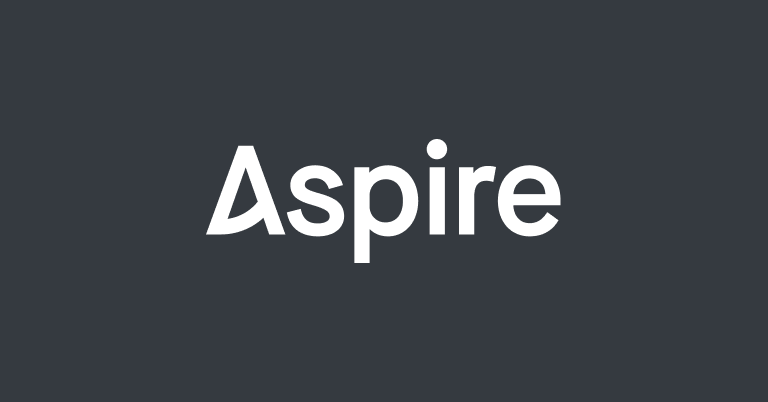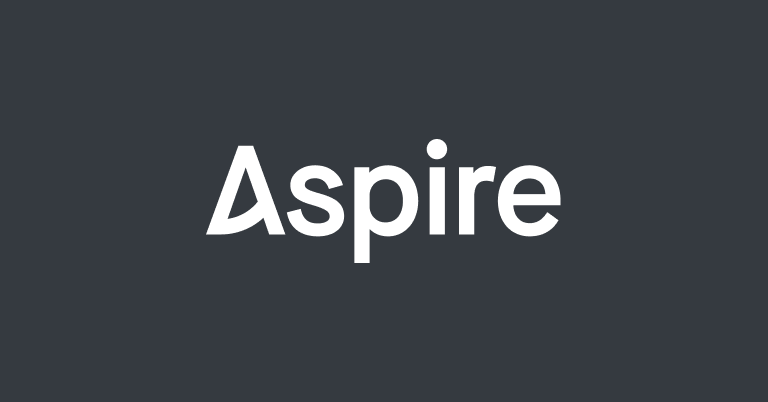 Key Features: Search/Discovery, Influencer Relationship Management, Influencer Marketplace, Team Collaboration Tools, Content Review, Content Library, Campaign Management, Campaign Reporting, E-commerce Tools, Product/Gifting Tools, Forms and Compliance, Payment Processing, Social Listening, Competitor Research, Visual Discovery, Influencer Content Amplification,
Channels: Instagram, YouTube, Facebook, Twitter, Pinterest, Blogs
---


Traackr's in-depth intelligence includes over 15 filters for finding and selecting potential influencers and predictive performance analytics. Some search categories include platform use, brand affinity, audience demographics (age, city or city of residence, income levels, and more), and past content performance (follower count, timing of brand mention, and engagement rate).
Besides standard performance and spend efficiency (cost per view, cost per post, or cost per engagement) metrics, Traackr subscribers can refer to the platform's Brand Vitality Score to measure the efficacy of an influencer content's reach, engagement, and brand trust.
Moreover, Traackr's suite of tools includes campaign management, budget optimization (influencer performance analysis and expense tracker), and social commerce (recording sales, tracking conversions, and paying commissions).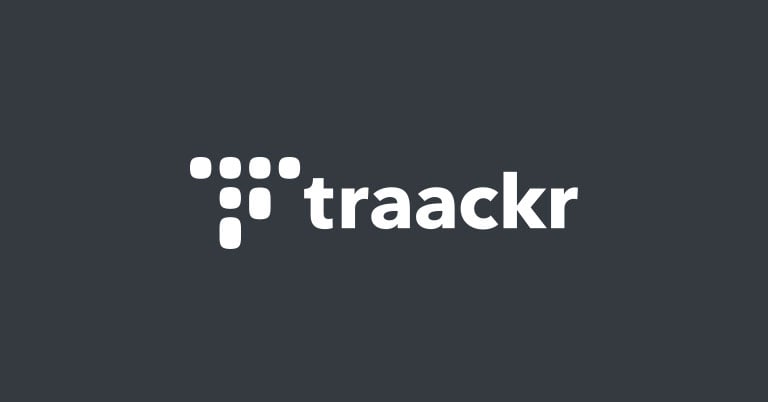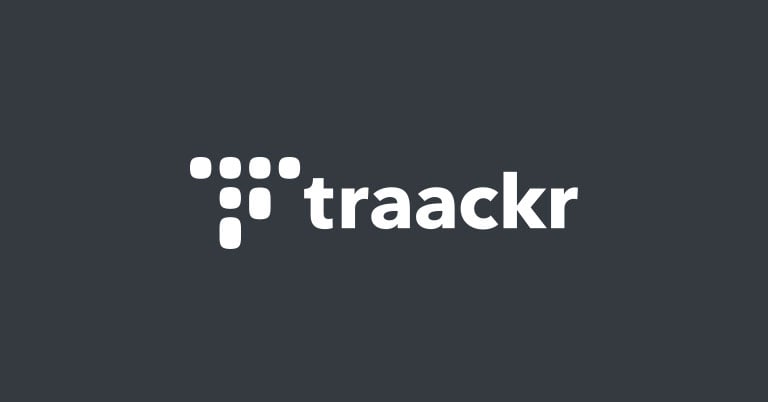 Key Features: Search/Discovery, Influencer Relationship Management, Team Collaboration Tools, Campaign Management, Campaign Reporting, Influencer Analysis, Audience Analysis, Product/Gifting Tools, Forms and Compliance, Fake Follower/Fraud Detection, Competitor Research,
Channels: Facebook, Twitter, Instagram, YouTube, Pinterest, Tumblr, Blogs
---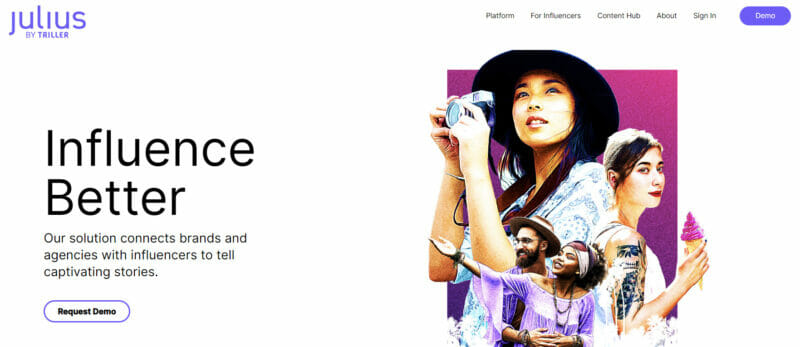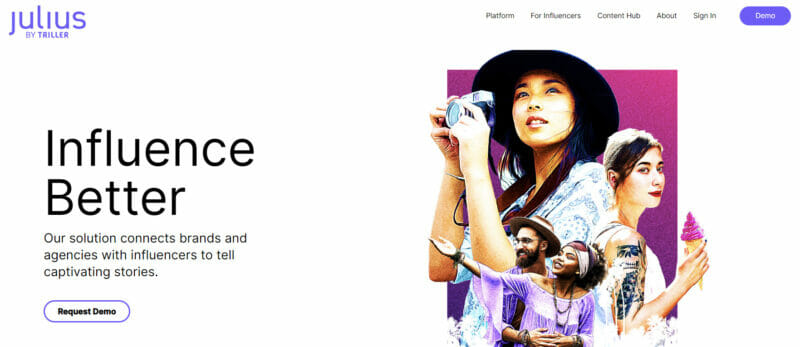 HYPR became a part of the Julius influencer marketing platform in 2020. An in-house human team vets influencers added to HYPR's network.
Its discovery tool has 30,000 content categories, including psychographic information, such as topics of interest (HYPR recognizes over 15,000 conversation topics, such as language, history, food, culture, and more) and causes, to help you find the best niche influencers for your brand.
Once you've selected and sealed working relationships with your creators, you can group influencers by marketing campaign then manage, activate, and track campaigns and release payments from your HYPR dashboard.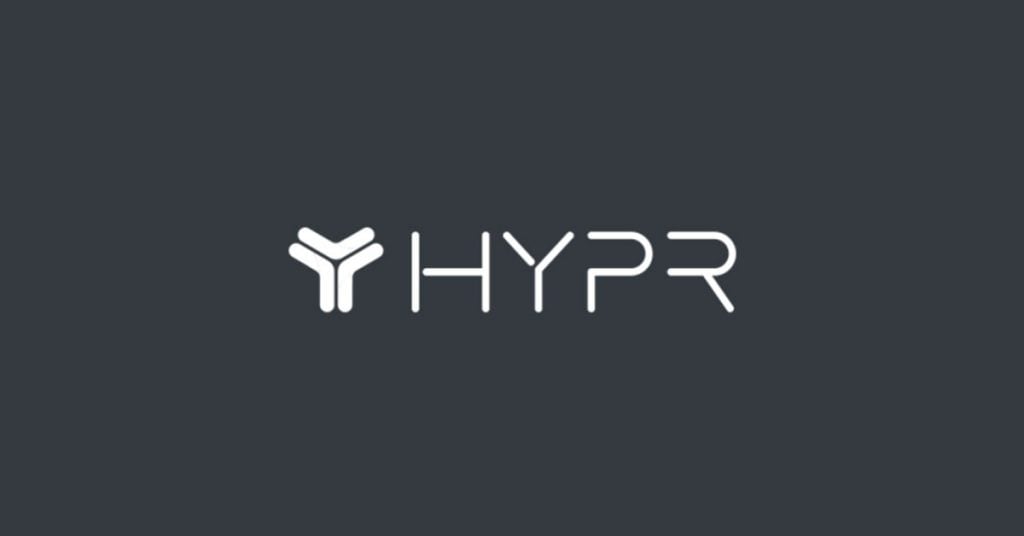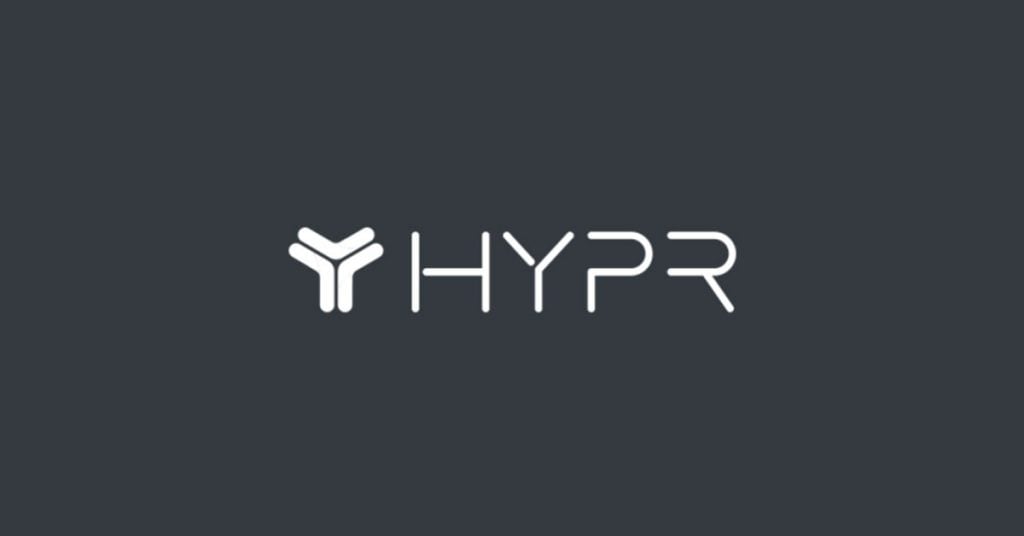 Key Features: Influencer Search & Discovery, Influencer Outreach and Engagement, Performance Tracking with Audience Demographics and Conversion Attribution, Global Influencer Payment, Fraud Detection and Audience Health,
Channels: Instagram, Facebook, Twitter, YouTube, Pinterest
---
Another eCommerce-based solution, Influencify features free tools to help you discover Instagram creators. You can type in a keyword in the search bar of "Find Instagram Influencers in Your Niche" or key in your country in the search field of "Find Instagram Influencers by Location."
After choosing prospective names, you can run each of them on Influencify's Analyzer to find out about their audience demographics, contact details, price suggestions, and fake followers.
Meanwhile, you can type a creator's username in the Instagram Engagement Rate Calculator to determine the number of users engaging with an influencer's content.
Subscribers also have access to the Discovery tool, which lets you customize your search using over 35 filters, including total followers, interests, or keywords. Influencify also lists "recipes" for finding influencers in non-traditional ways. Its cheat sheet includes steps to convert your competitor's influencers into yours, discover influencers "before they become famous" (those with a 50% growth rate in the last two months), and connect with your influential fans or Instagrammers who are already following your brand.
Get a paid plan to increase the number of times you can make an influencer search, direct invite campaigns, and access Gmail integration and other management features.
---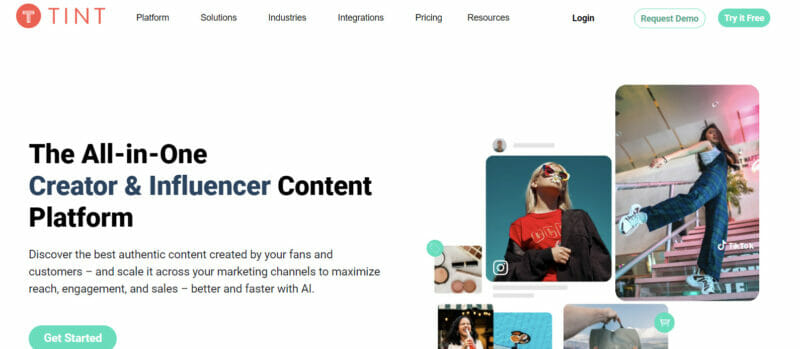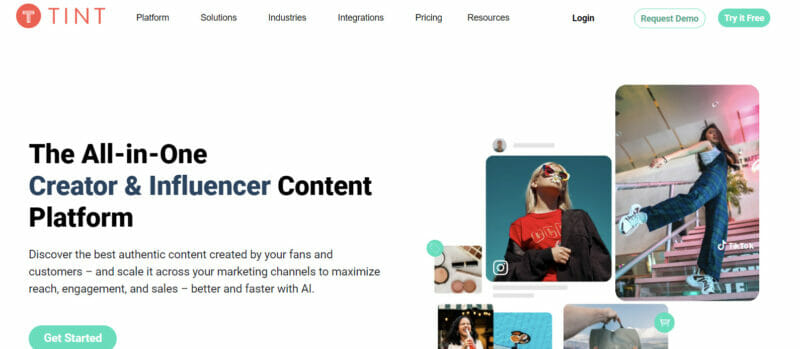 TINT is a content management tool that allows brands to collect, get legal rights, and display user-generated content (UGC) from their social networks. To avoid copyright infringement claims, TINT has a rights management tool where you can send a message to the creator, asking permission to repurpose their content. 72% of creators accept such requests, according to TINT. When the creator approves your request, the UGC goes to the platform's Content Studio, where you can organize, edit, or integrate them into your tech stack.
TINT claims that its integration with Facebook Ads helps brands see a four-fold increase in click-through rates and a 50% reduction in cost-per-click.
You can use your TINT dashboard to connect with Facebook Ads Manager by going to the Marketing Integrations and clicking the Facebook Integration tab. From there, authorize TINT to import your rights-approved UGC to your Facebook Ads asset library.
Determine which UGC works as a better Facebook Ad with split testing. You can run two versions of the ad and use TINT's analytics to measure which one gets more engagement and conversions.
The platform offers paid plans for single users, teams, and enterprises (customized rates).
---
Find "brand-fit" creators on Storyclash by using its monitoring tools for Instagram and Facebook. These tools track mentions of your brand, spot the influencers mentioning your competitors on their social accounts, discover what your competitors are talking about on each platform, and benchmark your marketing performance against other players in your niche.
Once you've chosen an influencer to work with, Storyclash can report their activities so you can see how or if your campaigns are working or not. These trackers also help you discover what's trending on each platform.
You can even track activities on the Instagram Story tracker even if the creator uploaded content featuring your brand over 24 hours ago. The platform's AI-powered text recognition feature detects brand names in images and videos and then stores and organizes them in a searchable database.
Meanwhile, Storyclash's Instagram Brand Rankings can help you find out what brands are ranking high under a specific category and country so you can study their strategy and what's working for them. Another related Storyclash feature is the Brand Collaborations Free Tool, which shows all branded posts and Instagram creators with Stories featuring their brand partners.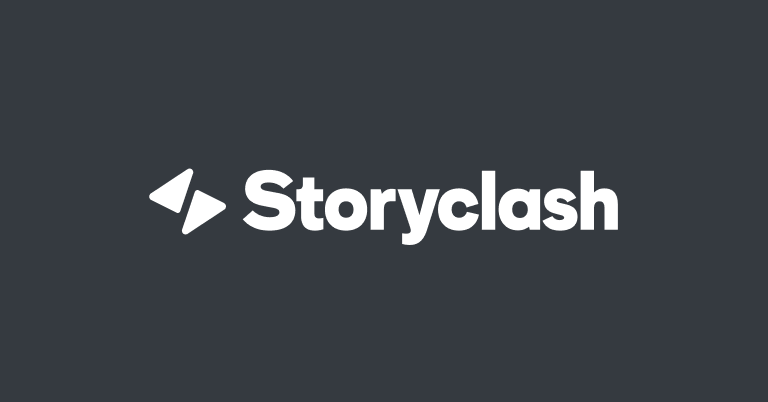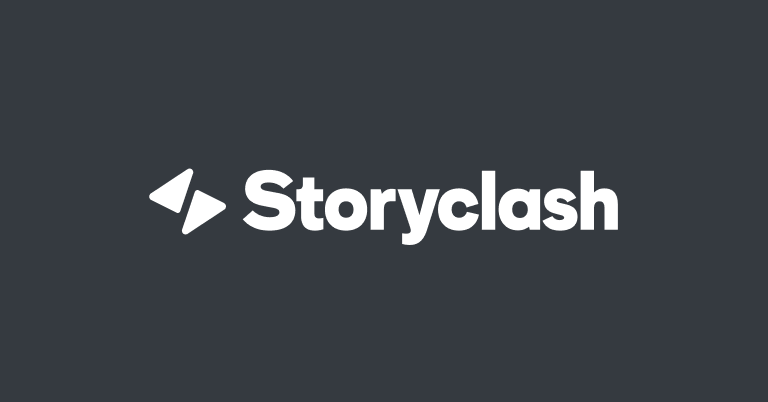 Key Features: Search/Discovery, Influencer Relationship Management, Team Collaboration Tools, Content Library, Campaign Reporting, Product/Gifting Tools, Fake Follower/Fraud Detection, Social Listening, Competitor Research,
Channels: Instagram, Tiktok, Youtube, Facebook & Twitter
---


Influence.co is the LinkedIn of influencers, where they could create profiles and share them with marketing agencies, photographers, and others for collaboration.
Subscribers can message each other through the platform's chat tool or learn from fellow creators through Influence.co's Creator Community or its Q&A feature called Answers.
Member profiles are highly visual so their Influence.co account can serve as their digital media kit. Here, you can showcase the brands or products you promoted on Instagram (whether paid or unpaid posts) by going to your account's Branded Content section. The photo must be tagged with the @name of the account or brand. To find all posts involving a specific product or brand, you must key in the @name, which will enable the platform to display all the images you posted recently and let you choose which pictures to include in your profile.
Influence.co recommends you include your social reach (all your social channels and number of followers for each, engagement rate, audience demographics, previous collaborations, and rate card or how much you charge per post across your social networks). Influence.co members with 2,000 followers and more can use the Engagement Map to measure their average engagement rate. Subscribers with a smaller follower size can get engagement rate data by writing [email protected].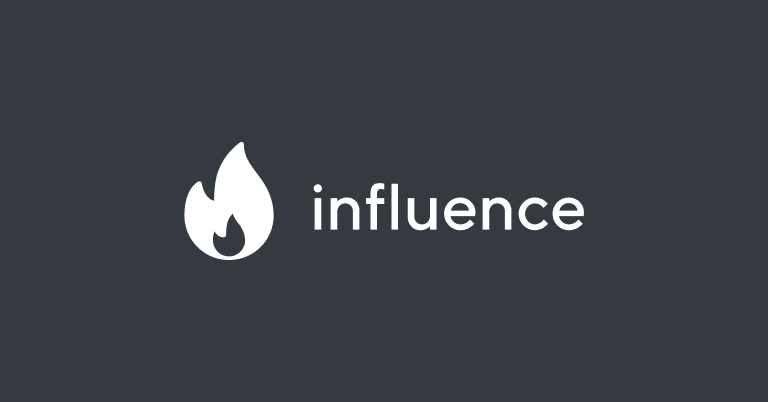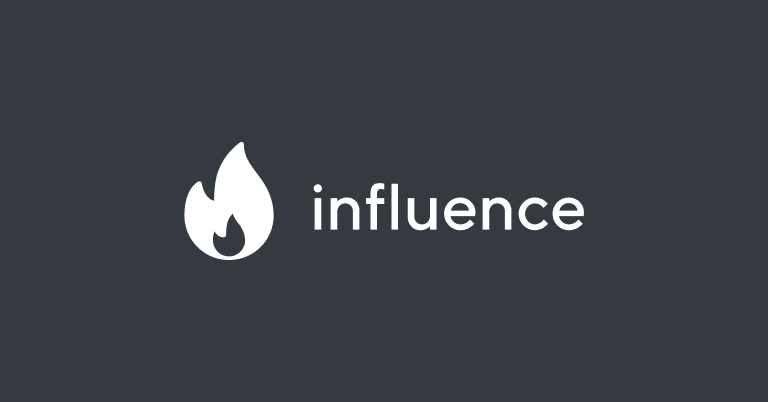 Key Features: Search/Discovery, Automated Recruiting, Influencer Relationship Management, Influencer Marketplace, Content Library, Campaign Management, Campaign Reporting, Influencer Analysis, Audience Analysis,
Channels: Instagram, YouTube, Facebook, Pinterest, Twitter, Patreon, Snapchat, Tiktok, Amazon
---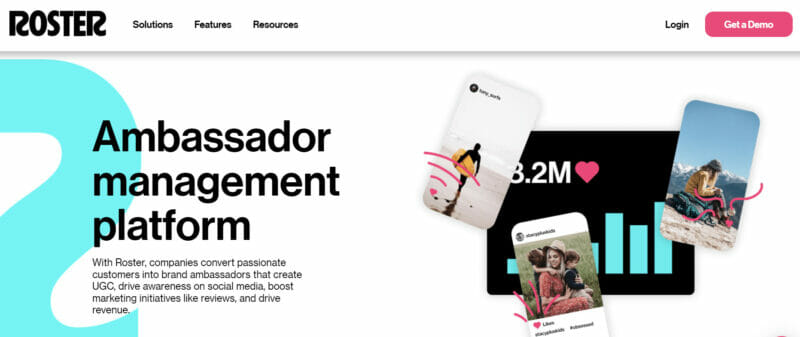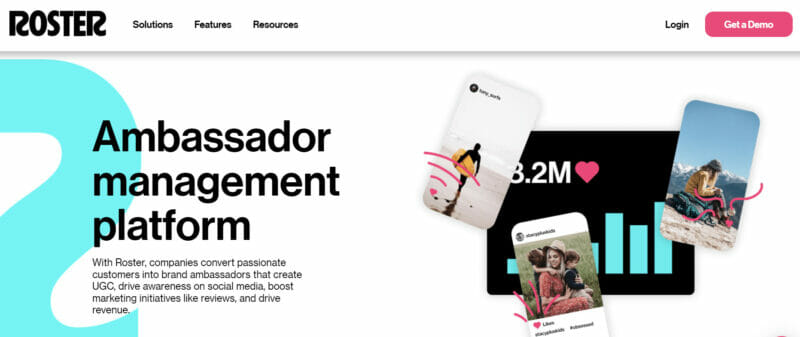 Roster has several features that empower retailers to create a roster of "active and authentic" brand ambassadors from their existing Instagram and Facebook followers. First is its social listening dashboard, which finds, collects, and organizes posts that mention your brand on the two Meta platforms. Brands can use filters to search for posts based according to membership, gender, location, and more. Captured UGC helps you understand how your customers discuss your product or service and what they value the most about your business.
Moreover, Roster allows you to see various details behind customer content, from hashtags and demographics to social engagement metrics (likes, comments, and others), thanks to Roster's social analytics. Instagram and Facebook integrations let you view user profiles (follower counts, brand mentions, and engagement rate) update in real time.
Finally, the platform's recruitment features give you a host of tools to engage, evaluate, and reward your influencers. You can customize recruitment forms, craft email invites, segment creators according to campaigns or performance, and choose between manual or automatic application approvals—you can also customize the auto-approval process. Once your influencers are onboard, you can stay on top of your influencers' content with Roster's Social Feed Dashboard.
Roster can also operate with work management tools such as Zapier, Trello, Google Sheets, and Monday.
---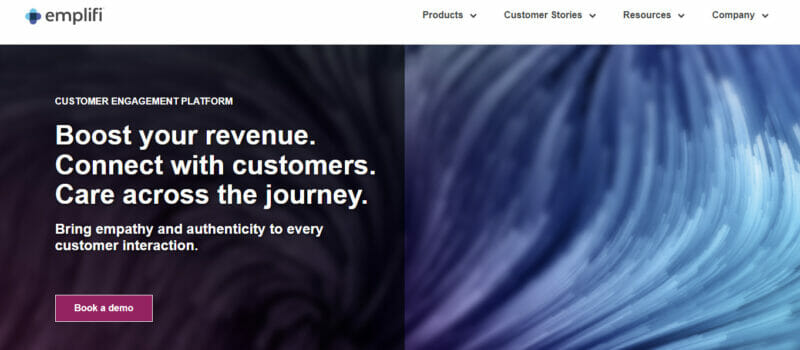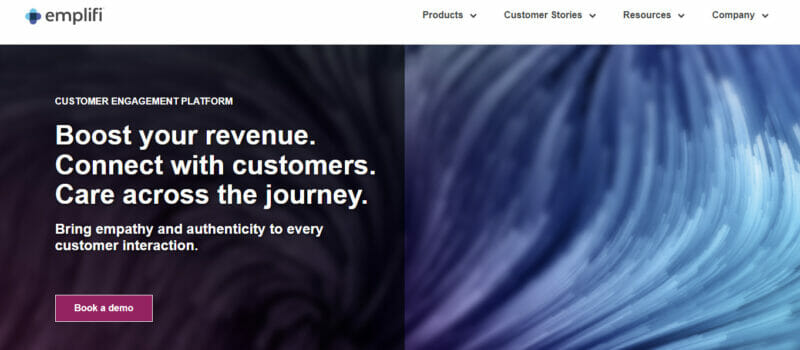 The Emplifi Social Marketing Cloud covers all the aspects of harnessing social media content and its creators, including influencer marketing, to amplify your brand. Its AI-powered influencer identification tool searches for the creator that aligns most with your brand based on your niche, target audience, and performance targets. Hashtags and the brand collaborations mentioned on the creator's account help Emplifi find the best match for you. You can store candidate shortlists as references for future campaigns.
The platform's social marketing cloud also lets you manage your Facebook Ad campaigns from your customizable dashboard, including checking whether they're hitting your target outcomes.
Moreover, Emplifi has a social media scheduler for determining what and when to post marketing content in advance, including on Instagram Stories and Reels, which are enjoying high viewership. The scheduler is also where you can plot your project's timeline from ideation to proofing, approvals, and content publication.
The platform's predictive AI can help you set the best time to activate your campaign. Emplifi integrates with Dropbox, Google Drive, and OneDrive so you can pull out your assets from these locations.
---
Establish A Seamless Link With Your Meta Influencers
With Meta's thrust toward authenticated influencer relationships and UGC usage, we hope this list above provides fresh awareness about current platforms and their compatibility with Facebook and Instagram. Be on top of Meta developments that can affect your brand and the platforms you use by signing up with Influencer Marketing Hub.